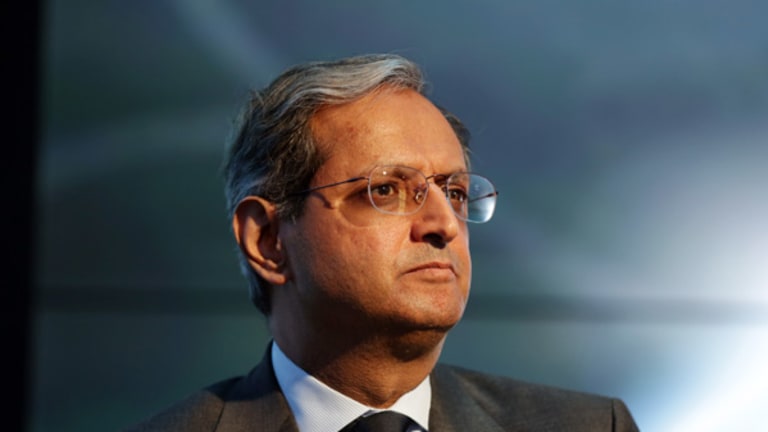 Pandit Resigns in Citigroup Shakeup
Citigroup announces that Vikram Pandit has already resigned as Citigroup CEO and a member of the board, while president and COO John Havens has also left the company.
Updated with comments from former Citigroup CEO Vikram Pandit, from an interview by Bloomberg.
NEW YORK (
) --
Citigroup
(C) - Get Report
on Tuesday announced that CEO Vikram Pandit had already resigned from his position, and from his seat on the company's board of directors.
The board of directors also announced that it had "elected Michael Corbat CEO and a director of the Board," after previously serving as the company's CEO of Europe, Middle East and Africa.
Pandit said that after leaving Citi "well-positioned for continued profitability and growth, having refocused the franchise on the basics of banking," he had "concluded that now is the right time for someone else to take the helm at Citigroup." Pandit also said that he "could not be leaving the Company in better hands. Mike is the right person to tackle the difficult challenges ahead, with a 29-year record of achievement and leadership at this Company."
Citi also announced that its president and chief operating officer John Havens had resigned. Havens also served as CEO of the company's Institutional Clients Group, and according to the company "said that he had already been planning retirement from Citi at year-end but decided, in light of Mr. Pandit's resignation, to leave the Company at this time."
Pandit and Havens both joined Citigroup in 2007, when the company purchased Old Lane LLC. Pandit became Citigroup's CEO in December 2007.
Pandit guided Citigroup through the credit crisis, including the company's participation in the Troubled Assets Relief Program, or TARP, debt guarantees from the Federal Deposit Insurance Corp., the conversion of the TARP preferred shares held by the government to common shares, and the trimming of the company's balance sheets, through his long-term "good bank/bad bank" strategy of placing runoff assets within the Citi Holdings subsidiary.
Citigroup on Monday reported
of $468 million, or 15 cents a share, declining from 95 cents during the second quarter, and $1.23 during the third quarter of 2012.
The third-quarter results included a $4.7 billion pre-tax loss on the company's sale of a 14% stake in the Morgan Stanley Smith Barney joint venture, and the write-down of its remaining stake in the joint venture, as well as a negative $776 million in debit valuation adjustments, as well as a $582 million tax benefit. Excluding these items, the company earned $3.3 billion, or $1.06 a share during the third quarter, beating the consensus estimate of 96 cents a share, among analysts polled by Thomson Reuters.
Citigroup's regulatory capital continued to grow, reflecting continued profits, as well as an increase in the among of deferred tax assets it was allowed to include in the capital ratio calculations, and because Citi Holdings continued to shrink, with total assets of $171 million as of Sept. 30, declining from 10% from the previous quarter, and 31% from a year earlier.
Citigroup's shareholders have been eager for the company to raise its nominal one-cent quarterly dividend and begin share buybacks, but the
Federal Reserve
in March rejected the company's plan to return capital. When asked about new plans to return capital, in light of the company's strong estimated Basel III Tier 1 common equity ratio of 8.6%, Pandit said "it's still early. We haven't even seen the scenario yet," that the Federal Reserve will use during the first quarter during its next round of stress tests," and that "as we look at that and then we'll decide what we will request from the regulators on capital."
While noting that all he could do at this point is "try to put together what we are seeing in the press release," Guggenheim analyst Marty Mosby says that "one of the comforting parts" is that CFO John Gerspach is not resigning. "If the CFO was also resigning, you could look at it and say there was something financial involved."
Mosby says that "this is an operational issue, not a financial issue," but that the timing of the announcement meant that "something came to a head and forced the issue."
"If it was a natural transition of any sort, it would have been announced in January and executed in April," Mosby says, in order to put the new management in place following the filing of the company's annual financial report.
Along with serving as CEO of Europe, Middle East and Africa, Corbat has been "the person winding down Citi Holdings," Mosby says, which could indicate that the board of directors is seeking to accelerate the disposition of assets from the runoff subsidiary.
"Getting out of Citi Holdings as quick as possible is really the objective to unleash the value that is still in the franchise," according to Mosby, who adds that the tone of the Citigroup press release indicates that a disagreement on the way to move forward appears to have driven the resignations.
"Commenting on the success of Pandit's "good bank/bad bank" strategy, Mosby says "the fundamentals that were reported yesterday support what they have accomplished over the past three to five years."
Oppenheimer analyst Chris Kotowski in a report called Pandit's resignation "a complete surprise," that "could be a positive or a negative," although he was "leaning toward positive given that, in the event there was something negative brewing under the surface, the company would have had to disclose this."
"The positive scenario would be that the board decided that Pandit's relationship with regulators was too strained and that they would increase the chance of substantial capital returns in next year's CCAR process with his departure," Kotowski said, while "the negative scenario would be that there is incremental negative news to come out, whether about the LIBOR probe or something else." But if the resignation was related to the LIBOR investigations, the analyst said "they would have had to file an 8-K or at least mention it in the press release."
Kotowski also said that "it could be a purely personal issue with Mr. Pandit and have no other implications for Citi though again we think that is less likely, since he could have addressed it on yesterday's earnings call."
Both Mosby and Kotowski view Citigroup's shares as undervalued.
Citi's shares closed at $36.66 Monday, trading for 0.7 times their reported Sept. 30 tangible book value of $52.70, and for eight times the consensus 2013 EPS estimate of $4.56.
Mosby rates Citigroup a "Buy," with a $45 price target. Kotowski rates Citi "Outperform," with a $52 price target.
In an interview with Bloomberg, Pandit insisted that the decision to leave was his: "Certainly I wouldn't have done this unless I thought it was the right time. This is a decision I made, after the third quarter, particularly after the
" among investors.
"I don't belive in having lame-duck sessions. I don't believe in having the outgoing CEO looking over the shoulder of the new CEO," he said.
Pandit also said he felt "very good about the decisions that we've made," that "it's hard to come up with things that should have been done differently. I was first out of the box to raise capital."
"The job was about transformation and turnaround, and we've done the turnaround," he said.
Interested in more on Citigroup? See TheStreet Ratings' report card for this stock.
--
Written by Philip van Doorn in Jupiter, Fla.
>Contact by
.
Philip W. van Doorn is a member of TheStreet's banking and finance team, commenting on industry and regulatory trends. He previously served as the senior analyst for TheStreet.com Ratings, responsible for assigning financial strength ratings to banks and savings and loan institutions. Mr. van Doorn previously served as a loan operations officer at Riverside National Bank in Fort Pierce, Fla., and as a credit analyst at the Federal Home Loan Bank of New York, where he monitored banks in New York, New Jersey and Puerto Rico. Mr. van Doorn has additional experience in the mutual fund and computer software industries. He holds a bachelor of science in business administration from Long Island University.