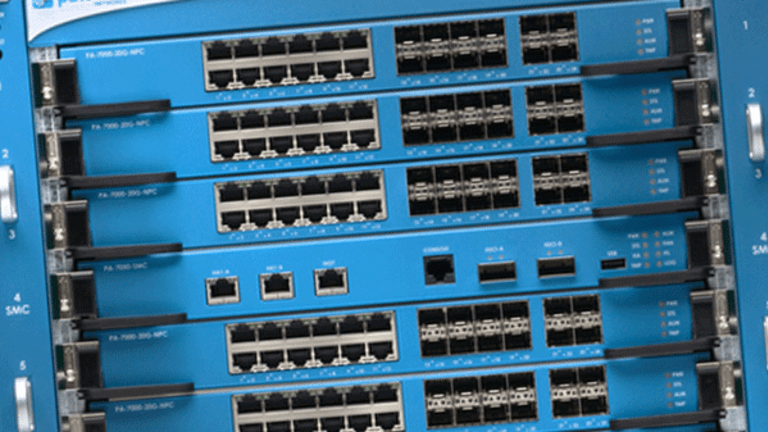 Palo Alto Networks Dives After Q1 Revenue, Billings Miss: What Wall Street's Saying
Analysts largely think the sell-off in shares of the cybersecurity provider following the company's fiscal 2017 first quarter report has been overdone.
Analysts largely think the sell-off in shares of the cybersecurity provider following the company's fiscal 2017 first quarter report has been overdone.
Palo Alto Networks (PANW) - Get Reportbeat Wall Street's expectations on earnings per share Monday after the closing bell, but the cybersecurity provider's weak revenue, billings and outlook stole the show.
The Santa Clara, Calif.-based company posted adjusted earnings of 55 cents per share for its first fiscal quarter of 2017 on revenue of $398.1 million. Wall Street was looking for adjusted earnings of 52 cents a share on revenue of $400.3 million.
Product revenue was $163.8 million and subscription and support revenue was $234.3 million, while analysts projected $166.9 million and $233.5 million, respectively. First-quarter billings jumped 33% year-over-year to $516.9 million but fell short of Wall Street's estimates of $525 milion.
Palo Alto Networks anticipates adjusted earnings per share of 61 cents to 63 cents on revenue between $426 million and $432 million for the second quarter of 2017. Analysts surveyed by FactSet expect adjusted earnings of 63 cents per share on revenue of $439 million.
For the fiscal year, Palo Alto Networks forecasts that revenue will climb 30% to 31% year-over-year with product revenue gaining 12% to 13% annually. Adjusted earnings per share are projected between $2.75 and $2.80. Wall Street is looking for annual revenue growth of 33% and adjusted earnings of $2.78 per share.
Shares of Palo Alto Networks were slumping about 13% to $140.79 on Tuesday morning following the results. Roughly 2.68 million shares have traded hands so far today, well above the 30-day average of 1.36 million.
Here's what Wall Street's saying about the quarter:
Jack Andrews, DA Davidson (Buy, $186 PT)
"While win rates remain as high as ever, some larger deals got pushed out. Given the increasing strategic nature of security and PANW's platform, more approvals are sometimes required. Nevertheless, management revealed that about half of the pushed deals have closed since, and they have "line of sight" into the remainder... Management cited competitive displacements of other software security companies including Check Point (CHKP) - Get Report , Cisco (CSCO) - Get Report, Fortinet and FireEye (FEYE) - Get Report . Despite pricing pressures from other security vendors, PANW's competitive position appears stable, as reflected in an uptick in gross margins."
Saket Kalia, Barclays (Overweight, $175 PT)
"More positive catalysts probably in 2H; longer term call hinges on refresh and renewals which drive FCF growth. From here, the catalysts feel more 2H weighted as 2Q will be the low point for product growth, and refresh should contribute more in 2H. Longer term, we believe the bull case hinges on increasing firewall refresh to turn product billings in FY18, along with increasing renewals with more upsell. Both of these drive FCF, where we forecast ~$1.1B in FY18 on which we assign a 12x multiple on reported FCF, and 20x our FCF ex-stock comp for our revised $175 price target. Our previous $200 price target was based on ~20x our FY17E FCF of $920M."
Rob Owens, Pacific Crest (Overweight, $190 PT)
"This is only the second quarter in its history with revenue below consensus, and will likely be met with skepticism and a sell-off across the space... We exit FQ1 surprised by results, but unwilling to throw in the towel, as we feel Palo Alto remains one of the best-positioned security companies longer-term. While management has seen a less-linear and less-predictable set of challenges this year, ultimately growth has remained impressive at scale and even lowered estimates imply more of the same. Further, a modest valuation after a number of resets implies opportunity."
Matthew Hedberg, RBC Capital Markets (Outperform, $170 PT)
"Palo Alto missed the mid-point of revenue guidance for the first time since Q3/13 as sales cycles elongated particularly on large deals in the Americas. That said the company has seen no change in win rates or the competitive environment and has already closed half of the deals which pushed out of the quarter. Despite a softer top line, leverage was impressive coming in above consensus for OM, FCF, CFO and EPS. Q2 guidance is appropriately conservative assuming deal cycles remain elongated, while FY/17 EPS and product revenue guidance were maintained, giving increased confidence that this is more of a short-term issue vs. anything more fundamental as the company still feels it will grow revenue 30-31% this year. Further we think pending GDPR European breach notification and easing 2H comps could help the model rebound."
Shaul Eyal, Oppenheimer (Outperform, $184 PT)
"Although we are slightly discouraged by the mixed bag of results, we are not losing sight of overall opportunity as PANW morphs into a platform provider... Results were impacted by spending dynamics reflecting elongated sales cycles. We believe the trend is impacted by the following: 1) A more complex architecture potentially yielding longer decision approvals; 2) Amortization of point solutions bought in 1H15 fear-driven product procurement. Regardless, we believe these trends reflect a short-term delay rather than a halt in spending."
Ken Talanian, Evercore (Buy, $190 PT)
"The unusual results for a company that normally demonstrates consistent execution were primarily due to an elongated sales cycle. We believe that the company should, however, rebound in F2H17 as it begins to realize a tailwind from customer renewals in addition to a potential benefit from increased traction with the service provider vertical. The company continues to see some traction with its unattached subscriptions but the solutions have not reached a sufficient enough scale to compensate for the slowing "attached" subscriptions linked to moderating product growth. We continue to believe PANW shares are undervalued but in light of the moderation in growth we are reducing our price target to $190 from $215 prior. We believe longer-term investors should buy shares on weakness."
Karl Keirstead, Deutsche Bank (Hold, $150 PT)
"The big deceleration in product revs growth (46% to 11% in the span of a year), the slightly below-consensus 2QF17 revs guide (despite a portion of the slipped deals already closing) and the admission that customers are "working their way through" prior purchases and considering "architectural changes" (a term also used by Fortinet (FTNT) - Get Report ) makes it clear that the broader network firewall space is still slowing. While the 2H comps do get easier, this print is likely to raise (not ease) concerns about the required 2H acceleration needed to hit the full year guide, especially given that it's partly rooted in a refresh cycle that we see no evidence of... Given the rate of deceleration, the back-end loaded guide and the risk that PANW's industry-high invoicing terms start to shorten, we remain on the sidelines."
Erik Suppiger, JMP Securities (Market Outperform, $175 PT)
"Despite the mixed results, we view the ~13% pull-back in PANW as a buying opportunity for three key reasons: 1) we believe the strong growth in Palo Alto's F2011-2012 customer cohorts provide a robust installed base, which is likely to upgrade in F2H17, giving management better visibility heading into the back-half; 2) Palo Alto has several emerging services that are gaining early traction and represent growth drivers, particularly its Traps endpoint security product that reached over 1 million endpoints in the quarter; and 3) we think Palo Alto's service provider business is gaining meaningful momentum, which we believe will drive particularly strong growth in F2H17 and beyond."