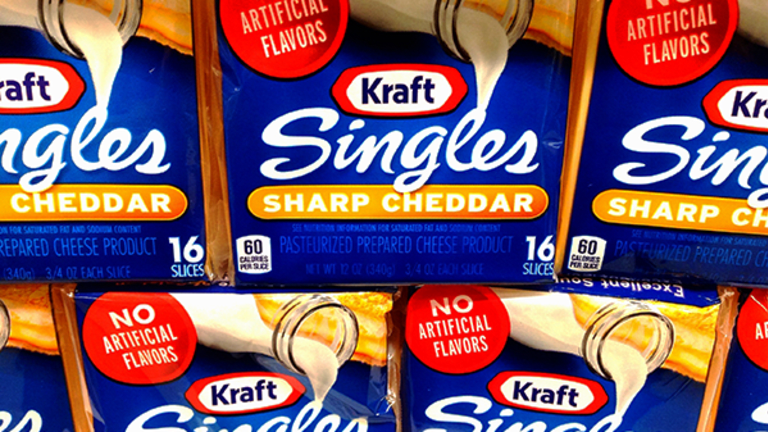 The World's Biggest Food Companies Are in Crisis Mode
Kraft Heinz, Kellogg and Mondelez all reported weak second quarter earnings.
There's big changes afoot in the land of groceries, and earnings last week from Kraft Heinz Co. (KHC) - Get Kraft Heinz Company (KHC) Report , Kellogg Co. (K) - Get Kellogg Company (K) Report  and Mondelez International Inc. (MDLZ) - Get Mondelez International, Inc. Class A (MDLZ) Report show that packaged food isn't immune.
Kraft Heinz, during the quarter ending July 1, booked net sales of $6.7 billion, below analysts' expected $6.73 billion, while earnings of 98 cents per share topped consensus estimates by 3 cents. Kraft Heinz, backed by Berkshire Hathaway Inc. (BRK.B) - Get Berkshire Hathaway Inc. Class B (BARK.B) Report and famed cost-cutters 3G Capital, bid $143 billion for Unilever NV (UL) - Get Unilever PLC Sponsored ADR Report as it's grappled with diminishing returns to further cuts. "We are really thinking KHC needs a new deal as the lackluster Ebitda trends show," said Susquehanna analyst Pablo Zuanic, who's suggested that another, more expensive Unilever approach is likely.
Watch More with TheStreet:
5 Ways Companies Are Using AI to Secretly Change Your Life
Around the World in 5 Insane Pizza Hut Pizzas
Tesla's Elon Musk Is All Jokes as the Model 3 Accelerates into "Production Hell"
Kellogg, which managed to beat on both the top and bottom lines, is moving from a DSD to warehouse model. The change even prompted JPMorgan analyst Ken Goldman to upgrade Kellogg's stock to overweight, the first such rating in over five years, despite Goldman's concern "about general trends in U.S. food."
And Mondelez is still searching for ways to keep up with changing consumer tastes. Like Kraft Heinz (its former grocery division), Mondelez also turned to acquisitions to bolster growth, unsuccessfully bidding $23 billion for Hershey Co. (HSY) - Get Hershey Company (HSY) Report last year. New CEO Dirk Van de Put is expected to be a "growth guru," Bernstein analyst Ali Dibadj wrote. He replaces Irene Rosenfeld, its CEO of 11 years, who orchestrated the former Kraft Foods' split in two and fended off activist investors like Nelson Peltz and Bill Ackman.
The companies have all taken a beating as consumer tastes have shifted toward fresher food, but non-packaged rivals aren't immune. Amazon.com Inc.'s (AMZN) - Get Amazon.com, Inc. Report$13.7 billion acquisition of Whole Foods Market Inc. (WFM) points to continued evolution in food retailing, but brick-and-mortar is likely here to stay.
"There is still a long way to go between the current reality and a 'Gattaca' of retail, an environment relieved of all of its inefficiencies...where groceries-the last bastion of brick & mortar-based on online's modest share and Amazon's planned purchase of Whole Foods-are beamed, seamlessly, to your home, unspoiled, unblemished, wholly organic and with no friction," Goldman Sachs analysts wrote in a note. While technology ordering is becoming more advanced, "most Americans still shop like the Flintstones, or at least like (and at the same store as) Lucille Ball. Amazon's proposed acquisition of Whole Foods further confirms that the dominant US ecommerce retailer sees a future for the brick & mortar box."
More of What's Trending on TheStreet: