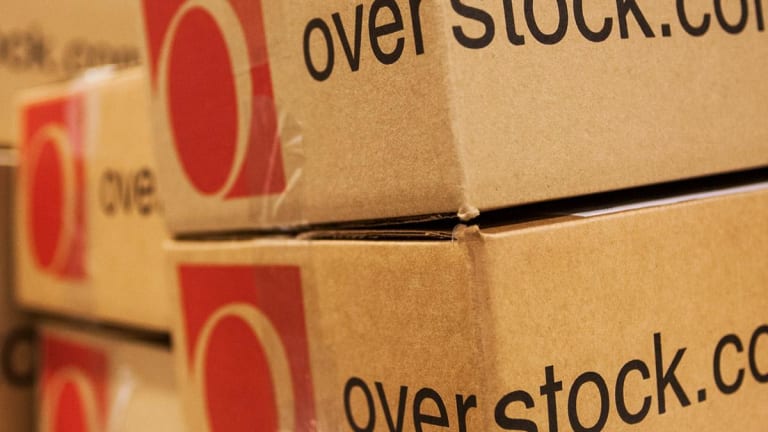 Overstock.com Stock Gains Nearly 10% as Wild Ride Continues
Shares recently lost nearly 70% in less than three weeks.
Struggling online retailer turned blockchain play Overstock.com (OSTK) - Get Overstock.com, Inc. Report rallied 9.8% Monday on a combination of strong bitcoin prices and a bounce from its recent sell-off of nearly 70%.
OSTK added $1 to close at $11.22, recouping some of the steep losses that it's seen since hitting a $29.75 near-term intraday peak on Sept. 13. The stock has since dropped to as low as $9.30 intraday on Oct. 2 -- a 68.7% peak-to-trough decline.
"You have a very volatile stock that has had recent peaks and valleys," said analyst Tom Forte of D.A. Davidson. "Investors are trying to determine what the [company's] assets are worth and the stock is starting to rebound."
Overstock has been swinging wildly since August, when then-CEO Patrick Byrne issued a bizarre press release about his alleged involvement with "Men in Black" and alleged political conspiracies.
"Starting in 2015 I (operating under the belief that I was helping legitimate law enforcement efforts) assisted in what are now known as the 'Clinton Investigation' and the 'Russian Investigation,'" he wrote. "It was the third time in my life I helped the Men in Black: the first was when my friend Brian Williams was murdered, and the second was when I helped the M.I.B. shake up Wall Street a decade ago. Unfortunately, this third time turned out to be less about law enforcement and more about political espionage conducted against Hillary Clinton and Donald Trump (and to a lesser degree, Marco Rubio and Ted Cruz)."
The strange remarks sent OSTK shares plunging, but the stock rallied after Byrne resigned a few days later.
Forte said the stock has also been volatile over its plan to issue stockholders a "digital dividend" of special Overstock shares that would trade on the tZero exchange, a security-token platform that OSTK owns.
Although best known as an e-commerce site, Overstock has been building a large portfolio of investments in blockchain companies like tZero. As a result, the stock has partly traded in lockstep with bitcoin, which rose some 4.5% Monday to $8,226.04 shortly after 6:30 p.m. ET.
Forte -- who has a "buy" rating on the stock and a $48 price target -- said bitcoin's gains and the growing passage of time since Byrne's resignation fueled Monday's rally for Overstock shares.
"Now that the dust has settled a little, the company has more distance from the former CEO and people are starting to reassess the story here on its merits," he said.
Employees of TheStreet are restricted from trading individual securities.