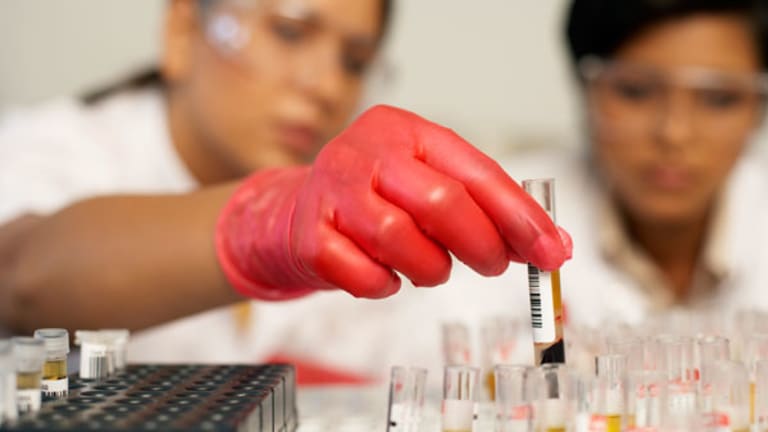 Outlooks for Pfizer, Arena and Onyx Following Busy May
Healthcare investor Nate Sadeghi says Pfizer's arthritis drug and Arena's obesity drug will be approved, while confidence in Onyx's cancer drug has increased.
NEW YORK (
) --My review of the major events in healthcare during the first half of May continues below.
Part one of this column was published last week.
"Oral Enbrel" Gets a Positive Vote
On May 9th,
Pfizer's
(PFE) - Get Pfizer Inc. Report
tofacitinib -- a first-in-class inhibitor of Janus kinase 3, or JAK3 -- received a favorable FDA advisory panel recommendation (by an 8-to-2 vote) for the treatment of moderate-to-severe rheumatoid arthritis (RA). I expect tofacitnib to receive final FDA approval in August.
The treatment choices for RA -- a progressive, inflammatory joint disease -- has expanded dramatically over the past 15 years, and now includes multiple types of biologic therapies as well as a handful of older medications.
Amgen's
(AMGN) - Get Amgen Inc. Report
Enbrel and
Abbott Laboratories'
(ABT) - Get Abbott Laboratories Report
Humira -- both of which are inhibitors of an inflammatory cytokine called tumor necrosis factor, or TNF -- are by far the most frequently used biologics due to both drugs' combination of solid efficacy and reasonable safety. (Fun fact: due to generic competition for Pfizer's cholesterol-lowering drug Lipitor and Sanofi and Bristol Myers' blood-thinner Plavix, Humira will be the world's best selling drug this year.)
Due to some questions about an increased incidence of malignancy among tofacitinib recipients, the FDA may restrict the drug's use to later lines of therapy (after patients have tried other biologics.) I don't think this will prove an issue over time, since most TNF inhibitors also carry a slightly increased risk of cancer, but it could make for a slower-than-expected launch. Either way, Pfizer doesn't disclose detailed sales for smaller products, so Wall Street will have to read between the lines of management commentary for a sense of how the launch is going.
Assuming no dramatic change in the safety profile post-launch, I think tofacitinib has two big advantages over other biologics. First, JAK inhibition is a new mechanism-of-action and thus avoids being perceived as a late arriving "me too" TNF inhibitor. Second, and more importantly, tofacitinib is a pill in a market dominated by injectable drugs. This makes for an easy, sound bite-friendly marketing pitch -- Hey doc, it's oral Enbrel!
Tofacitinib's sales -- which I think could eventually reach $2.5 billion -- don't really move the needle much for Pfizer's $169 billion market capitalization and roughly $60 billion revenue base. Nonetheless, the favorable panel vote keeps investors on board with CEO Ian Read's "invest (in R&D) and divest (non-core assets)" corporate strategy. For now, sentiment matters more than sales.
With a still-modest 10-times multiple on 2012 earnings, I still like Pfizer as a core portfolio long. As long as the company continues to execute, and I think it will, Pfizer shares should continue to grind higher. An additional tailwind will come from the company's recent $11.9 billion sale of its nutritionals business to Nestle -- well above Wall Street expectations -- which should enable additional share repurchases.
It's not the most exciting investment, but Pfizer investors also collect nearly a 4% dividend. In today's near-zero interest rate environment, that's not bad.
The Long Weight is Almost Over
Sometimes, I'm just wrong.
A month ago, I never would have expected
Arena Pharmaceuticals
(ARNA) - Get Arena Pharmaceuticals, Inc. Report
to get a decisively favorable FDA advisory panel recommendation for the company's weight-loss drug lorcaserin. Yet after reading the panel briefing documents on May 8th, I publicly changed my mind. Clearly, the FDA had no major objections. The vote was Arena's to lose.
To management's credit, the company did a great job answering the panel's questions, particularly those on safety. (I've seen many a company fumble a seemingly low-risk panel.) It's now clear to me that Lorqess, the proposed brand name for lorcaserin, will receive final FDA approval.
Although I don't think it matters much for the drugs' longer-term commercial prospects,
Vivus'
(VVUS) - Get VIVUS, Inc. Report
weight loss drug Qnexa may actually reach the market before Lorqess despite having a later PDUFA date (July 17th to Arena's June 27th). I think Lorqess' approval will be pushed back by three months, to give the FDA more time to craft an effective Risk Evaluation and Mitigation Strategy, or REMS.
I would strongly prefer that society spend money and effort on overhauling the food system -- by far a more effective long-term solution to the obesity crisis -- but Americans like seemingly easy drug-based solutions, the politics of the food system are extremely challenging, and there is no denying that both Lorqess and Qnexa produce modest weight loss. (Qnexa seems to be the more effective of the two.)
One key question remains: how large is the market? Despite the obviously big problem (pre-emptive strike by the pun pen!),
Forbes
writer Matthew Herper recently noted that no obesity drug has ever topped $1 billion in sales. Arena and Vivus might re-write that statistic, but I doubt it will be easy. I think the easy money has been made and investors should look elsewhere.
Mark's Good Point About Merck
Despite obvious conflicts of interest -- which drive me crazy -- there are some intelligent, hardworking people on the sell side. Regardless of where he falls on the smart-o-meter (for the record, I think he scores well), few professional investors would dispute that ISI Group's Mark Schoenebaum is one of the hardest working sell-side analysts. (I often tease him about the sheer volume of emails he sends, which often feature massive spam-like font to draw attention to some detail he considers important.)
The other week, Mark made an excellent point I think merits highlighting.
Roche
(RHHBY)
recently announced the failure of a large trial of dalcetrapib, a cholesterylester transfer protein (CETP) inhibitor intended to reduce cardiac risk by raising high density lipoprotein (HDL), commonly known as "good" cholesterol. Dalcetrapib will now be buried next to Pfizer's CETP inhibitor torcetrapib in the graveyard of failed drugs. (Torcetrapib failed for safety reasons.) Upon hearing of the Roche failure, many investors, myself included, immediately thought of the possible negative implications for
Merck
(MRK) - Get Merck & Co., Inc. (MRK) Report
, which has a CETP inhibitor named anacetrapib in Phase III trials.
Mark astutely pointed out that, unlike dalcetrapib, Merck's anacetrapib also profoundly lowers low-density lipoprotein (LDL), the well-established cardiac risk factor known as "bad" cholesterol, as well as raising HDL. Further, Merck's 30,000-patient Phase III trial -- named REVEAL -- is nearly twice as large as Roche's failed Dal-OUTCOMES study. (Larger trials offer an opportunity to observe smaller effect sizes with statistical significance.) These two differences -- an established "backup" mechanism-of-action and very large trial size -- might be enough to enable anacetrapib to succeed where other CETP inhibitors have failed.
It's not clear what these observations mean, and results from REVEAL won't be available until at least 2015. I still wouldn't own Merck, since I think there are more compelling investments elsewhere. Having said that, Mark's point gives me pause; maybe investors shouldn't wheel anacetrapib towards the morgue quite yet.
More Confidence in Onyx Pharmaceuticals
Last week, the American Society of Clinical Oncology (ASCO) released hundreds of abstracts for the annual conference in June. Among the agglomerate of studies lay some important incremental data for
Onyx Pharmaceuticals'
(ONXX)
multiple mylema drug carfilzomib. The results, which I think are very positive, should silence skeptical investors.
Bearish investors have long expressed doubt about carfilzomib's efficacy in so-called "double refractory" multiple myeloma -- that is, patients refractory to both Takeda's Velcade and Celgene's Revlimid or thalidomide. Investigators reported a 20.6% overall response rate and median 7.4 months duration of response among patients with double refractory or intolerant disease. These results exceeded expectations, which buyside surveys suggested were closer to a 13% response rate, and should reassure investors that carfilzomib has meaningful efficacy in patients with virtually no treatment options.
Onyx' ASCO data increases my previously expressed confidence in the likelihood of accelerated approval for carfilzomib. The company's upcoming FDA advisory panel meeting on June 20 is the next major catalyst; I expect a positive vote. These data also further increase the likelihood of a takeout by partner Bayer.
If Onyx shares continue to sell off, I would be an aggressive buyer below $40 per share.
Disclosure: Sadeghi has no positions in any of the stocks mentioned in this article.
Follow Nathan Sadeghi-Nejad on
.
Nathan Sadeghi-Nejad has 15 years experience as a professional health-care investor, most recently as a sector head for Highside Capital. He has worked on the sell side (with independent research boutiques Sturza's Medical Research and Avalon Research) and the buyside (at Kilkenny Capital prior to Highside). Sadeghi-Nejad is a graduate of Columbia University and lives in New York. You can follow him on Twitter @natesadeghi.