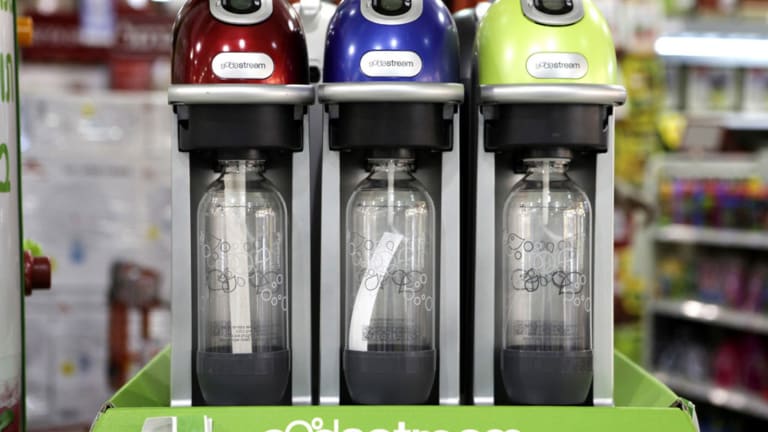 Our Biggest Soda Rivals Are Prehistoric and They Keep Trying to Shut Us Up: SodaStream CEO
Fighting words.
Using the power of celebrity influence, SodaStream Int.'l Ltd. (SODA) - Get SodaStream International Ltd. Report  has launched a full-throttle attack on the bottled beverage industry.
The company, a manufacturer and distributor of at-home beverage carbonation systems, released its latest video campaign on Wednesday, July 12, featuring The Big Bang Theory's Mayim Bialik, "Dr. Amy Farrah Fowler," and Game of Thrones' Kristian Nairn, "Hodor," that slams beverage giants, like PepsiCo Inc. (PEP) - Get PepsiCo, Inc. Report and The Coca-Cola Co. (KO) - Get Coca-Cola Company Report , for their "prehistoric" use of plastic bottles that threaten the environment.
In the ad, Bialik, playing the role of an anthropologist set in the future, tells a tale of traveling back in time to meet the "Homoschlepiens," one of which is Nairn, who introduced her to plastic water bottles, something that does not exist in her futurist, fictional world. In telling the tale to a group of young school-aged children, one whippersnapper comments that the story "makes no sense."
"You're right," Bialik says in the video (above). "It makes no sense. With SodaStream, mankind evolved to make fresh, sparkling water at home without carrying polluted plastic bottles."
As of late, consumers have been increasingly shifting away from carbonated, sugary drinks, in favor of healthier alternatives. This, coupled with a growing push toward eco-friendly products within a promotional grocery retail environmental, has placed pressure on many major beverage companies.
On a second-quarter earnings call with analysts Tuesday, PepsiCo CEO Indra Nooyi admitted that the industry is seeing "profound change." 
PepsiCo is a holding in Jim Cramer's Action Alerts PLUS Charitable Trust Portfolio. Want to be alerted before Cramer buys or sells PEP? Learn more now.
TheStreet spoke with SodaStream CEO Daniel Birnbaum about the company, the new ad and the evolving beverage industry. Here's a condensed and edited version of the interview.
Editors' pick: Originally published July 12.
Question: SodaStream's stock is up nearly 30% year to date, what is the main driver of this growth?
A: The company is addressing mega trends - health and wellness, convenience, consumer choice and good, important values. We have the right product at the right time. Our competition is prehistoric and that might explain the success we've seen around the world, particularly in Japan, New Zealand, Canada, Germany, Norway, all over the world. This is not a local phenomenon. This is a global mega trend. We're looking to embrace a sustainable world for our children to live in.
Q: Why did you think Mayim and Kristian were good fits to star in the new ad?
A: In real life Mayim's a doctor of neuroscience, so she has the credentials of the geek she plays on Big Bang Theory and we wanted someone who could play the role of an anthropologist and connect with the audience. She really cares about our cause. In Game of Thrones, Kristian plays Hoder, and what he does in the show is he carries a boy on his back for six years and all he can say is "hodor" which is how he got that name. In the last episode, it became clear that "hodor" means hold the door. So, we thought he fit the role of someone who is a big-time carrier, a shlepper.
Q: In addition to the consumer shift toward healthier eating habits, do you see the fact that SodaStream sells systems that are sustainable and not just impulse purchases like a bottle of soda as another advantage over your competitors as shopping shifts more and more online?
A: Of course. It's not a coincidence that we have been getting cease and desist letters from our competitors over our ads. We've gotten eight of them in the past. The whole industry is sending us letters to try to shut us up because we offer a much smarter solution to what they're selling. Plastic bottles should be treated like cigarettes, they should carry warning labels on them.
Q: In terms of expansion, can you comment on any potential acquisitions we may see from SodaStream in the future either within the beverage space or outside of it?
A: We're looking at our possibilities. If you look at our last five quarters, we saw double-digit growth, we're cash positive and we have a clean balance sheet. We are very focused on our core business, but I won't say what type of acquisitions we are looking to make. We are able to act now, we have the cash and we are growing aggressively. We are just at the beginning.
Q: We know SodaStream has come under fire for operating in Israel, particularly in the West Bank up until 2014 (the company shut its main facility down there after receiving backlash), from pro-Palestinian activists who urge boycotts of your products. What do you have to say about your stance on the controversy?
A: There are many, many people on both sides of the conflict who work in our factory. We employ 2,000 people in Israel - not in the West Bank - Arabs and Jews working together. We were able to get Palestinians to work here at SodaStream. It's just wonderful to get people a job, and we just hope the politicians will get out of the way. We believe in an economy of peace.
PepsiCo did not immediately respond to a request by TheStreet for comment.
Visit here for the latest business headlines.