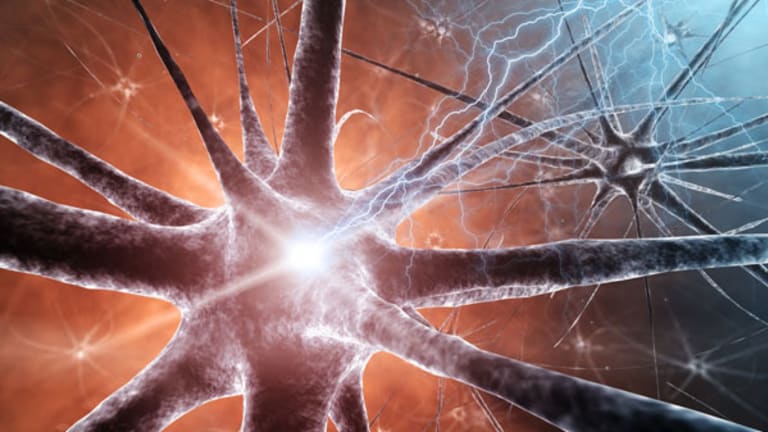 Osiris Up to Its Old Tricks Again
A press release regarding the end of a trial of stem-cell drug Prochymal highlights all that's wrong with this company.
I'm short
Osiris Therapeutics
(OSIR) - Get Osiris Therapeutics, Inc. Report
in the model portfolio of the Biotech Select newsletter because 1) its adult stem cell drug Prochymal doesn't work; and 2) Osiris management practices the high art of spin-doctoring.
Both are on display in the press release Osiris issued Friday announcing the halt to a phase III study of Prochymal in patients with Crohn's disease.
Let's start with the title of the press release: "Osiris Discontinues Enrollment in Crohn's Study Due to Concerns with Trial Design."
OK, I guess that's sort of what happened, but the more relevant fact is that an independent data monitoring board looked at the study and concluded that Crohn's patients taking one of two doses of Prochymal were not responding any better than patients taking a placebo. In bio-statistical parlance, the Prochymal study failed a futility test.
In plain English, the independent data monitors said Prochymal wasn't working, so there's no point in enrolling any more patients.
Osiris CEO Randy Mills, speaking on a Friday morning conference call, placed the blame for this mishap on a "study design flaw" that led to a higher-than-expected placebo response. Well, I guess when someone outside your control tells you that your drug doesn't work, it constitutes a flaw in the study.
Later in the call, Mills had the temerity to suggest Osiris be excused for its "study design flaw" because the company had only tested Prochymal in nine Crohn's patients before starting the phase III study.
That's not a typo. Osiris based its Prochymal phase III Crohn's program on previous data in
nine
patients. And even worse, those
nine
Crohn's patients were treated with a Prochymal dose different from that used in the phase III study. By contrast, in 2002
Biogen Idec
(BSX) - Get Boston Scientific Corporation Report
enrolled 248 patients in a Phase II Crohn's study of Tysabri, which later was approved to treat the disease.
Don't be shocked to learn that Osiris takes shortcuts with drug development, and then dissembles the data that comes out of these bad clinical trials. That's been the company's modus operandi from the beginning.
As I've reported previously, Osiris used easy-to-achieve endpoints, liberal definitions of response and enrolled easy-to-treat patients in
phase II studies of Prochymal
in graft-versus-host disease. Osiris is now testing Prochymal in two phase III studies of graft-versus-host disease, which aren't likely to turn out any better than Friday's results in Crohn's disease.
In the past, Osiris has tried to pass off Prochymal data in
patients with arthritic knees
as positive when in fact the study failed.
The company also continues to flog Prochymal as a potential treatment for heart attack victims even though
Boston Scientific
(BSX) - Get Boston Scientific Corporation Report
, Osiris' former partner, took a look at the cardiovascular data years ago and decided to dump Prochymal from its pipeline.
But don't expect to hear any questions of doubt about Prochymal or complaints about the way Osiris misleads investors from most of the sell-side analyst crew who follow the company. On Friday's call, Leerink Swann's Bill Tanner, JMP Securities' Charles Duncan and Piper Jaffray's Ed Tenthoff were all more than happy to buy into the message that Osiris' chief executive Mills was spinning.
At one point, Duncan asked if the halting of the Crohn's study might actually be a good thing because it could help alleviate the problem Osiris has had manufacturing enough Prochymal for its other phase III studies.
Tanner questioned Mills about whether the data from this failed Crohn's trial may actually help the company enroll the next Crohn's study even faster; while Tenthoff wondered aloud if the data, once it's analyzed, might actually show that the study was a success.
Meantime, the analysts from Jefferies and Lazard Capital, both of whom take a much less sanguine view of Osiris, were noticeably absent from the conference call in which Osiris management got to choose who could ask questions and who could not.
Osiris shares were plunging 23% to $14.10 in Friday trading, which is still too high given the high likelihood that Prochymal amounts to nothing when phase III studies in graft-versus-host disease report data in the third quarter.
The company has gotten a good bit of mileage from a recent Prochymal development partnership with
Genzyme
(GENZ)
, but that, too, will likely end when more of the phase III studies fail.
Just as the Crohn's study of Prochymal failed Friday.
At the time of publication, Feuerstein's Biotech Select model portfolio was short Osiris.
Adam Feuerstein writes regularly for TheStreet.com. In keeping with TSC's editorial policy, he doesn't own or short individual stocks, although he owns stock in TheStreet.com. He also doesn't invest in hedge funds or other private investment partnerships. Feuerstein appreciates your feedback;
to send him an email.