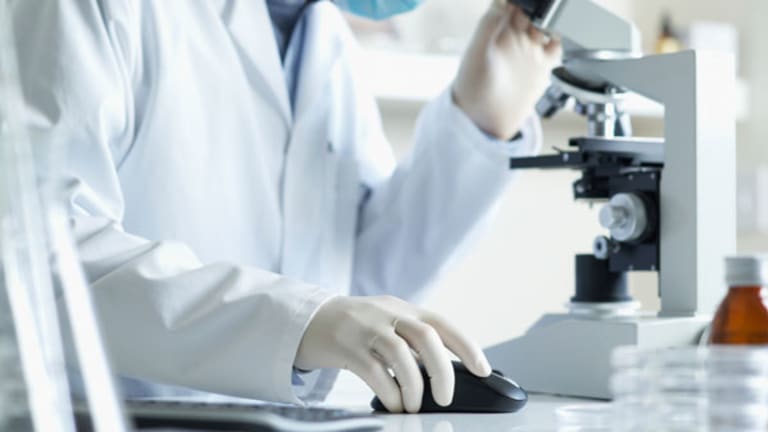 Osiris Drug's Failure Was Easy to Envision
Osiris Therapeutics' shoddy work and shortcuts in its previous clinical trials for stem cell drug Prochymal led to the failure of two late-stage trials.
COLUMBIA, Md. (
) -- The failure of
Osiris Therapeutics'
(OSIR) - Get Osiris Therapeutics, Inc. Report
stem cell drug Prochymal in two late-stage clinical trials Tuesday was an easy pickup for anyone digging into the shoddy work and shortcuts taken by the company in its previous clinical trials.
Osiris used easy-to-achieve endpoints, liberal definitions of response and enrolled relatively healthy patients in
phase II studies of Prochymal
in graft-vs.-host disease (GVHD).
It's no surprise, then, to see the
phase III studies of Prochymal
come up short, especially since these larger studies were designed with stricter, more difficult-to-achieve efficacy endpoints. This is why Osiris was a short at $17 in my old biotech investment newsletter, full disclosure.
In the phase III study of patients with steroid-refractory GVHD, the Prochymal response rate was 35% compared to a 30% response rate for placebo -- a result that wasn't close to being statistically significant, with a p value of 0.30. (A p value of 0.05 or less would have been required for the study to be a success.)
The phase III study in newly treated GVHD patients was even uglier, with Prochymal patients doing worse than placebo patients (a 45% response rate for Prochymal vs. 46% response rate for placebo with a p value of 0.80.)
There was also no difference in survival between Prochymal patients and those treated with placebo in either study.
Osiris shares were off 34% to $8.05 in Tuesday trading, but that still overvalues the company. Prochymal has now failed or otherwise produced negative/equivocal data in studies involving GVHD,
knee cartilage damage
,
and heart attack.
Osiris has a bit less than $4 a share in cash on hand, which seems an appropriate valuation for the company given Prochymal's uselessness.
Prochymal is a drug derived from mesenchymal stem cells (MSCs), which are capable of differentiating into tissues that provide rigidity or stability in the body -- bone, cartilage, fat, tendon or muscle. MSCs may also possess anti-inflammatory properties and appear not to activate an immune response when transplanted into an unrelated or unmatched host, according to Osiris
Graft-vs.-host disease, or GVHD, is a potentially life-threatening immune reaction that can occur in patients who have had bone-marrow transplants. In GVHD, immune cells from the donated bone marrow attack the recipient's organs and tissue. There are no approved drugs to treat GVHD, although steroids and other immunosuppressants are often used.
Osiris is trying to salvage something positive from the failed Prochymal studies by data-mining to find two subgroups of patients -- those with steroid-refractory GVHD affecting the liver and gastrointestinal tract -- in which the drug appears to work better than a placebo.
Osiris CEO Randy Mills, on a conference call Tuesday morning, says the company intends to meet with the Food and Drug Administration to discuss the Prochymal data and request a change to its existing expanded access program to allow patients with GVHD of the liver and GI emergency access to the drug.
Left unsaid by Mills, however, is that if Prochymal is benefiting GVHD patients with liver and GI involvement, it is likely doing harm to patients with GVHD of the skin, the most common form of the disease.
Mills believes the FDA will grant the company's request for an expansion of its emergency use authorization for Prochymal. But it seems just as likely that FDA will look at data from two failed phase III trials and shut the entire thing down, or at least place more restrictions on the drug, like barring its use in patients with the common skin form of GVHD.
Mills, on his conference call, hedged and wouldn't say if he thought the results from the two phase III trials were strong enough for the company to seek FDA approval in GVHD. Of course they're not, since even Mills knows that FDA will not grant approval to a drug based on retrospective "positive" data gleaned from failed trials.
The only recourse for Osiris now is to design and run new phase III trials, trying to establish Prochymal's efficacy in severely ill patients with GVHD involvement in the liver and GI tract.
Osiris may choose to go down that long and expensive route, but it may be forced to do it solo. Conspicuously absent from today's Prochymal announcement was any word at all from Osiris' partner
Genzyme
(GENZ)
.
-- Reported by Adam Feuerstein in Boston
.
Adam Feuerstein writes regularly for TheStreet.com. In keeping with TSC's editorial policy, he doesn't own or short individual stocks, although he owns stock in TheStreet.com. He also doesn't invest in hedge funds or other private investment partnerships. Feuerstein appreciates your feedback;
to send him an email.