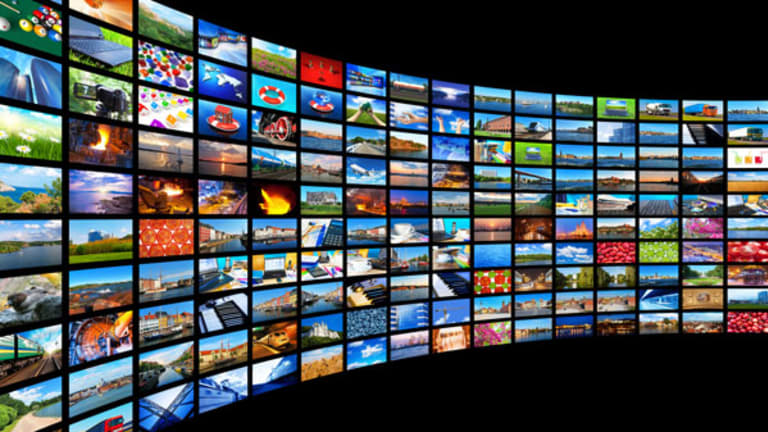 Oscar's Financial Picture
The rise of digital technology is fundamentally changing the way audiences consume and pay for filmed entertainment.
The following commentary is from an investment professional with Clear Harbor Asset Management who is a participant in TheStreet's expert contributor program.
NEW YORK (
) -- I could sense desperation in the air on Sunday night as "The Academy" dusted off nine-time Oscar host Billy Crystal to take the stage once again at Hollywood's biggest awards ceremony in the house that he called "Chapter 11 Theater." It was the Kodak Theatre on Hollywood Boulevard, of course. Actually, it's now apparently called the Hollywood & Highland Theater because
Eastman Kodak
(EKDKQ.PK) recently requested in bankruptcy court to remove its name from the iconic home of the Oscars on the grounds that it was no longer worth its $70 million-plus price tag.
Kodak, the photographic film products maker, finally went kaput in February due to the rise of digital photography and camera phones. America's filmed entertainment industry, meanwhile, is in better shape, but behind the glitz and glamour of Oscar night, Hollywood is facing financial headwinds of its own for different but similar reasons that should leave investors wary.
The theme of the 2012 Oscars was "Let's Go to the Movies," which sounds like begging after a year that saw the lowest movie theater attendance in the U.S. in almost two decades. Crystal's introduction to a film montage that came early in the show built on this theme as he launched into a full-throated pitch for going to see movies in theaters, replete with the obligatory jokes about
Apple's
(AAPL) - Get Apple Inc. Report
iPad and
Twitter
designed to demonstrate Hollywood's tech savvy alongside the timeless allure of the cinema.
Hollywood can be expected to pitch its products as shamelessly as any other industry, but there was an urgency in the marketing message embedded in Sunday night's script that I haven't heard before at the Oscars. This is probably related to the fact that U.S. box office receipts were down by a reported half-billion dollars in 2011. Everyone has a reason for this -- economic malaise, rising ticket prices, bad movies etc. I'm sure these are all factors, but I believe the fundamental problem facing Hollywood is ultimately the same problem that brought down Kodak: the rise of digital technology is fundamentally changing the way audiences consume and pay for filmed entertainment.
People are snapping more pictures than ever before, but they've found a better and cheaper way to go about doing it that doesn't involve Kodak's film or camera products. Likewise, people are watching more filmed entertainment than ever -- they've just found a better and cheaper way to go about doing it than going to movie theaters or buying DVDs.
To be sure, moviegoers spent nearly $10 billion at the box office in 2011, according to Hollywood.com, and I'm not suggesting the business is falling off a cliff the way Kodak did. People all over the world still swoon for Hollywood's royal family of celebrities, and the writers and directors and other artists behind the scenes still occasionally make great films, some of which were on display on Sunday night. But let's take a closer look at the economics of the business.
DVD sales have long been the greatest source of profits for major film studios, but that revenue has now been in decline for years for obvious reasons. In the digital media age of
Netflix
(NFLX) - Get Netflix, Inc. Report
, digital downloads and, yes, online piracy, people simply don't need to pay money for a bunch of DVDs that are going to stack up in their living room and collect dust. Major media conglomerates, which have been aggressively restructuring their film studio divisions for years, all posted flat or declining operating income from film for fiscal 2011 due to this trend -- the lone exception was
Time Warner's
(TWX)
Warner Bros., which posted a 14% increase in operating profit thanks largely to the success of its Harry Potter franchise, which is nearing the end of its tether.
It's analogous to the declines suffered by the music industry when consumers stopped buying physical CDs, and the same thing is occurring in publishing as people stop buying physical books, magazines and newspapers and turn to the Internet for their information needs.
The movie business is trying to compensate for lower DVD sales by raising prices at theaters and cutting costs at studios. This is discouraging theater attendance at a time when families can save by staying home and enjoying movies and shows that they've already paid for on their own home theater system, where technology has made big advances. Meanwhile, it's hurting the quality of Hollywood films as the industry takes fewer risks and focuses on milking old franchises with gratuitous sequels and remakes of old concepts, like comic book heroes. There's only so much of this the public can stand before it grows stale, and that's happening.
The industry has touted several rounds of gimmicks -- like Blu-Ray discs, which are more expensive than DVDs, and another burst of 3D films sporting higher ticket prices -- but nothing really seems to be changing the game. Moreover, I doubt much can be done to effectively clamp down on Internet piracy of films without raising First Amendment issues and the ire of the public. This was on full display when public outcry on social media networks in January quickly crushed an effort by Congress to quietly pass controversial legislation to combat online piracy.
In a sign of how serious the situation is becoming, film studios have been making film titles available sooner on-demand on pay-TV systems and Internet streaming and download services in an effort to drive more profitable revenue from these emerging business models. In many cases, films are made available on the same day they're released for sale on DVD, and some studios are pushing to make films available in these channels at a premium price before their DVD release date and closer to their theatrical release.
Movie theater chains like
Regal Entertainment
(RGC)
and
Cinemark Holdings
(CNK) - Get Cinemark Holdings, Inc. Report
have pushed back against this idea, fearing that it could lead to further declines in movie theater outings. They're right to be afraid, because shortening theatrical release windows will, over time, train more consumers to wait and see movies at home.
The digital revolution in video entertainment is probably still in its infancy, and if current trends continue, movie lovers like me can only hope that new business models are eventually forged to reverse the tide and allow quality filmmakers to flourish. In the meantime, I'll be putting my investment dollars elsewhere, and anyone who convinces you that all is well in Tinseltown deserves an Academy Award.
Disclosure: Worden and his firm hold positions in AAPL. They don't hold any positions in the other stocks mentioned in this story.