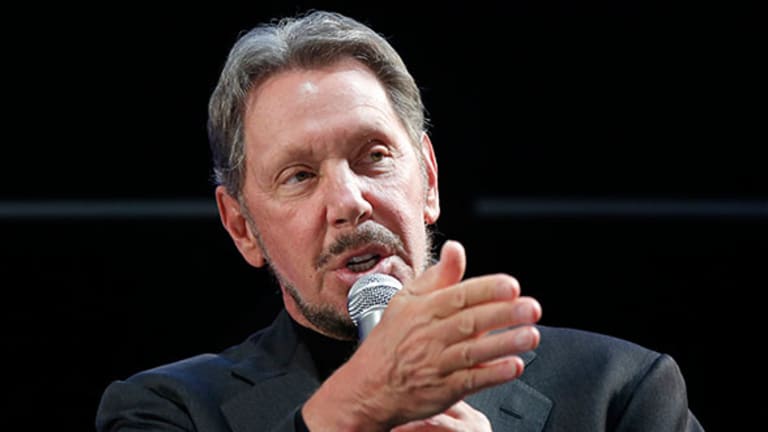 Publish date:
Oracle Talks Up the Cloud While Analysts Bring Down Estimates
Oracle is banking on the cloud to lift earnings.
Oracle is banking on the cloud to lift earnings.
While Oracle (ORCL) - Get Report  Executive Chairman Larry Ellison and other executives were laying out their most detailed plans yet for the cloud computing market this week, Wall Street analysts were busy cutting full-year earnings estimates for the company.
With those same analysts headed to the company's annual user conference in San Francisco for a Thursday meeting, the software maker will need to show the impact of new cloud products on sales and profit to keep growth investors interested.
In the wake of a fiscal first-quarter report with bearish news about the company's traditional, high-margin software license business, the consensus earnings figure for the fiscal year ending in May has been shaved to $2.64 a share, from $2.76 a week ago, according to Thomson Financial.
Sales growth for this upcoming year is pegged at 1.6%, as new customer wins in cloud software are still only a small piece of the overall Oracle revenue pie.
The good news for bulls is that while Ellison was bashing Amazon's (AMZN) - Get Report rival cloud offerings in not one but two keynote addresses this week, Thomas Kurian, Oracle's president of product development, laid out a detailed argument for why big corporations should trust the company with their cloud needs.
Based on slides Kurian shared on large companies such as Kellogg (K) - Get Report , American Express (AXP) - Get Report and Callaway Golf (ELY) - Get Report , Oracle's cloud marketing message is essentially: 'We can get you on the cloud fast, give you insightful, cloud-based business analysis fast and keep your cloud data safe.'
Or, in Kurian's words: "We're changing the way customers use apps and intelligence to make decisions."
When Kurian relayed that customers ranging from Japanese tech holding company SoftBank to Brazilian beverage giant AmBev (ABEV) - Get Report were up and running on Oracle's cloud in "weeks," many listening to his presentation seemed impressed.
Kurian also had a message for corporate IT departments overwhelmed with new technologies in their networks. Oracle makes it "very easy to migrate environments from your premise to the cloud," he said.
Still, it will take more than selling cloud products to existing customers to generate healthy sales and profit growth. For the quarter it reported last week, sales of new software licenses fell 11% year-over-year, while sales of hardware products and support fell 12%. Together, those two areas accounted for 23% of total revenue during the period.
Meanwhile, revenue from existing licenses and related support services -- which account for more than half of total revenue -- rose just 2%. Clearly, Oracle needs to win new customers who are switching to the cloud.
Look for analyst notes coming Thursday or Friday after its meeting with analysts to see how much Oracle's cloud business might impact its financial forecasts this year.