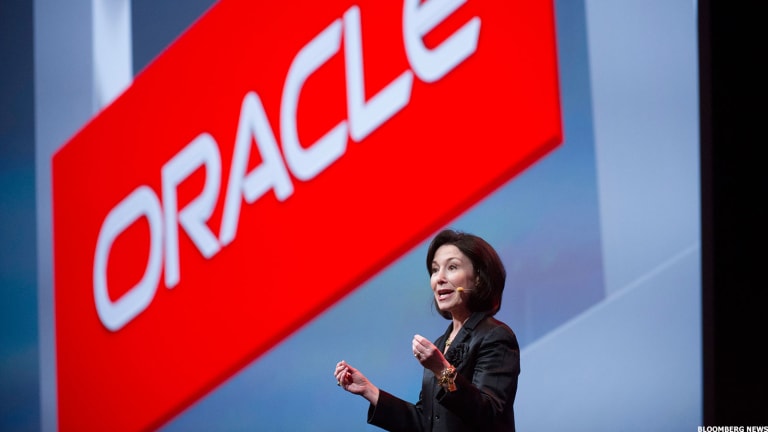 Oracle Shares Surge on Stellar Q4 Results: What Wall Street's Saying
Oracle managed to impress a number of analysts with its latest blowout quarter.
Shares of Oracle (ORCL) - Get Report were surging 9.7% to $50.27 in morning trading on Thursday, the day after the company reported a top and bottom line beat for the fourth quarter. 
For the past quarter, Oracle reported earnings of 89 cents, topping expectations for 78 cents. Revenue for the quarter rose by 3% to $10.9 billion and also beat expectations for $10.5 billion. 
Oracle's forecast also topped expectations. The company is predicting earnings of 59 cents to 61 cents per share and revenue growth of 4% to 6% for the 2018 first quarter. Analysts were expecting earnings of 59 cents on revenue growth of 3.9%. 
Here's what Wall Street analysts are saying about the blowout quarter: 
Jason Ader, William Blair (Market perform)
"At this point, it appears that Oracle has crossed the cloud chasm, which will lead to higher sustained revenue growth (we are modeling around 5% for fiscal 2018 and 2019) and double-digit non-GAAP EPS growth (as operating margin expansion returns, fueled by improving cloud gross margins)."
Raimo Lenschow, Barclays (Overweight, Price target raised to $55 from $51)
"The cloud story continues to progress well, which means that many investors that are not exposed to Oracle (we believe the name is still under-owned) should see increasing pressure to pay more attention again. We expect that this will drive ongoing multiple expansion as Oracle's valuation is not overly demanding."
Joel Fishbein, BTIG (Buy, price target raised to $58 from $47) 
"We grow increasingly encouraged by the company's combination of strong cloud revenue growth and earnings leverage. No doubt, it has been a challenging period for Oracle throughout the transition, which has been a headwind to results, but it's now clear that we're at a material inflection point and a trendline has formed."
Brent Bracelin, Pacific Crest (Sector weight)
"Oracle reported a strong quarter, posting revenue and EPS above the high end of guidance. Oracle is executing well on its cloud transition. . . Oracle is in the midst of a multiyear transition from traditional on-premise software licensing and maintenance support to a model driven by cloud subscriptions (SaaS, PaaS, IaaS). Despite strong cloud momentum and improving margins within SaaS and PaaS, which now account for 12% of sales, we continue to expect Oracle's operating profits to remain volatile during this transition."