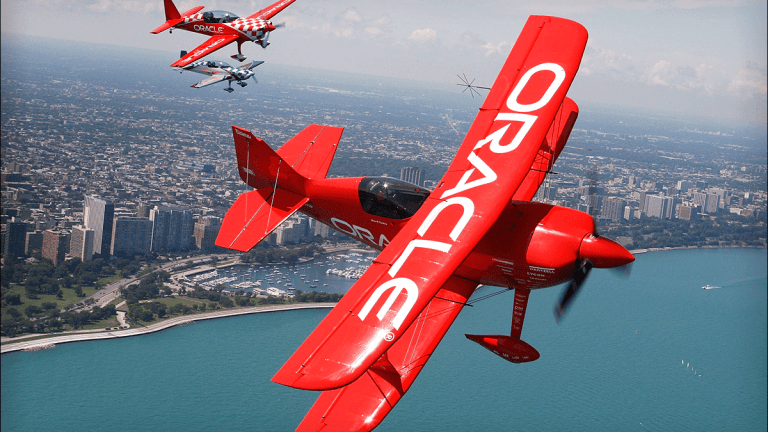 Oracle Shares End Higher After Warren Buffett's Berkshire Hathaway Dumps Stake
Oracle also announces buyback of $12 billion of common stock.
Oracle Corp. (ORCL) shares ended slightly higher Friday to $51.72 after Securities and Exchange Commission filings showed that Warren Buffett's Berkshire Hathaway's (BRK.A) investment fund dumped its entire stake in the software group only months after revealing its $2 billion investment.
Berkshire Hathaway's portfolio of around 90 U.S.-listed stocks lost around $38 billion in value over the three months ending in December, the SEC filings noted, as the S&P 500 slumped nearly 15% in a global market sell-off triggered by slowing growth and a then-hawkish U.S. Federal Reserve. Berkshire Hathaway told the SEC in its November filing that it had owned 41.4 million shares in Oracle at the end of the end of the third quarter after it had exited a holding in IBM (IBM) earlier in the year. 
Oracle surprised investors with a bullish 2019 outlook late last year when it posted stronger-than-expected second quarter earnings and said growth in its cloud computing business would support sales and improve profit margins.
The company also said it sees current quarter earnings of between 86 cents and 88 cents a share, topping the 84 cent Street forecasts, and said it expects full year revenue growth of around 3% on a constant currency basis.
In addition, on Friday, Oracle revealed that earlier in the week its board authorized an additional buyback of $12 billion of common stock, under an existing share repurchase program.
Berkshire Hathaway's SEC filing showed a 1.15% reduction in its stake in Apple Inc. (AAPL) , taking the overall holding to just under $40 billion, although the company told Reuters that the decision to sell wasn't taken by Buffett himself. 
"None of the shares under Warren's direction have ever been sold," a spokesperson told the agency.
Apple shares were marked 0.88% lower in pre-market trading at $169.30 each but have gained nearly 20% since CEO Tim Cook warned on January 3 that slowing China growth would hit sales for the world's biggest tech company.