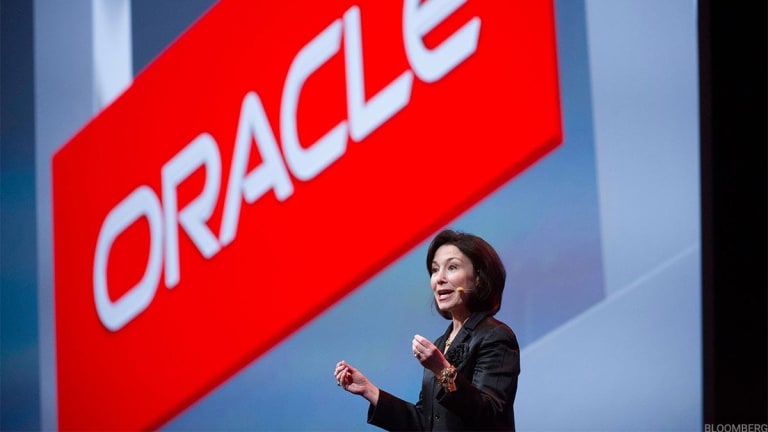 Oracle Shares Slide After Jefferies Downgrade, Hiring Plans
Oracle falls after the cloud computing company says it will ramp-up hiring to challenge larger rivals such as Amazon and Microsoft and analysts at Jefferies cut their price target on the stock.
Oracle  (ORCL) - Get Free Report shares traded lower Tuesday after the cloud computing group said it would ramp-up hiring to challenge larger rivals such as Amazon (AMZN) - Get Free Report and Microsoft (MSFT) - Get Free Report , and analysts at Jefferies cut their price target on the group.
Oracle told Reuters it plans to open around 20 more cloud data centers by the end of next year, including expansions and job additions in Seattle, San Francisco as well as Asia, Europe and Latin America, adding to the 16 it has already established. The moves will create another 2,000 jobs, Oracle said, but give the group a stronger foothold in the near $40 billion market for cloud computing and storage.
Separately, Jefferies analyst Brent Thill lowered his price target on Oracle to $66, a $6 reduction from the previous level, and cut his rating on the stock to hold from buy, noting the company has "lost ground in the infrastructure business as workloads migrate to the cloud." Thill boosted his price target on Microsoft, a name he prefers thanks in part to a "clear line of sight into double-digit revenue growth for the foreseeable future", to $160 from $93 per share. 
Oracle shares fell 1.62% in trading Tuesday to $53.91. Microsoft shares, meanwhile, fell slightly to $137.04.
Last month, Oracle posted weaker-than-expected first-quarter sales and said CEO Mark Hurd would be taking a medical leave of absence.
Oracle said adjusted earnings for the three months ending in August, the first quarter of the company's 2020 fiscal year, came in at 81 cents per share, up 14% from the same period last year and essentially matching the Street consensus forecast. Group revenues were modestly shy of analysts' estimates at $9.22 billion as licencing revenues fell 6% from the previous year. Cloud and support revenues, however, rose 3% to $6.8 billion.
Looking into the 2020 fiscal year, Oracle said it sees second quarter earnings in the region of 87 to 89 cents per share, just shy of the Refinitiv consensus of 91 cents per share, but still expects double-digit EPS growth for the full year.
Second quarter revenues are expected to grow between 1% and 3% from last year, the company said, with capex pegged at around $2.2 billion.
Oracle also said Hurd, 62, will take a leave of absence from the Redwood City, California-based group for "health related reasons" that the company did not disclose. His duties will be assumed by co-CEO Safra Ada Catz as well as founder and chief technical officer Larry Ellison.
"Mark was extremely engaged with the business through the end of the quarter, but now he needs to focus on his health and taking care of himself," Catz said at the time. "As the three of us have always worked as a team on managing Oracle, Larry and I will cover Mark's responsibilities during his absence with support from the rest of our strong management team."