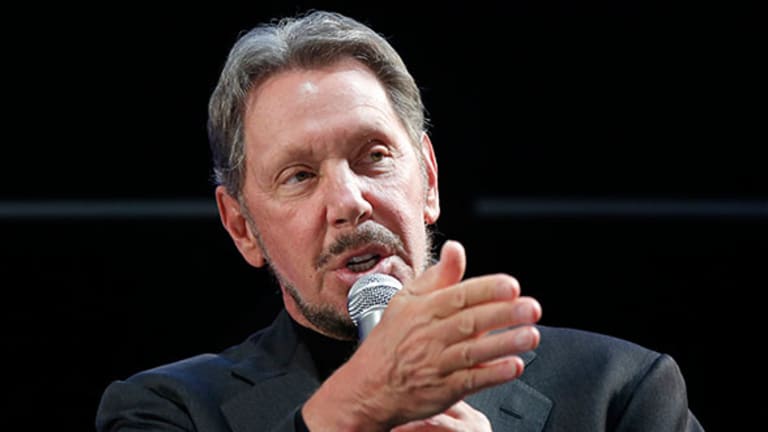 Oracle Soars as Latest Earnings Suggest It Can Still Grow in a Cloud-First World
The software giant's cloud momentum remains strong, and its traditional software sales aren't declining as much as they did before.
The software giant's cloud momentum remains strong, and its traditional software sales aren't declining as much as they did before.
To understand how much more confident Oracle Corp. (ORCL) - Get Reportfeels these days about the story it's telling Wall Street, one only has to look at the headlines attached to its last two earnings reports.
For a long time, Oracle's reports eschewed conventional headlines such as "Oracle reports second quarter results" in favor of ones trumpeting the company's SaaS (cloud app) and PaaS (cloud app platform) revenue growth, both in reported dollars and constant currency. By doing so, Oracle sought to draw attention to fast-growing parts of its business, and away from the fact that it was seeing little to no total revenue and earnings growth due to declining sales for older product lines.
For the last two reports, Larry Ellison's company still didn't care to go with a conventional headline. But instead of talking up its SaaS/PaaS growth (though it's still very strong), it highlighted its earnings growth, which has returned to respectable levels thanks to both cloud momentum and improved conditions for legacy businesses.
Oracle's message: The company as a whole is now doing well. Not just the cloud segments that we love to hype.
After the close on Wednesday, Oracle reported May quarter (fiscal fourth quarter) revenue of $10.94 billion (up 3% annually) and adjusted EPS of $0.89 (up 10%, as mentioned in the report headline), soundly above consensus analyst estimates of $10.46 billion and $0.78. Notably, the company also reported its total cloud and on-premise software revenue rose 6% to $8.9 billion, beating guidance for 1% to 3% growth. Top-line growth rates benefited a bit from Oracle's $9.3 billion purchase of mid-market cloud app provider NetSuite, which closed last November.
Oracle's August quarter outlook (given on the earnings call) was also solid. Revenue growth is expected to be in a range of 4% to 6%, and adjusted EPS in a range of $0.59 to $0.61. The former is above a consensus for 3.8% growth; the latter is above a $0.59 consensus at the midpoint.
Oracle also guided for EPS to grow at a double-digit clip in fiscal 2018 (ends in August 2018); consensus was for EPS of $2.83, just 3% above the reported fiscal 2017 level. All of the guidance, as usual, was given in constant currency, but Oracle noted forex is expected to have little impact on August quarter sales.
Shares rose 10.5% to $51.10 in after-hours trading Wednesday, making new highs, and rose 8.6% to $50.30 by Thursday's close. Moderate expectations are helping: Oracle went into earnings trading for 16 times a fiscal 2018 EPS consensus it now appears set to surpass. The stock also rallied following Oracle's February quarter results.
SaaS revenue, benefiting from both strong organic growth and NetSuite, rose 75% to $1 billion last quarter. PaaS and cloud infrastructure (IaaS) revenue rose a combined 42% to $403 million. With Oracle having previously broken out IaaS revenue by itself (and SaaS with PaaS), the company also noted IaaS revenue grew 29% to $214 million. This business remains far smaller than that of IaaS leaders Amazon.com Inc. (AMZN) - Get Report , Microsoft Corp. (MSFT) - Get Report and Alphabet Inc. (GOOGL) - Get Report , but does seem to be on better footing after an infrastructure revamp and aggressive sales efforts.
Jim Cramer and the AAP team hold a position in Apple and Alphabet for their Action Alerts PLUS Charitable Trust Portfolio. Want to be alerted before Cramer buys or sells GOOGL? Learn more now.
Just as important as the cloud momentum, though, is the fact that Oracle's traditional software license business -- pressured by the adoption of Oracle and non-Oracle cloud apps and databases -- improved considerably. Sales fell just 5% to $2.63 billion, after having dropped 16% in the February quarter. Healthy demand for Oracle's 12c database, which was finally made available for non-cloud deployments this winter, was apparently a big factor. Total on-premise and cloud database revenue rose 8%, with cloud sales (believed to be much smaller than on-premise sales) growing 62%.
Also: Oracle's license update and product support business (45% of revenue) remained stable, with sales rising 2% to $4.9 billion. And other services revenue grew 3% to $894 million, an improvement from the February quarter's 2% decline. Hardware revenue, hurt by share loss and cloud adoption, remained a weak spot, dropping 13% to $1.11 billion.
Co-CEOs Safra Catz and Mark Hurd once more trotted out some big cloud-related numbers. On an annualized recurring revenue (ARR) basis, cloud bookings rose 43% to $855 million, allowing Oracle to comfortably hit a full-year ARR target of $2 billion. Cloud billings grew 42% to $1.6 billion, and the cloud deferred revenue balance by 63% to $2.44 billion. 1,575 SaaS clients were added, raising the total base (excluding NetSuite) to 13,550. And Oracle now sees total on-premise and cloud software revenue growing about 10% in fiscal 2018.
Hurd added Oracle's cloud ERP software revenue grew 156% even after excluding NetSuite ERP sales, and that its cloud Fusion human capital management (HCM) apps registered 96% growth. Though numbers suggest Oracle is competing well against cloud HCM/financials leader Workday Inc. (WDAY) - Get Report , which moved higher three weeks after posting solid results and guidance. Sales of Oracle's cloud CRM apps, which compete against Salesforce.com Inc.'s  (CRM) - Get Report offerings, apparently didn't grow as fast: The company only says they rose at a double-digit rate.
Oracle's EPS, meanwhile, benefited from close to $500 million worth of buybacks and a low 20% tax rate (partly due to one-time items). Controlled spending also didn't hurt: GAAP costs and expenses rose just 3% $6.82 billion. Also helping: Oracle's SaaS gross margin, though still well below its on-premise software GM, rose to 65% from 54% a year ago. Oracle is still aiming to eventually grow SaaS GM to 80%.
Bookings trends suggest Oracle's SaaS growth rates will slow in fiscal 2018, particularly after the NetSuite deal hits its 1-year anniversary. Though 43% cloud bookings growth is nothing to be embarrassed about, it is slower than the February quarter's 73% growth thanks to tougher comps, as well as quarterly cloud revenue growth of 58%.
Traditional license sales, meanwhile, could again see big declines after the 12c upgrade cycle plays out. And long-term, the business still faces a big threat from managed cloud database services such as Amazon's Aurora and Microsoft's Azure SQL Database, as well as the use of non-Oracle databases to run third-party cloud apps.
Still, through its last two earnings reports, Oracle has punched a big hole into arguments that it can't deliver respectable (if unspectacular) sales and earnings growth in an era where cloud app and infrastructure adoption is taking off. And markets have responded by lifting the company's once-depressed multiples.
It's the kind of thing that's definitely worth bragging about, perhaps even in an earnings report headline.
Read More Trending Articles on TheStreet:
Amazon Is Becoming So Powerful That It's Jaw-Dropping: Market Recon
Is Gilead Sciences on the Verge of a Powerful Rally?
'Walmart Rx' Takes Center Stage as Walgreens Rite Aid Saga Nears Long Overdue End