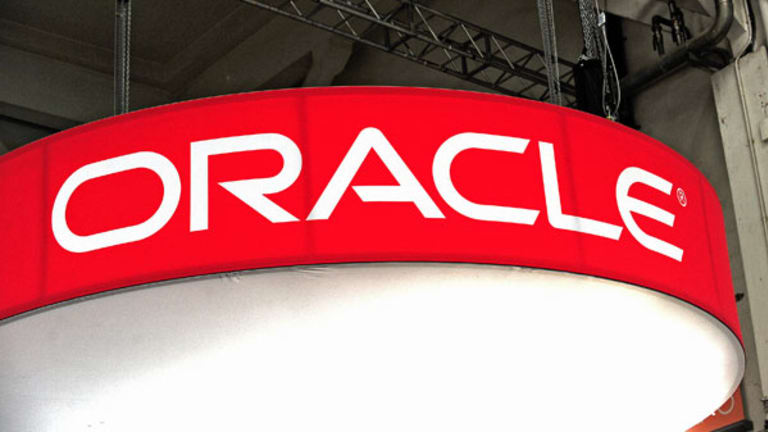 Oracle's OpenWorld Conference Opens New Doors for the Tech Stock
Just last week, Oracle reported earnings that despite showing growth in the company's cloud business failed to impress investors. That may change soon.
Oracle (ORCL) last Thursday reported fiscal first-quarter earnings that missed Wall Street's expectations, despite posting strong growth in its cloud business.
At the time, some concerns were expressed about Oracle and its stock mainly because the company was late to the party in the cloud.
But this week, Oracle made some big announcements at its OpenWorld and JavaOne conferences showing that the company's management is fully committed to the cloud, which could mean that the future looks brighter now.
Indeed, Oracle increasingly looks like a smart bet on long-term growth, and it is now a value to boot.
The first announcement that is encouraging was the release of the new Java platform. Java now gives developers the ability to choose the programming languages, databases, computer types, operating system and virtual machines, integrated development environments, and tools.
This will allow all developers the options that they want when building new applications in the cloud, and it should help open Java up to more developers because of the freedom it offers them.
In addition, at OpenWorld, Oracle said that it is purchasing privately held cloud security company Palerra.
Details weren't disclosed, but the acquisition will help Oracle's push into the cloud. Oracle recently began its Identity Cloud Service data security offering, and Palerra will fit with that perfectly.
The Palerra deal also makes sense because its founders, Rohit Gupta and Ganesh Kiri, are former Oracle employees who held senior positions. That should make the transition smooth and quick, helping ensure that Oracle remains a survivor stock in a turbulent market.
Early reports from OpenWorld indicate that Oracle is now all in when it comes to the cloud, alleviating some concerns after the earnings report. 
However, worries about the company's short-term profitability and stock price haven't disappeared.
At OpenWorld on Sunday, Larry Ellison, Oracle's co-founder and former chief executive, as well as the guy who said that the cloud was a waste of time a number of years ago, declared war on the cloud leader, saying that "Amazon's lead is over."
Oracle's new cloud platform is both more powerful and cheaper than Amazon Web Services, he said.
Both those statements may be true, but that doesn't mean that Amazon and other cloud leaders will roll over and play dead. Amazon has proven that it is more than willing to lose money in order to beat the competition, so Oracle may have to be willing to do the same to fight back, and that is a concern for shareholders.
The one good thing that would come from a price war with Amazon could be less competition overall, which would be huge for Oracle, and shareholders would benefit in the long run. Regardless, Oracle investors should remember that though there may be opportunity, it could be a long time before they see any positive returns.
---
A crisis is coming. And when it hits, weak companies and their investors will be washed away. Don't let that happen to you! I've found seven survivor stocks you should own no matter what the economy is doing. Each one of these powerful yet overlooked companies barely notices when the market tumbles. And they'll skyrocket when it rebounds. You can pick up all seven for pennies on the dollar right now. But that'll change the instant average investors catch wind of just how bad things really are. Get their names here before it's too late.
This article is commentary by an independent contributor. At the time of publication, the author held a position in AMZN.