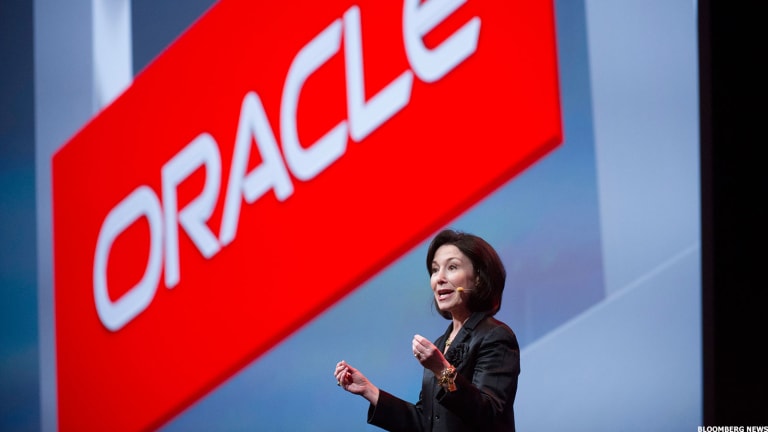 Oracle's Mixed Earnings Report: What Wall Street's Saying
The legacy software company is in the middle of a difficult shift toward the cloud, but several analysts said the company is close to turning the corner.
Oracle (ORCL) - Get Reportreported results for the second quarter of fiscal 2017 late Thursday, beating estimates for earnings per share but missing on total revenue as the legacy software company moves increasingly toward the cloud.
The Redwood City, Calif. company reported adjusted earnings of 61 cents a share on total revenue of $9.07 billion. Analysts surveyed by FactSet were estimating adjusted earnings of 60 cents per share on total revenue of $9.11 billion for the quarter.
Software-as-a-service (SAAS) and platform-as-a-service (PAAS) revenue soared 87% year-over-year to $912 million, but still only made up about 10% of Oracle's revenue in the period. Total cloud revenues were $1.09 billion, while Wall Street was looking for $1.05 billion.
The stock was slumping 4.6% to $38.98 in mid-morning trading on Friday, but is up about 7% so far in 2016.
Several analysts have weighed in on the company's earnings this morning. Here's what they had to say:
Patrick Walravens, JMP Securities (Market Underperform, $31 Price Target)
"IaaS is going to be a challenge... We remain cautious on Oracle because we are concerned competition with cloud platform providers like AWS [Amazon], Google Cloud Platform [Alphabet] and Microsoft Azure are likely to do major damage to Oracle's database franchise and pressure Oracle's margins. We reduce our FY17 non-GAAP EPS estimate to $2.57 from $2.64 (consensus $2.60) and reduce our FY18 non-GAAP EPS estimate to $2.82 from $2.87 (consensus $2.85)."
Karl Keirstead, Deutsche Bank (Hold, $40 Price Target)
"ORCL delivered a slightly disappointing quarter... While Cloud billings/bookings missed, organic SaaS/PaaS subscription revs growth (excluding NetSuite and prior deals) of ~63% is strong, even in light of the fact that ORCL is converting an on-premise installed base (an advantage that pureplay SaaS peers don't have)... While ORCL argued that the database business was "fine", it seems to us that database license revs must have also come in below expectations."
Raimo Lenschow, Barclays (Overweight, $48 Price Target)
"Cloud revenue performed decently this quarter, as cloud growth continues to more than offset license declines for a second quarter in a row. Given the number of moving parts here, however, we do not think that this is the quarter that will meaningfully shift investor sentiment on the name. Looking at the results, this quarter is unlikely to serve as a catalyst to change investor sentiment on the company."
Brent Bracelin, Pacific Crest (Sector Weight, No Price Target)
"Oracle remains in the midst of a material model transition from selling on-premise software licenses to cloud subscriptions... However, even with strong cloud momentum, Oracle's profit model may remain volatile with IaaS margin under pressure and a $19 billion support revenue stream that is still at risk of cloud disruption over time."
Kevin Buttigieg, MKM Partners (Neutral, $42 Price Target)
"Valuation should support the shares, but ORCL appears to be mired in a cloud transition whose progress continues to lag Street expectations... Oracle touted its cloud momentum but some slowing was evident. 39% growth in SaaS & PaaS billings was down from 49% in F1Q17, in part due to the expiration of metered transactions, while new Cloud Annual Recurring Revenue growth (which includes SaaS, PaaS and IaaS) of 31% was down from 40% in F1Q17. ORCL reiterated its goal of $2bn+ in new Cloud ARR in FY17, although this figure now includes about seven months of NetSuite."
John DiFucci, Jefferies (Buy, $51 Price Target)
"We have never seen such an aggressive Cloud transition with such velocity, making it difficult to predict relevant metrics, but they're generally progressing in the right direction. We also expect 12cR2 to be a major multi-year database product cycle and its imminent on-prem availability will be a catalyst that develops over time... Management spoke about a strong 2H pipeline, the expectation that options from 12c R2 will have a very significant impact on both Cloud and on prem database sales, and that EPS will grow double digits in F18, which is above consensus."
Richard Davis, Canaccord (Buy, $45 Price Target)
"Our view on ORCL is pretty simple: expectations are low and the stock is cheap enough that we think shares could appreciate on gradual multiple expansion as investors gain confidence in the firm's cloud traction. Stepping back, Oracle is running a roughly $4B revenue run-rate cloud business that should grow 80%+ this year (including acquisitions). As this becomes a larger part of the mix, it's likely that blended corporate growth rates inch higher. Add in the fact that it seems we've passed the transition-driven margin nadir, and the future financial profile looks more compelling - accelerating growth and expanding margins."
Jack Andrews, D.A. Davidson (Buy, $52 Price Target)
"We believe sentiment is poised to improve from two dynamics. First, as ORCL's shift to the cloud continues to accelerate, the company now has reached the crossover point where growth from cloud revenue now exceeds the declines from traditional software license sales. Second, management effectively guided for double-digit non-GAAP EPS growth YoY for FY2018, which is a notable reacceleration from the decline that we have seen over the past three years, including our projection for FY2017."
Ross MacMillan, RBC Capital Markets (Outperform, $43 Price Target)
"After 6 quarters of declines, operating income grew Y/Y CC in F2Q16 as recurring revenue sources performed well and opex control improved. Renewal rates on support appear to be strong enough to keep that revenue line growing for the next few years into the license decline headwind. Meanwhile SaaS/ PaaS organic growth appears solid and combined Cloud + License revenue is growing . Management's double digit EPS growth expectation for FY18 would represent a strong change from the FY15-17 declines."
Keith Bachman, BMO Capital Markets (Outperform, Price Target to $45 from $46)
"We think ORCL had a mixed quarter, but on balance we thought there were more negatives than positives... While license revenue was weaker than we had assumed in the November quarter, we are disappointed in the implicit CC reduction in maintenance revenue guidance. Finally, we believe that organic cloud revenues across the board were weaker than we had expected. NetSuite impact was about consistent with our views, of ~$50 million in the November quarter. If we back out NetSuite from reported billings (subscription revenue impact, with no deferred revenue impact) billings growth was about 30% y/ y."
Mark Murphy, JPMorgan (Neutral, $42 Price Target)
"While not completely out of the woods due to lower IaaS gross margins and EPS guidance a touch below consensus, we think Oracle is gradually moving past the trough of its transition to the cloud as evidenced by upside on earnings and revenue results that were above the mid-point of CC guidance, and we see increasing odds of a clean quarter in the near future."