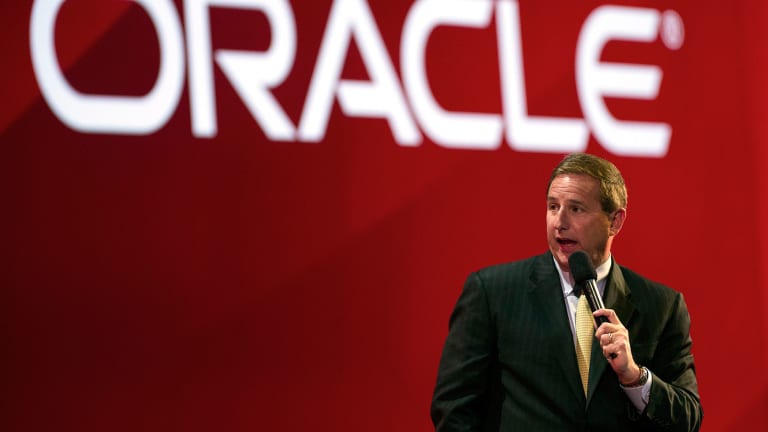 Oracle's Latest Acquisition Shows the Ad Software Arms Race Remains in Full Swing
The software giant and its peers have snapped up many providers of tools that help marketers run ad campaigns. A fragmented market and strong demand could yield more deals.
The software giant and its peers have snapped up many providers of tools that help marketers run ad campaigns. A fragmented market and strong demand could yield more deals.
Compared with, say, autonomous driving or social media deals, marketing software acquisitions typically don't grab a ton of headlines in the tech or business press. But it has been one of the more active fields in tech M&A, as enterprise software giants make a string of purchases to better position themselves in a market seeing healthy growth as ad dollars keep moving online and chief marketing officers (CMOs) claim a larger portion of IT spending budgets.
Oracle (ORCL) - Get Report, one of the big players in this M&A wave, just signaled that its buying binge isn't over. The same might hold for other major players.
Earlier this week, Oracle announced that it's buying Moat, a provider of tools that measure how ads are viewed and engaged with across various devices, and who is looking at them. Terms are undisclosed, but Re/code reports Oracle paid over $850 million.
Moat's clients include consumer brand owners such as Nestle, Unilever, Kellogg's and Procter & Gamble, as well as publishers such as Facebook (FB) - Get Report, Snap (SNAP) - Get Report, ESPN, NBCUniversal and Twitter (TWTR) - Get Report. Oracle declares Moat's ad measurement and analytics offerings will its Data Cloud platform "[offer] brands and publishers a full suite of targeting and measurement solutions to improve the outcome of virtually every type of digital advertising campaign."
Sources speaking with AdExchanger suggest Moat's ability to drive large, recurring, subscription software fees appealed to Oracle, and that its ability to measure the effectiveness of ads appealed to suitors in general. The site adds Oracle has lagged rival Adobe (ADBE) - Get Report, which bought ad analytics software firm Omniture for $1.8 billion in 2009, when it came to measurement, and that pairing Moat with Data Cloud help marketers learn when an ad resulted in a sale.
Jim Cramer and the AAP team hold a position in Adobe and Facebook for their Action Alerts PLUS Charitable Trust Portfolio. Want to be alerted before Cramer buys or sells ADBE or FB? Learn more now.
Moat is the latest of close to a dozen marketing software/services acquisitions Oracle has struck over the last five years. Other notable purchases include:
Social media marketing software firms Vitrue, Collective Intellect and Involver (2012).
Marketing automation software firms Eloqua and Responsys (2012 and 2013).
Compendium, a provider of software for creating and distributing promotional content (2013).
BlueKai, provider of a top data management platform (DMP) for marketers (2014).
Datalogix, a data provider that helps marketers track the impact of online ads on offline sales (2014).
Maxymiser, a provider of software for optimizing and personalizing the content that marketers show to consumers on on websites and apps (2015).
AddThis, a provider of content-sharing and recommendation tools that help companies understand what kind of material users are engaging with (2016).
Rivals haven't been standing still either. Salesforce.com (CRM) - Get Reportbought marketing automation software firm ExactTarget for $2.5 billion in 2013 -- it now underpins the company's Marketing Cloud platform -- and last fall bought DMP provider Krux. IBM (IBM) - Get Reportbought retail analytics software firm DemandTec in 2012, and marketing automation firm Silverpop in 2014.
Adobe respectively bought ad campaign management software firms Efficient Frontier and Neolane in 2011 and 2013, and last year bought Livefyre, a platform for discovering and promoting user-generated content. Notably, it also recently bought video ad tech firm TubeMogul for $540 million, a move that uniquely positioned Adobe to both provide marketing software and a platform for making actual ad purchases. Soon afterwards, the company launched its Advertising Cloud platform, which paired TubeMogul's services with Adobe's Media Optimizer ad campaign tools.
There has been speculation that Oracle, Salesforce or another rival will respond to the TubeMogul deal with their ad tech purchase, but none have done so yet. The fact that many of these firms have been struggling in an online ad industry increasingly dominated by Google and Facebook could be discouraging potential buyers. But as the Moat and Krux deals show, marketing software/services leaders remain quite open to snapping up smaller peers that can provide differentiated technology and/or fill product line holes.
In addition, private-equity firms have shown an interest in this space. Vista Equity bought marketing automation firm Marketo last year for $1.8 billion, and marketing data/analytics provider Neustar is set to be acquired by Golden Gate Capital for $2.9 billion.
Ad measurement firm Integral Ad Science is seen as a potential target following the Moat deal; comScore, it should be noted,is also a Moat rival. But with the marketing software space remaining quite fragmented, there are a lot of other possibilities. While Adobe, Oracle and Salesforce clearly have the leading positions in Gartner's 2017 digital marketing hub Magic Quadrant report, 19 other firms are also present. In addition to larger names such as IBM and SAP (SAP) - Get Report, the list includes Marketo, Neustar and a slew of independent private companies.
Growing CMO budgets have a lot to do with all this M&A activity. Gartner estimated last year that CMO-driven tech spending would account for 3.24% of the average company's revenue in 2016, nearly equaling the 3.4% of revenue that CIOs directed towards tech spending. The firm also forecast that marketing budgets overall would account for 12% of the average company's revenue in the 2016 to 2017 timeframe, up from 10% two years earlier.
A growing pie and a fragmented market is usually a good recipe for continued M&A. Especially when some of the potential buyers are looking for ways to offset weak conditions within existing businesses.