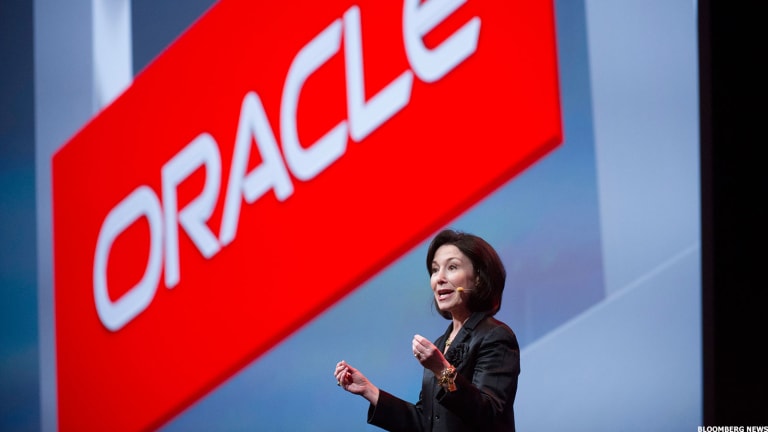 Oracle Needs to Show Cloud Growth in Its Quarterly Results on Thursday
The software giant will report results for the second quarter of fiscal 2017 on Thursday, and analysts are hoping its cloud business will shine.
When software giant Oracle (ORCL) - Get Reportreports results for the second quarter of fiscal 2017 after the market close on Thursday, Wall Street will be watching for the company to show growth in its fledgling cloud business.
Analysts surveyed by FactSet are estimating that the Redwood City, Calif. company will post adjusted earnings of 60 cents per share on total revenue of $9.11 billion for the fiscal quarter ended Nov. 30.
Cloud revenue is projected to be $1.05 billion, with on-premise software revenue of $6.27 billion.
In the same quarter last year, Oracle reported adjusted earnings of 63 cents per share on total revenue of $9.00 billion. Cloud revenue in the period was only $649 million. The on-premise software business generated $6.36 billion in revenue.
In early November, Oracle closed a $9.3 billion deal for cloud software company NetSuite, despite opposition from NetSuite investor T. Rowe Price. The second quarter earnings report will only give a slight view into how the deal will shift Oracle's business, given the fact that it closed less than a month prior to the quarter's end.
TheStreet's founder Jim Cramer said on Wednesday, though, that as a result of the NetSuite deal, Oracle should have "bragging rights" as one of the fastest-growing software-as-a-service (SaaS) names.
JMP analyst Patrick Walravens said in a Dec. 13 analyst note that investors should look for Oracle to provide an update on how the integration process is going during its earnings call on Thursday.
Alongside the NetSuite deal, Walravens also expects an update on the company's "lift and shift" cloud migration model.
The company has been racing to compete in a changing market as cloud offerings have become increasingly popular compared to Oracle's own legacy software offerings. Oracle's cloud business in the first quarter of 2016 brought in about $969 million in revenue, or roughly 11% of its total sales of $8.61 billion.
Walravens is cautious about Oracle going into earnings on Thursday because cloud platforms such as Amazon's (AMZN) - Get Report Amazon Web Services, Alphabet's (GOOGL) - Get Report Google Cloud Platform and Microsoft's (MSFT) - Get Report Azure will do "major damage to Oracle's database franchise as they gain more share of the infrastructure software market."
Amazon Web Services, for instance, posted $3.23 billion in net sales for the most recent quarter ended Sept. 30.
MKM Partner Managing Director Kevin Buttigieg, however, feels that the competition from Amazon's AWS is "probably overstated for existing workloads at this point," according to a recent note.
Buttigeig added that concerns about competition will most likely impact the stock after it reports earnings, though. "We believe Oracle is not losing database customers to AWS given the difficulty and cost of migration although it will be hard for investors to ignore media reports to this effect," he said. "The idea that AWS could eventually pressure license revs, as could database migration to Oracle's own cloud (which could have a similar financial effect to the application/SaaS transition), could overhang the shares."
Alphabet is a holding in Jim Cramer'sAction Alerts PLUS Charitable Trust Portfolio. Want to be alerted before Cramer buys or sells GOOGL? Learn more now.
"Positively, Oracle appears to be entering the later stages of its application transition to SaaS as SaaS revenue growth, aided by acquisitions,... is now in a position to more than offset license declines," Buttigieg added, noting that the company is not in "secular decline" despite its transition.
Drexel Hamilton's Brian White echoes this view. "We believe the worst of this cloud transition is behind Oracle and we believe the company should benefit from more favorable repatriation policies," White said in a Dec. 12 note to clients.
Brent Bracelin at Pacific Crest said in a Dec. 11 note that the company's acceleration in cloud, specifically in its SaaS and platform as a service (PaaS) products, will lead to uncertainty and inconsistency as the company shifts.
NetSuite could help the transition toward the cloud along, according to Drexel Hamilton's White. He added that the NetSuite deal should further Oracle's goal of becoming the first cloud company to reach $10 billion in SaaS and PaaS revenue. He said, however, that he's anticipating that the company will slightly miss consensus estimates, due to a stronger U.S. dollar.
Walravens disagrees, saying that investors should look for Oracle to deliver consistent results, despite the fact that the company has fallen short of consensus for 12 of the last 15 quarters.
The stock is up about 12% so far this year, and was trading flat at $40.90 in morning trading on Thursday.