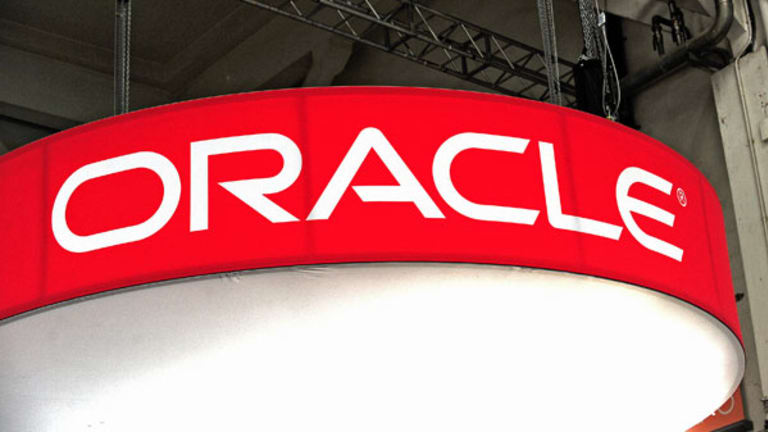 Oracle Is Heading Even Higher Into the Clouds
ORCL shares flew higher after the company reported a blow out quarter and raised guidance.
Oracle shares flew higher after the company reported a blowout quarter and raised guidance. Despite the pop, I think Oracle can keep moving up.
In December I was bullish on Oracle (ORCL) - Get Report   because I thought the company was getting serious about its cloud business.
In the past, Oracle had put up some really pathetic growth numbers, but now it seems the company has turned the corner and is on a new growth trajectory.
After Wednesday's close, Oracle reported fourth-quarter fiscal 2017 results. The company earned $0.89 per share, $0.11 better than the consensus estimate. Non-GAAP revenue rose 3.3% to 10.94 billion.
For the full year, cloud Software as a Service (SaaS) revenue jumped 61% to $3.2 billion. Cloud Platform as a Service (PaaS) and Infrastructure as a Service (IaaS) were up 60% to $1.4 billion. Total cloud revenue was up 60% to $4.6 billion.
Customers are transitioning away from the traditional software-licensing model towards a cloud services model, which is driving revenue, margins and earnings. In fact, the net impact of the transition in fiscal 2016 was a negative $0.16 per share -- or nearly $1 billion. Last year (FY17), cloud growth overtook license growth -- and actually added $0.05 to the bottom line. We saw the same phenomenon at Adobe (ADBE) - Get Report a few years ago. Initially, the company took a huge hit as software sales slowed and cloud revenue wasn't large enough to move the needle. Now, it looks like Oracle is coming out the other side.
As Oracle's cloud business becomes larger, it's going to add to the bottom line much faster. This year, cloud added an estimated $0.03 per share to earnings. Next year, I think the cloud will probably add $0.10 per share and over $0.20 per share the year after.
The cloud business will no longer be a drag on the overall corporate margin. In fiscal 2015, Oracle ended the year with a 48% cloud margin and a total corporate margin of 81%. Last year cloud margins jumped to 59% and next year, I am looking for cloud margins in the mid 60s. Instead of operating income growing just 2%, like the company did this year, next year, operating income should increase by about 7%. Likewise, adjusted net income should jump over 10% (from 3%). That means earnings per share should increase 10% this year and probably tack on another 10% next year.
Right now, analysts are playing it cool. The consensus is forecasting fiscal 2018 revenue of $38.56 billion and earnings per share of just $2.83. Next year, revenue is expected to increase just 3.8% to $40 billion. But I think those estimates are low. I think Oracle could earn over $3 per share this year.
When Action Alerts PLUS holding Adobe Systems Inc. made this transition, the company beat analyst estimates quarter after quarter because the economics of the cloud are so powerful. As customers get in the cloud, it makes it easier for Oracle to sell additional services and upgrades.
I think Oracle will earn at least $3 (not the $2.83 consensus) this year. If I'm right, the stock should be able to reach the mid $60s with a 21x-to-22x multiple.
Oracle can keep heading into the clouds.
This article is commentary by an independent contributor. At the time of publication, the author held no positions in the stocks mentioned.