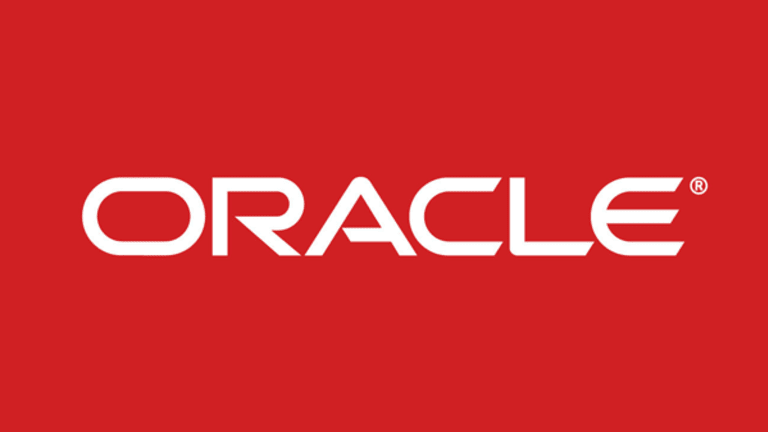 Oracle Is a Stock to Avoid After Huge Drop Following First Quarter Earnings
The company will continue to face challenges until it proves that it can compete at a higher level in the cloud arena.
Shares of Oracle (ORCL) - Get Free Report  fell nearly 5% on Friday, following the release of disappointing fiscal first-quarter earnings after the closing bell on Thursday, though the stock is up slightly on Monday.
The company's quarterly earnings came in at 55 cents a share on revenue of $8.6 billion, which was up 1.7% from a year earlier. But those missed analyst projections of 58 cents a share on revenue of $8.7 billion.
Although Oracle did post strong growth its cloud computing business, with sales shooting up to 77%, to $798 million in the quarter, software licensing sales dropped by 10.5% to just $1.03 billion.
However, Oracle has been late to the cloud party, mainly due to Larry Ellison, its co-founder and chief executive at the time, bashing the business nearly a decade ago.
Had Oracle jumped on the bandwagon back then, it would have a sizable lead over the competition in cloud computing, but it didn't, and it is playing catch-up to some very formidable opponents. Alibaba, Alphabet's Google, Amazon, Baidu, IBM and Microsoft are some of the larger companies heavily involved in the cloud, while smaller players such as Adobe and Salesforce among those also fighting for a spot in the industry.
Alphabet is a holding in Jim Cramer's Action Alerts PLUS Charitable Trust Portfolio. See how Cramer rates the stock here. Want to be alerted before Cramer buys or sells GOOGL? Learn more now.
Although Oracle is a larger company then Adobe or Salesforce, they are essentially at the same level when it comes to their cloud businesses, which doesn't say much considering that Amazon Web Services generated $2.88 billion in revenue in the second quarter and $9.94 a share in earnings over the past four quarters. Those figures make it larger than the next four competitors all put together when speaking of cloud specific business.
IBM, on the other hand, has a cloud hybrid business, which brought in $11.6 billion over the past 12 months or $6.7 billion.
Oracle's platform as a service and software as a service products are on track to bring in $2 billion in revenue this fiscal year, according to Chief Executive Mark Hurd.
Although that is a large amount and shows great growth, it is still a long way behind competitors. Oracle remains a vulnerable investment.
Seeing that Oracle is late to the party and playing catch-up to some big players, the stock is likely only going to see modest gains, despite the growth potential that cloud computing offers. The company must continue to heavily invest in its cloud products to compete with Amazon and because the cloud business is hurting it other revenue streams such as the traditional software licensing division.
The post-earnings decline seems warranted because of the challenges that Oracle faces, and investors should continue to avoid the stock until the company proves that it can compete at a higher level in the cloud arena.
---
A crisis is coming. And when it hits, weak companies and their investors will be washed away. Don't let that happen to you! I've found seven companies you should own no matter what the economy is doing. Each one of these powerful, yet overlooked companies barely notices when the market tumbles. And they'll skyrocket when it rebounds. You can pick all seven up for pennies on the dollar right now. But that'll change the instant average investors catch wind of just how bad things really are. Get their names here before it's too late.
This article is commentary by an independent contributor. At the time of publication, the author held shares of GOOGL, AMZN, MSFT and CRM.