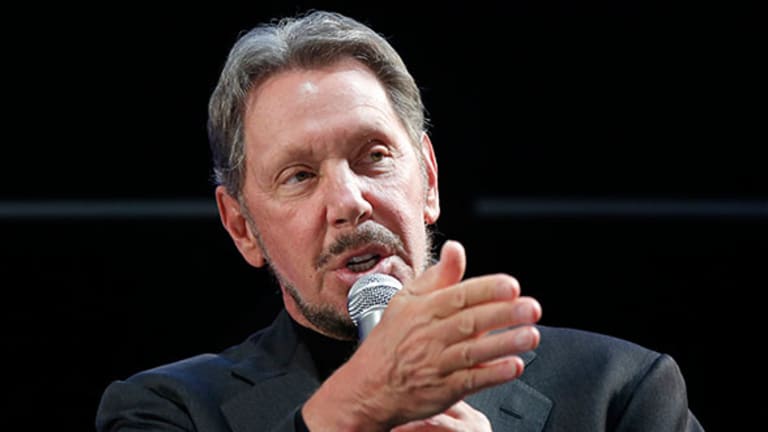 Oracle Continues Its All-Out Push Into the Cloud, but Amazon and Others Aren't Standing Still
Larry Ellison broadly proclaims that Oracle's latest offerings mean Amazon's cloud lead is over, but a closer examination shows where his company really stands.
Larry Ellison broadly proclaims that Oracle's latest offerings mean Amazon's cloud lead is over, but a closer examination shows where his company really stands.
With its annual OpenWorld conference having kicked off on Sunday, Oracle (ORCL) - Get Report has issued nine press releases over the last 24 hours to unveil new products, services and partnerships. Every last one of them features the word "cloud" at least once in the headline, and they typically also feature that magical word dozens of times in the text.
This is nothing new for Oracle; the company pretty much did the same thing during last year's OpenWorld conference. As its July quarter earnings report demonstrates, the company wants investors, customers and partners focused squarely on its strong cloud app and services growth, and not on its slumping on-premise hardware and software sales.
And while the breadth of Oracle's announcements is impressive, it's important to put them in the context of what the company's rivals -- many of whom Oracle is keen to trash-talk -- are also announcing.
Oracle's unveiling of new cloud infrastructure (IaaS) services, perhaps the announcement getting the most ink because of Ellison's challenges to Amazon, is a good case in point. The company is launching services supporting "bare metal" servers dedicated to individual clients, as well as services for running containers, a lightweight alternative to virtualization that's becoming very popular in cloud environments.
Also launched: New high-performance IaaS services and (with the help of recently-acquired Ravello Systems) a solution for easily moving server virtual machines from on-premise infrastructures to the cloud.
True to form, chairman Larry Ellison says the new offerings mean the lead of public cloud giant Amazon Web Services (AWS) is over, and that Jeff Bezos & Co. will have "serious competition going forward." But spending a few minutes contrasting the extensive list of IaaS services advertised by Amazon (AMZN) - Get Report on its site with the relatively modest list of IaaS services shown on Oracle's site shows that Oracle still has some catching up to do.
AWS also claims a lead in the number of cloud app platform (PaaS) services it provides, though Oracle admittedly offers a sizable number. And through its AWS Marketplace, Amazon's cloud is supported by an unrivaled ecosystem of third-party software and services.
Oracle's bare metal services are one thing Amazon can't claim to offer, but that's by design: Amazon insists it can deliver performance comparable to dedicated bare-metal machines on shared servers. In addition, IBM (IBM) - Get Report, Rackspace (RAX) and others have long supported bare metal services.
Meanwhile, Oracle's just-announced purchase of cloud security firm Palerra, which provides software used to manage and secure employee usage of cloud apps, is a solid acquisition, but is partly a defensive move given the actions of other tech giants. Microsoft (MSFT) - Get Report  bought Palerra rival Adallom last year for a reported $250 million, while Cisco (CSCO) - Get Report recently bought another rival, CloudLock, for $293 million. Security tech firms Palo Alto Networks (PANW) - Get Report and Imperva (IMPV) - Get Report also compete in this field.
Cisco is a holding in Jim Cramer'sAction Alerts PLUS Charitable Trust Portfolio. Want to be alerted before Cramer buys or sells CSCO? Learn more now.
Then there's Oracle's launch of "intelligent" cloud apps that leverage the company's consumer and business profile data, along with a company's own data, to "automatically offer individualized recommended actions and streamline the tasks of business users such as human resource or finance professionals." Among other things, Oracle claims the new features can help recruiters more quickly identify good job candidates, and allow supply chain managers to immediately find their best distribution options.
The features look useful, but were arguably one-upped this weekend by cloud CRM software leader Salesforce.com's (CRM) - Get Report launch of Einstein, an artificial intelligence platform covering all of its core apps and services. Einstein is made possible by several acquisitions and two years of R&D. It uses data analysis, image analysis and natural language-processing to deliver recommendations, push information and automate tasks for sales, marketing and service workers.
To be fair, Oracle is trying to pitch itself as a one-stop shop for enterprise cloud apps and services in a way that no one else is -- perhaps Microsoft comes close. Yes, other companies have similar solutions, Oracle can tell clients, but there's value in getting everything you need from one source.
But while that sales pitch could work at times with small and mid-sized businesses, it's a harder sell for larger enterprises, which have become quite used to relying on multiple cloud suppliers. Here, Oracle will continue facing stiff competition from more specialized cloud rivals... even if Larry Ellison claims otherwise.
Oracle's stock finished trading on Monday up 0.8% to $39.23 and is up 7.4% for the year.