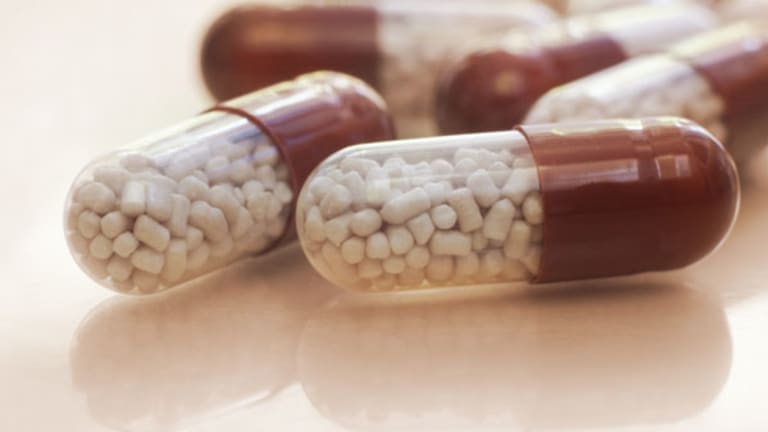 Options 'Flow' Foretold Questcor Plunge
Tony Pelz shows investors how to monitor unusual options trades to manage risk.
NEW YORK (
) --Trading or investing in biotech stocks is often a high-risk venture. To manage some of this risk with your existing positions -- or to identify trade opportunities for new positions -- it often helps to follow what the so-called "big money" investors and traders are doing. This is often accomplished by looking at public filings of major investors or funds. I prefer an alternative approach: Monitoring unusual option activity or "flow" on a daily basis. Keeping a close eye on the option flow in real time gives me insight into what large traders and investors are doing and helps foreshadow future stock-price movement.
Questcor Pharmaceuticals
(QCOR)
is a perfect recent example of why monitoring option flow can be so important for traders. Last Tuesday, very large and unusual activity in the October Puts was spotted. It looked like a large trader, most likely a fund or large existing stockholder, purchased 8,000 of the OCT 50/40 strike Put spreads i.e. purchased to open ~8,000 OCT 50 strike Puts, and sold to open ~8,000 OCT 40 strike Puts while the shares were up $2 on the day. This was a very bearish trade and was unusual in size.
The next day, negative news broke about reimbursement coverage for Questcor's drug Acthar. The stock dropped over 50% on heavy volume. Irrespective of what the large trader knew beforehand about this news (coincidence?), the returns on the trade were stunning and the lesson to the smaller trader/investor was clear: Integrate option flow monitoring into your daily routine.
Questcor shares fell 30% to $21 Monday following disclosure of a U.S. investigation into the company's Acthar drug marketing practices.
Retail investors or traders can identify unusual option flow quite easily by paying attention to a stock's Options Chains or by the unusual trade alerts or monitoring services offered by most option brokerages sites.
Unusual volume for most small-cap biotech companies typically translates into volume greater than 1,000 contracts and several times larger than current Open Interest. (This needs to be put in perspective with average daily volume levels.) The trades to really focus on are those executed in large blocks, like the trades seen in Questcor last week.
Let's discuss interpreting these unusual trades. Unless you see the trades go through or have access to the size and pricing data (most retail traders don't), making sense of unusual option flow is more of an art than a science. I suggest you observe what is known and draw the most probable conclusions.
First, find what trades appear linked. With respect to small-cap biotech stocks, this is usually very obvious. For example, the figure below shows the option chain for typical small-cap biotech stock XYZ. The Bid/Ask spreads are wide, option volume and open interest is sporadic and unevenly dispersed. Note the unusual trades in the SEP 5.0 Puts and SEP 7.0 Calls where 3,000 volume just passed (unusual due to size relative to both volume and Open Interest or O.I.)
The first assumption is that these trades are linked. It's possible that two separate traders in two different locations put on these trades in exactly the same size and on the same date, but that's obviously unlikely. Next, look at how these trades were executed i.e. were they sold or were they purchased? (As each respective trade is larger than current O.I., we can assume they are opening positions.) In this situation, we know the "last" price of both trades. For the Calls, 3,000 were transacted at 95 cents and for the Puts, 3,000 were transacted at 80 cents.
Next, compare the prices transacted to the current bid/ask prices to get an indication of whether or not they were bought or sold to open. The Calls appear to be initiated on the buy side as 95 cents is closest to the ask of $1. The Puts, on the other hand, appear to have been initiated on the sell side, as 80 cents is the current bid quote.
An alternative approach would be to observe changes in implied volatility (IV) from the trades: Where an increase in IV would be indicative of buying activity and a decrease in IV would be indicative of selling activity.
The last step is to determine if the trade is bullish or bearish. Based on our analysis, the XYZ option trade appears to be a SEP 5.0 Put, SEP 7.0 Call Risk Reversal done for a 0.15 Debit 3,000x. This is a bullish trade.
Following unusual option activity helps manage risk in existing position and can also identify potential new trades. Monitoring flow is not foolproof but following "big money" trades can give retail traders a solid edge.
Disclosure: No positions in QCOR.
To learn more about using options to trade biotech stocks, check out Tony Pelz's book,
or subscribe to
Tony Pelz was a trader on a major European bank's proprietary trading desk, responsible for a portfolio with limits of more than $200 million. Prior to proprietary trading, Pelz worked with several global investment banks in roles ranging from corporate finance, M&A to credit and business development. He is author of
The Biotech Trader Handbook, 2nd Edition
, co-founder of the small-cap biotech research and trading site
and operator of
. Pelz currently resides in Denver, Colorado where he trades for his own account.