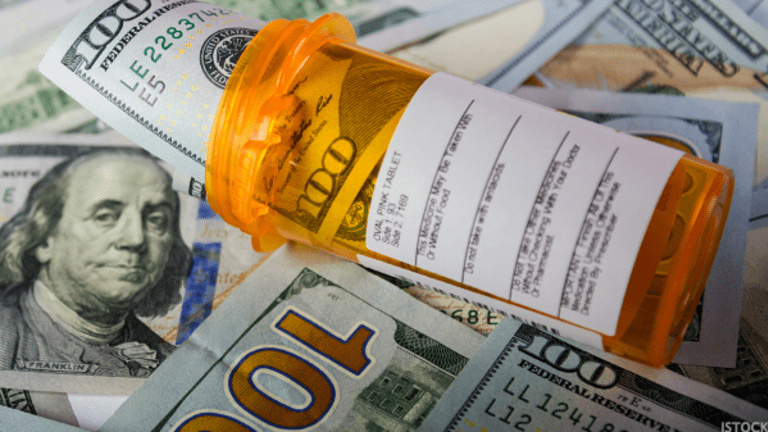 The 6 Medications Being Used to Tackle the Opioid Epidemic
The U.S. opioid crisis rages on. TheStreet takes a look at several drugs being used to help treat people.
The U.S. opioid crisis rages on.
President Trump recently declared the country's opioid crisis a national emergency. "The opioid crisis is an emergency, and I'm saying officially right now it is an emergency. It's a national emergency. We're going to spend a lot of time, a lot of effort and a lot of money on the opioid crisis," Trump told reporters at his golf club in Bedminster, N.J.
Goldman Sachs explained in a note in July that while the opioid epidemic in the United States has contributed to a decline of prime-age participation in the workforce, illicit drug use has not significantly increased. Therefore, the analysts suggested the unemployment does not overstate the employment stock.
"It is tempting to assume that drug abuse must also be a rising barrier to work for the remaining pool of unemployed workers," the researchers wrote. "The [Federal Reserve's] May Beige Book offered a hint in this direction, noting that several contacts reported that job applicants were unable to pass drug tests. In fact, however, we see drug problems as at most a modestly larger barrier to employment for unemployed workers."
Although age-adjusted drug deaths tripled since 2000, the analysts noted illicit drug use has not increased so dramatically, only a few percentage points since 2002. Illicit drug use among unemployed individuals even decreased between 2002 and 2015, and it increased less than two percentage points since the Great Recession. The analysts also noted that while positive pre-employment drug tests have increased, the rise in presence of opioids has been "very small."
In reviewing the increase of the opioid-related deaths following the Great Recession that began in 2008, the analysts also determined that while the economic decline worsened the epidemic, other factors were likely more important since the crisis began before the downturn.
"The recession likely made it worse, but the relationship between the economy and the opioid epidemic is more complex," the analysts wrote.
Nearly 100 Americans die from opioid abuse every day, and there are about as many opioid prescriptions written in the United States every year as there are adults in the country. That results in the country consuming 80% of the world's opioids, despite having just 5% of its population. The National Survey of Drug Use and Health found that almost 13% of Americans on prescription pain relievers misused them in 2015.
Drugmakers have developed medications to treat opioid dependencies and overdose. Here are some of the drugs.
More of What's Trending on TheStreet:
Editors' pick: Originally published Sept. 18.
Indivior
Suboxone is a a prescription medicine from London-listed Indivior PLC (INVVY) that contains buprenorphine and naloxone. The medicine is the most common form of buprenorphine, which is an opioid agonist that attaches to opioid receptors in the brain to suppress withdrawal symptoms and reduce cravings. Because buprenorphine is a semisynthetic opioid, it includes naloxone to help prevent misuse of the Suboxone that can lead to addiction. The medicine is taken as a film that dissolves on the tongue.
Attorney generals from 35 states and the District of Columbia filed a lawsuit against Indivior in September that claimed the drug manufacturer was keeping generic versions of Suboxone off the market.
Mallinckrodt
Methadose is a prescription medicine from Mallinckrodt PLC (MNK) - Get Free Report . The medicine contains methadone, which is an opioid agonist like buprenorphine but it is a synthetic opioid. If misused, Methadose can become addictive. Patients using Methadose take it as a liquid concentrate.
Alkermes
Vivitrol is a prescription medicine from Alkermes PLC (ALKS) - Get Free Report that uses naltrexone. Naltrexone is also an opioid antagonist, blocking the brain's opioid receptors so users cannot feel any high from drugs. Vivitrol is taken as a monthly shot for those looking to treat opioid dependence and requires patients be opioid-free for at least a week to avoid sudden opioid withdrawal.
The company has received criticism for its attempts to market its product to law enforcement and legislators as a better alternative to Suboxone and methadone medications without a study comparing Vivitrol to them, according to The New York Times.
Amphastar
Amphastar Pharmaceuticals Inc.'s (AMPH) - Get Free Report naloxone injection is for treating a known, or suspected, opioid overdose in an emergency. Naloxone is an opioid antagonist, so its molecules block opioid receptor sites in the brain. Since naloxone molecules have a greater affinity for these receptor sites than most opioid molecules, they displace the opioid molecules to reverse the effects of an overdose.
Hospira
Pfizer Inc. (PFE) - Get Free Report subsidiary Hospira also sells naloxone injections.
Lightlake Therapeutics
Although not a pharmaceuticals company, Opiant Pharmaceuticals Inc. (OPNT) - Get Free Report developed the intranasal opioid antagonist platform technology used in Adapt Pharma Ltd.'s Narcan Nasal Spray formulation. Narcan also uses naloxone. Although the medicine can be administered by family, friends, caregivers and others without medical training in an emergency, it is not a replacement for professional medical attention.
More of What's Trending on TheStreet: