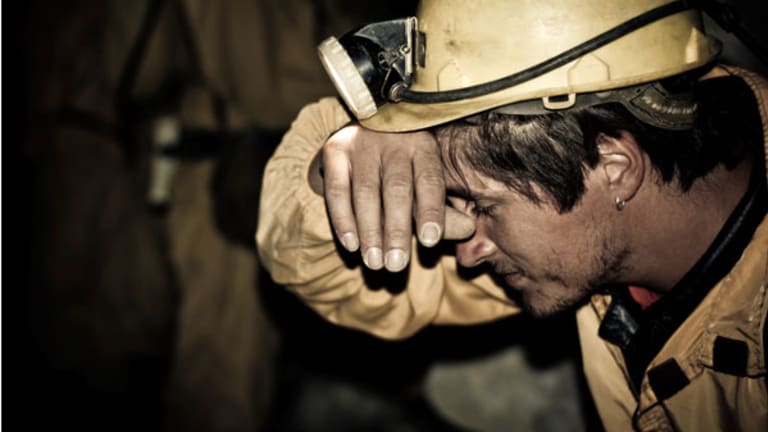 Operating Expenses Hurt Northgate's Earnings
The company beat the latest consensus estimate in the fourth quarter, but saw earnings fall 44%.
The company beat the latest consensus estimate in the fourth quarter, but saw earnings fall 44%.
Once these most recent quarterly results are finalized, they will be run through TheStreet.com Ratings' model and our ratings will be adjusted accordingly. To keep up to date on all of our ratings, visit TheStreet.com Ratings Screener.
On March 4, 2009,
Northgate Minerals
(NXG)
reported that its Q4 FY08 earnings plunged 44.0%, hurt by higher operating expenses. Net income stood at $18.67 million or $0.07 per share compared to $33.31 million or $0.13 per share in the prior year's quarter. Excluding one-time items, net income more than doubled to $7.38 million or $0.03 per share. The latest quarterly earnings beat the consensus estimate of $0.01 per share.
Total revenue advanced 43.0% to $136.75 million from $95.60 million a year ago. Total gold production surged 185.2% to 118,265 ounces from 41,467 ounces, while realized gold price climbed 45.1% to $814.00 per ounce from $561.00 ounce in the year-ago quarter. On the flip-side, copper production decreased by 14.2% to 14.39 million pounds from 16.77 million pounds, while the realized copper price dipped to $0.46 per pound from $3.30 per pound in Q4 FY07. Additionally, revenue from the Fosterville Gold Mine stood at $21.14 million, while gold production increased 37.5% to 26,398 ounces from 19,198 ounces. Revenue from the Stawell Gold Mine was $22.85 million, as gold production grew 3.1% to 30,553 ounces from 29,635 ounces. Finally, revenue from the Kemess South Mine diminished 47.4% to $44.50 million from $84.53 million. Gold production spiked 47.9% to 61,314 ounces from 41,467 ounces a year ago.
As of December 31, 2008, total proven and probable reserves at the company's Canadian and Australian operations stood at 39.76 million tons. Gold reserves stood at 1.28 million ounces, while copper reserves stood at 126.00 million pounds.
For FY08, total revenue increased 36.6% to $460.99 million from $337.55 million in the previous year. Net income plummeted 72.8% to $10.74 million or $0.04 per share from $39.43 million or $0.15 per share in FY07.
Looking forward to FY09, the company expects gold production of 392,000 ounces and copper production of 54.00 million pounds.