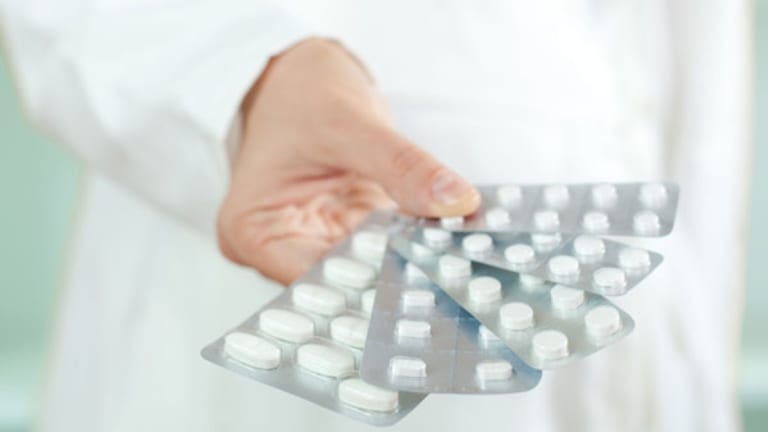 Onyx Pharma Holds Conference Call Too Late: BioBuzz
Why wait one week to discuss good breast cancer data?
Why wait one week to discuss good breast cancer data?
EMERYVILLE, Calif. (
) --
Onyx Pharmaceuticals
(ONXX)
held a conference call this morning to discuss the Nexavar breast cancer study -- the investor call the company should have held last week when the data were actually presented fresh.
It was nice to hear noted breast cancer expert Dr. Jose Baselga, the principal investigator in the Nexavar phase II study, express a lot of enthusiasm for the drug and its potential as a new breast cancer treatment. He responded strongly and persuasively to a lot of the criticisms and concerns about the study aired last week.
Unfortunately, his comments are also a bit stale coming one week late.
For that, place the blame squarely at the feet of Onyx management, which continues to demonstrate a jaw-dropping inability to manage relations with investors. The fall in Onyx's stock price last week and the weakness today reflects to a large degree an utter lack of investor confidence in management.
Granted, the entire market is weak today, but it's still worth noting that Onyx shares are lower now than they were when the conference call was going on.
The market seems to judging the Nexavar phase II breast cancer study results announced today (see my write-up below) as a total failure. I wonder if the reaction would have been different if Onyx had any good will or trust with investors? After all,
Roche/Genentech
didn't always bring home stellar phase II data for Avastin in breast cancer, yet the drug was successful in phase III studies, which led to regulatory approval.
Onyx, sadly, doesn't get the benefit of the doubt.
Investors are also scared to death that Onyx management is about to embark on an expensive deal to acquire or license a new late-stage cancer drug candidate. Rumors have swirled for months that Onyx has its eye on acquiring a privately held cancer drug company. The worry is that Onyx will pay through the nose for an asset or assets that few on the Street will view as beneficial.
Here again, the mediocrity of Onyx's management team fosters only mistrust and dread from investors.
I sound like an Onyx hater, but I'm not. I'm actually a frustrated Onyx fan. I see a company with a very good drug (Nexavar) whose value has never been fully realized by investors because of management missteps and missed opportunities.
Like holding a simple conference call on time.
SEE ALSO: Biotech Calendar for October
Orexigen Moves Forward with 2nd Obesity Drug
(At 8:03 AM EDT)
Orexigen Therapeutics
(OREX)
released new weight-loss data Wednesday from the second of two obesity drugs in the company's development pipeline.
Empatic is a pill that combines the antidepressant bupropion and the anti-seizure medicine zonisamide.
In a phase II study, obese patients treated with a high-dose form of Empatic lost an average of 7.5% of their body weight compared to an average weight loss of 1.4% for patients treated with a placebo.
Patients treated with a lower dose of Empatic in the study lost an average of 6.1% of their body weight.
The trajectory of weight loss from both dosages of Empatic over six months suggests that patients could lose more weight in one-year studies, the company said.
The weight loss observed in Empatic patients was also greater than the weight loss of patients treated with the individual components of the drug -- something the FDA requires for combination therapies, the company said.
Orexigen called the mid-stage study of Empatic a success and said it plans to meet with Food and Drug Administration officials to discuss a phase III study program.
The most commonly reported adverse events for all Empatic patients were headache, insomnia and nausea. The most common adverse events leading to discontinuation were insomnia, headache and urticaria (hives). There were no statistically or clinically meaningful differences between Empatic and placebo on measures of cognitive function, depression, suicidality or anxiety, the company said.
Orexigen has already
of its first obesity drug, Contrave, and expects to seek FDA approval in the first half of next year. Contrave consists of two currently approved drugs combined together to suppress appetite and fight food cravings. One of the drugs in Contrave is naltrexone, currently used to fight opioid and alcohol addiction; the other drug is the antidepressant bupropion.
SEE ALSO: Biotech Calendar for October
Orexigen faces competiton in the weight-loss drug arena from
Arena Pharmaceuticals
(ARNA) - Get Report
and
Vivus
(VVUS) - Get Report
, both of which are also seeking regulatory approval for their respective obesity drugs.
New Breast Cancer Data from Onyx Pharma
(At 6:53 AM EDT)
Onyx Pharmaceuticals
(ONXX)
and
Bayer
announced Wednesday results from another mid-stage study of their drug Nexavar in breast cancer, but the new data is not as good as data presented last week.
Technically speaking, this latest phase II study failed to achieve its primary endpoint. Patients treated with Nexavar plus the chemotherapy drug paclitaxel demonstrated a positive trend in progression-free survival compared to patients treated with paclitaxel alone, although the result was not statistically significant, the companies said.
The 237 patients enrolled in this Nexavar study were diagnosed with metastatic Her2-negative breast cancer and had not received prior treatment with chemotherapy.
Onyx and Bayer are withholding details from the study until they can be presented at an upcoming medical meeting. Patients in this study continue to be followed to determine if Nexavar can improve their overall survival.
Wednesday's data is not as strong as results from a
phase II combination study of Nexavar and Xeloda
that was presented last week at a medical meeting in Germany.
Onyx is holding a conference call at 10 AM EDT to discuss the Nexavar breast cancer data -- a call that the company
last week.
Novartis' Data on Oral MS Drug
Novartis
(NVS) - Get Report
reported top-line results Wednesday from a new two-year study of its oral multiple sclerosis drug FTY720 that may assuage some of the concerns about the drug's safety.
A 0.05 mg dose of FTY720 reduced the annualized relapse rate by 54% compared to a placebo and lowered disability progression by 30%. These efficacy results are generally in-line with a competing oral MS drug from
Merck KGaA
but are not as strong as comparable data generated by Tysabri, the MS drug from
Biogen Idec
(BIIB) - Get Report
and
Elan
(ELN)
.
The biggest improvement for FTY720 is on the safety side, where the low dose of the drug showed no increase in infection risk compared to placebo. The cancer rate for FTY720 was lower in this new trial than in a previous trial, including no reported cases of breast cancer.
Analyst Survey: Bullish on Amgen's Osteoporosis Drug
Sanford Bernstein analyst Geoffrey Porges published a research note Wednesday with results of a doctor survey suggesting a strong outlook for
Amgen's
(AMGN) - Get Report
osteoporosis drug Prolia. Porges has an outperform rating on Amgen with a $76 price target.
Most doctors plan to use Prolia in osteoporosis patients who can't tolerate or otherwise can't use oral osteoporosis drugs, or in patients with severe osteoporosis, Porges said, adding that doctors are excited about the convenience of Prolia's twice-a-year dosing.
Porges does caution that he expects the FDA to approve Prolia with a relatively cautious and restrictive label, adding that the agency may miss the drug's Oct. 19 approval decision date because negotiations with the company may take longer than expected.
-- Written by Adam Feuerstein in Boston
Adam Feuerstein writes regularly for TheStreet.com. In keeping with TSC's editorial policy, he doesn't own or short individual stocks, although he owns stock in TheStreet.com. He also doesn't invest in hedge funds or other private investment partnerships. Feuerstein appreciates your feedback;
to send him an email.