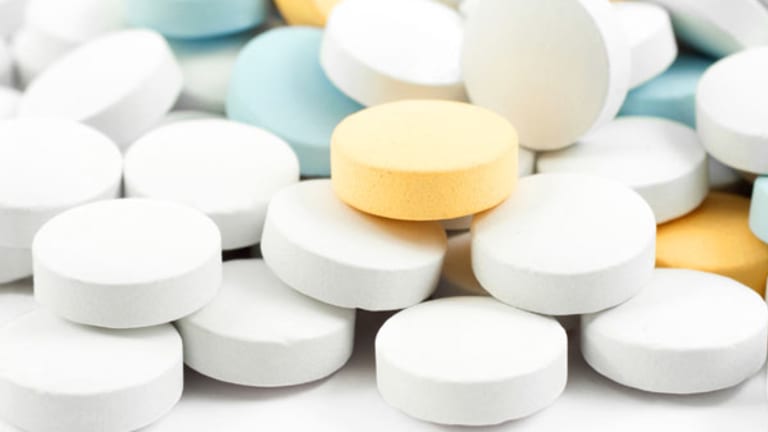 Onyx Pharma CEO Mum While Stock Sinks: BioBuzz
How positive Nexavar data turns into a red-number day for Onyx.
How positive Nexavar data turns into a red-number day for Onyx.
EMERYVILLE, Calif. (
) --Please excuse me while I rant about !$#@$
Onyx Pharmaceuticals
(ONXX)
.
We got really strong Nexavar breast cancer data this morning (see below) and the stock is down 3%? Are you kidding me?
The responsibility for this unbelievable disconnect falls on Onyx management, a bunch of dunderheads who seem incapable of doing anything right when it comes to managing Wall Street.
No conference call after the Nexavar data presentation. No investor event at the conference in Berlin. Really? Hello? Is anybody awake at Onyx headquarters?
Is the Nexavar data perfect? No. But it's damn good. The bears are certainly getting their message out today loud and clear. They're raising concerns about hand-foot syndrome as a side effect or an imbalance in the baseline tumor characteristics of patients in the study's two arms that may have slanted results in Nexavar's favor.
Fine. Those are justifiable issues to debate. But there are just as many, or more, positive data points from this study. Yet Onyx management remains dumbstruck today. No wonder investors have zero confidence in them. How many times has Onyx managed to snatch defeat from the jaws of victory? Unbelievable.
Investing in biotech is hard enough, but Onyx management makes it almost impossible. This situation reminds me a lot of
ImClone Systems
– a company with a great cancer drug but a series of subpar CEOs who never understood how to deal with the Street and therefore were never able to deliver full value for shareholders.
Luckily,
Eli Lilly
(LLY) - Get Report
came in and bought up ImClone for $6.5 billion. It took Carl Icahn's intervention, however, to make that happen.
Onyx needs its own White Knight. Who is going to finally barge into that Emeryville boardroom and shake some sense into these people? Please, someone do it soon!
Whew. I feel much better now.
Onyx Breast Cancer Drug Continues to Dazzle
(At 8:59 AM PDT)
Additional strong data from the phase II study of
Onyx Pharmaceutical's
(ONXX)
Nexavar in metastatic breast cancer patients are being presented this morning at a conference in Germany.
In first-line patients, the combination of Nexavar and
Roche's
Xeloda significantly extended median progression-free survival (PFS) to 7.6 months compared to PFS of 4.1 months for patients treated with Xeloda alone.
That's a 3.5-month advantage for Nexavar in first-line metastatic breast cancer patients.
For simple comparison's sake, a similar breast cancer study of Avastin plus Xeloda yielded a PFS of 8.6 months compared to PFS of 5.7 months for Xeloda alone -- a 2.9-month PFS advantage.
In second-line patients, the median PFS for Nexavar plus Xeloda was 5.7 months, compared to a PFS of 4.1 months for Xeloda alone.
The Nexavar-induced benefit in PFS was statistically significant for both first- and second-line breast cancer patients.
What does this all mean? Very strong efficacy data for Nexavar in metastatic breast cancer that is on par with, even better than, what's been previously reported with Roche's Avastin.
Recall, I wrote about the
from the Nexavar study on Monday, including concerns about the
of the drug, mainly hand-foot syndrome.
Update
: More details from the Nexavar study from a biotech portfolio manager/analyst source who called me from the conference in Berlin (full disclosure: He is long Onyx):
Regarding Nexavar's side-effect profile, importantly, there was no Grade 4 hand-foot syndrome reported, only grade 3. (45% in the Nexavar-Xeloda arm compared to 13% in the Xeloda-alone arm.)
The doctor making the presentation called the hand-foot syndrome associated with Nexavar something that doctors need to pay attention to but that is "manageable."
Discontinuations due to adverse events in the study were 15% in the Nexavar-Xeloda arm compared to 7% in the Xeloda-alone arm. And only eight patients taking Nexavar discontinued due to hand-foot syndrome, vs. two patients in the Xeloda arm.
The next important Nexavar data in breast cancer should come late this year or early in 2010 from another randomized phase II study looking at the combination of Nexavar plus Taxol vs. Taxol alone. This study is key because if also positive, analysts will start to plug in breast cancer revenue into their Onyx models in a substantive way.
For now, I think Nexavar is showing a real promise in breast cancer, which would add another blockbuster indication on top of current approvals in kidney and liver cancers.
-- Reported by Adam Feuerstein in Boston
Adam Feuerstein writes regularly for TheStreet.com. In keeping with TSC's editorial policy, he doesn't own or short individual stocks, although he owns stock in TheStreet.com. He also doesn't invest in hedge funds or other private investment partnerships. Feuerstein appreciates your feedback;
to send him an email.