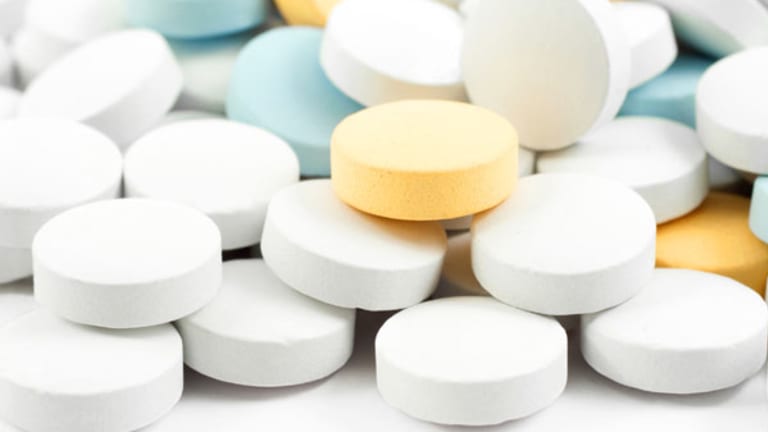 Publish date:
Onyx Pharma: An Underdog Worth Buying
The unexpected approval of a new multiple myeloma drug could be a big upside surprise for Onyx Pharma shares.
The unexpected approval of a new multiple myeloma drug could be a big upside surprise for Onyx Pharma shares.
SOUTH SAN FRANCISCO, Calif. (
) -- Few investors expect
Onyx Pharmaceuticals'
(ONXX)
carfilzomib -- a proteasome inhibitor, like
Takeda's
Velcade -- to receive FDA approval in July for the treatment of late-stage multiple myeloma.
After all, Onyx management disclosed late last year that FDA had concerns about whether the company's single-arm Phase IIb trial, upon which the carfilzomib approval filing was based, would be adequate for approval. Onyx asked FDA for a priority (six month) review, which the agency typically gives for drugs designed to satisfy urgent unmet medical needs. FDA instead assigned carfilzomib a standard ten-month regulatory clock.
Investors also question Onyx's decision to seek accelerated, or Subpart H, approval, which would be based on response rate (a surrogate endpoint) instead of a more robust survival benefit endpoint. Carfilzomib is also likely to undergo review by the FDA's challenging Oncologic Drugs Advisory Committee, or ODAC.
Does Onyx sound like a mess? Not to me. I view Onyx as a buy.
Onyx's $2.4 billion market capitalization is low given that Nexavar -- marketed for kidney and liver cancer -- reached $1 billion in annual sales last year, enough to support the stock's current enterprise value. On top of the base business, Onyx also has an interesting R&D pipeline, including Nexavar in thyroid, breast, and late-stage lung cancer, novel molecules like carfilzomib, and roughly $500 million in net cash.
Let's take a look at carfilzomib, the multiple myeloma drug that has lost the confidence of many investors.
Onyx acquired carfilzomib when it purchased the privately held drug developer Proteolix in 2009. I have little doubt that carfilzomib is an effective multiple myeloma agent and will eventually be approved. The question is when. Most investors expect a delay, which mitigates the downside in Onyx's stock price should those fears be actualized. The FDA approval decision date is July 27th. An FDA approval on or before that date would be a major positive surprise.
The 257-patient, single-arm Phase IIb trial of carfilzomib -- Study 003-A1 -- that supports Onyx's New Drug Application showed a 24% overall response rate in late-stage multiple myeloma. Management believes this compares favorably to the 11% response rate that would be expected had patients been treated with best supportive care.
Remember, Study 003-A1 treated all patients with carfilzomib so Onyx doesn't have actual comparative data.
Still, these were heavily pre-treated individuals with advanced multiple myeloma. Patients in the trial received a median of five prior lines of therapy, had progressed on Takeda's Velcade and
Celgene's
(CELG) - Get Celgene Corporation Report
Revlimid, and were refractory (unresponsive) to their last form of treatment.
FDA has expressed a preference for randomized clinical trials even when reviewing cancer drugs aimed at late-stage patients. I'm cautiously optimistic about carfilzomib, however, because of similarities in the results seen in Study 003-A1 and those from the single-arm Phase II trial that supported accelerated approval of Velcade in 2003.
In that trial dubbed "Summit," the response rate to Velcade therapy was 28% -- similar to the 24% response rate in the carfilzomib study. The duration of Velcade response was longer than what was recorded in the carfilzomib study, however multiple myeloma patients in both studies reported a median survival of roughly 16 months.
That's good for carfilzomib since many of the patients in the study were no longer responsive to Velcade.
The FDA's approval of Velcade based on a single-arm study in refractory multiple myeloma patients sets a precedent that could allow the agency to likewise approve carfilzomib. An on-time approval may not be likely but then investor expectations for Onyx are low enough that downside risk is minimal.
I do think the confirmatory Phase 3 trial of carfilzomib, named "Aspire", will confirm the drug's efficacy when data are reported in 2013, so all is not lost if the accelerated approval pathway doesn't succeed.
Nexavar's potential as a lung cancer treatment is something else to consider when thinking about Onyx.
Nexavar has had a long and complicated history in lung cancer. Two Phase III trials in first-line non-small cell lung cancer (NSCLC) failed to show any benefit. In contrast, Phase II studies in late-stage NSCLC have shown more intriguing results.
One of these phase II studies employed a unique biopsy and biomarker-driven design to examine Nexavar's use in patients with NSCLC that had a specific genetic mutation known as KRAS. The rate of disease control -- defined as complete and partial responses plus disease stabilization -- was an impressive 61% at eight weeks. Unfortunately, this phase II study did not have a clear control arm for comparison.
Onyx's other phase II study of Nexavar in NSCLC used an increasingly popular design called randomized discontinuation. This type of Phase II trial treats all patients up-front with the experimental drug. Patients who respond remain on the experimental drug. Patients who don't respond exit the study so they can try other therapies. Lastly and most importantly, patients whose tumors are stabilized (neither grow nor shrink) after treatment with the experimental drug are randomized to either remain on the drug or switch to a placebo.
In this trial, patients with initial stable disease following Nexavar treatment who then continued on Nexavar showed a modest but clearly discernable benefit compared to patients who were randomized to placebo.
Twice before Onyx has tried to replicate Nexavar's positive phase II signals in lung cancer with larger, more definitive phase III studies. The company failed both times.
Onyx is now trying a third and perhaps final time to expand Nexavar into the lucrative lung cancer treatment market. The company is currently running a randomized, placebo-controlled phase III study of Nexavar in NSCLC, codenamed "Mission." The 700-patient study is expected to read out results by the middle of the year. Given the previous phase III failures, almost no one expects the Mission trial to succeed in demonstrating a Nexavar survival benefit. But hints of efficacy from the Phase II studies warrants some optimism, particularly since like the on-time carfilzomib approval, investor expectations are low.
Positive results from the Nexavar lung cancer study would drive meaningful upside for Onyx shares.
Disclosure: Sadeghi-Nejad has no position in Onyx Pharmaceuticals.
--Written by Nathan Sadeghi-Nejad in New York.
Follow Nathan Sadeghi-Nejad on
.
Nathan Sadeghi-Nejad has 15 years experience as a professional health-care investor, most recently as a sector head for Highside Capital. He has worked on the sell side (with independent research boutiques Sturza's Medical Research and Avalon Research) and the buyside (at Kilkenny Capital prior to Highside). Sadeghi-Nejad is a graduate of Columbia University and lives in New York. You can follow him on Twitter @natesadeghi.