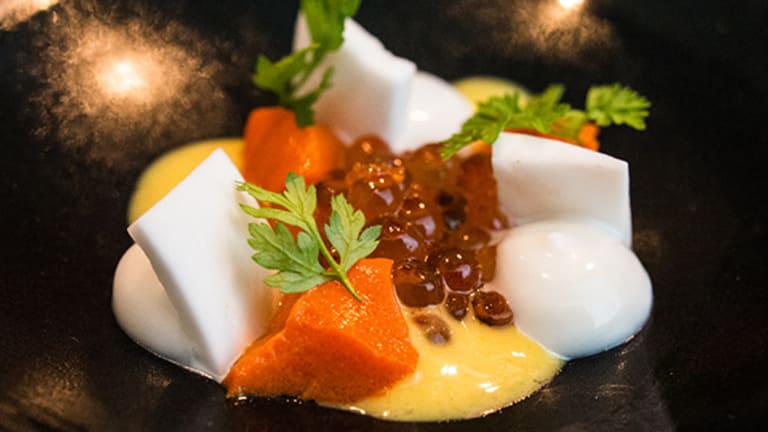 Only 6 of the 50 Best Restaurants in the World are in the U.S.
Which U.S. fine-dining restaurant catering to the upper echelon made the top five list of The World's 50 Best Restaurants?
NEW YORK (TheStreet) -- Want to eat at the best restaurant in the United States?
Then you need to get to the only restaurant in the U.S. that made the top five on a list of the best places to eat in the world, The World's 50 Best Restaurants.
It's a New York City-based restaurant, once owned by restaurateur Danny Meyer. And it's among five other American establishments that made this year's top 50 list.
The annual ranking that, as its namesake says, ranks the best restaurants in the world from votes by nearly 1,000 international restaurant industry experts. The awards and the list are organized and compiled by William Reed Media and were presented Monday evening at an event in London.
Check out the list to see which six U.S. restaurants made the original list.
6. The French Laundry
Yountville, Calif.
Cuisine: Modern French-American
Head to California's Napa Valley to experience tried and true decadence with Thomas Keller's The French Laundry, which came in at No. 50 on The World's 50 Best Restaurants list.
"Cult dishes such as salmon tartare cornet, oysters and pearls (a sabayon of pearl tapioca with oysters and white sturgeon caviar) or coffee and doughnuts remain firm favourites, but the daily changing nine-course tasting menus, including a vegetarian version, continue to evolve with ever-new creations," the report said.

5. Blue Hill at Stone Barns
Pocantico Hills, N.Y.
Cuisine: Conscious and ingredient-driven
Farm-to-table dining is at its best at Blue Hill at Stone Barns, which ranked No. 49 on The World's 50 Best Restaurants, its first time making it onto the list. The restaurant, located roughly 30 miles north of New York City and on a working four-season farm where co-owner and executive chef Dan Barber uses all of the farm's "bounty" as well as other Hudson Valley-only sourced produce and is also "pushing his own boundaries by growing and cross-pollinating plants to create experimental cultivars."
Don't expect to find an actual menu at Blue Hill. Instead guests are offered a tasting menu called "Grazing, Pecking, Rooting" for as many courses as you want.
"Barber has a unique skill in bringing out the very essence of each element on the plate. Dishes are served informally yet ceremoniously, with table theatrics that form part of the restaurant's educational mission. Before a fish course, for instance, you might be shown a video of its catch," according to the report.

4. Per Se
New York, N.Y.
Cuisine: Contemporary French-American
Per Se, sister to the Thomas Keller-owned French Laundry, ranked No. 40 on The World's 50 Best Restaurants list.
Certainly not in the shadow of its West Coast sibling, Per Se has three Michelin stars of its own and has been on The World's 50 Best Restaurants list since it opened in 2004.
"Keller's signature dishes, such as oysters and pearls (a sabayon of pearl tapioca with oysters and caviar), are present and correct, but there is also plenty of innovation and creativity," the report said. "Seasonal American ingredients are fully expressed in ever-evolving recipes that draw on classical French cuisine."

3. Alinea
Chicago, Ill.
Cuisine: Cutting edge
Chicago's Alinea ranked No. 26 on The World's 50 Best Restaurants list.
"Whether you're eating an edible balloon, made from dehydrated apple and filled with helium or watching the chefs 'plate up' dessert directly on to the table like a beautifully choreographed Jackson Pollock unfolding in front of you, there's plenty to shock and delight among the numerous courses that make up Alinea's famous tasting menu," the report said.

2. Le Bernadin
New York, N.Y.
Cuisine: Luxury seafood
Le Bernardin ranked No. 18 on The World's 50 Best Restaurants list.
"Le Bernardin began in Paris, made its name under Gilbert and Maguy Le Coze in Manhattan - profoundly influencing American restaurant culture along the way - and now, with Éric Ripert at the helm since 1994, has become an international byword for culinary excellence," the report said. "Its fish cookery is the stuff of renown, combining the technical brilliance of Japanese handling and butchery (ike-jime brain-spiking, cold-chain management) with classical French flair on the stoves."

1. Eleven Madison Park
New York, N.Y.
Cuisine: A New York twist on modern European
Eleven Madison Park ranked No. 5 on The World's 50 Best Restaurants list. Co-owners Daniel Humm and Will Guidara bought the restaurant from famed restaurateur Danny Meyer in 2011.
"Despite dazzlingly white tablecloths and a grand, high-ceiling dining room, there is not a hint of stuffiness here," according to the report. "Dishes are playful and often interactive - the 'Name That Milk' dessert comes as an ornate wooden box containing four bars of specially commissioned Mast Brothers chocolate, some pencils and a card with four animal drawings. Diners must taste each bar to determine which belongs to which animal: cow's milk, sheep's, goat's or buffalo's."
Humm also received the Chef's Choice Award 2015