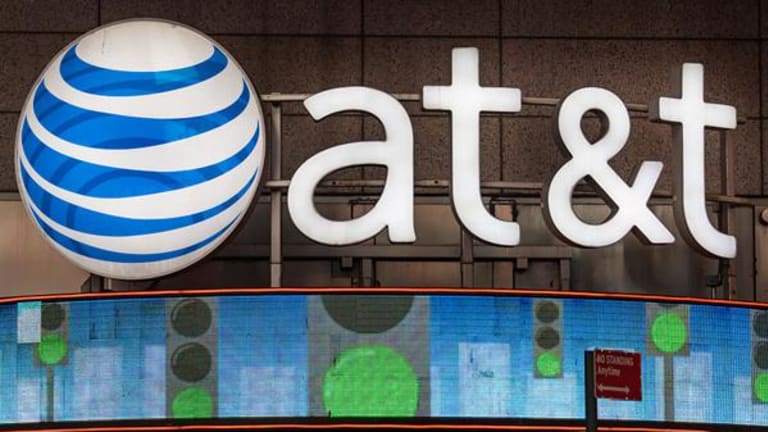 Online TV Might Disappoint. What About AT&T and DISH Network?
Here's what technical analysis says these two media giants could see in 2017.
(This article originally appeared at 10:15 a.m. ET on Dec. 22, on Real Money, our premium site for active traders. Click here to get great columns like this from Jim Cramer and other writers even earlier in the trading day.)
My colleague Eric Jhonsa's 2017 techology predictions include a forecast that online TV won't live up to the hype, so I thought this was a good time to check out the charts for AT&T (T) - Get Report and DISH Network (DISH) - Get Report .
This one-year daily chart of Dividend Stock Advisor holding AT&T shows an interesting "round trip":
As you can see, AT&T corrected from August through mid-November -- or over about 3-1/2 months -- then recouped nearly all of its previous declines during the subsequent 1-1/2 months. But while the stock's price has made a pretty good comeback, its On-Balance Volume OBV line (the gray line in the middle of the graphic above) hasn't shown the same strength. AT&T's OBV peaked in late June, steadily lost ground until mid-November and then turned back up, but remains well below its June zenith.
Maybe this means AT&T's rebound was more about short covering than new accumulation. After all, the bottom panel of the chart above is the 12-day momentum study of AT&T and shows no divergence between the stock's higher price highs and the pace of its advance.
This three-year weekly chart of T, above, is interesting in the technical clues it shows us. First, T broke out from a sideways trading range in 2016 when it broke above $37. Prices rallied and then corrected back to the breakout area. A fresh rally has lifted T above the rising 40-week moving average line.
The daily OBV line looked disappointing, but this weekly OBV line is different in a much more bullish way. The price decline this summer and fall only shows a minor two-month decline for the weekly OBV line. In the bottom panel is the weekly Moving Average Convergence Divergence (MACD) oscillator, which signaled a cover-shorts buy signal and could cross the zero line for an outright go-long buy signal.
Bottom line: T has has a good rally this year and a good year-end rally. I am not bearish on T, but I am not very enthusiastic about its near-term prospects. A sideways trading range is more likely than new highs as we look forward to 2017.
In this daily chart of DISH, above, we can see that prices have risen from the February low, but it has not been a straight line. Prices may be in their best technical shape of the year, as DISH is above the rising, 50-day moving average and the rising, 200-day moving average. The OBV line has generally kept pace with the price advance and momentum is not showing any significant bearish divergences.
In this three-year weekly chart of DISH, above, we can see that prices are above the rising 40-week moving average line. The weekly OBV line ended a long decline and has been improving the past three to four months. The MACD oscillator is above the zero line in a bullish configuration.
Bottom line: DISH has made a base pattern on this longer-term chart and we could see gains towards $70 or $75 in the first half of 2017. Will it be the winner in this space? I don't know, but it does have a pretty good chart picture.
Employees of TheStreet are restricted from trading individual securities.