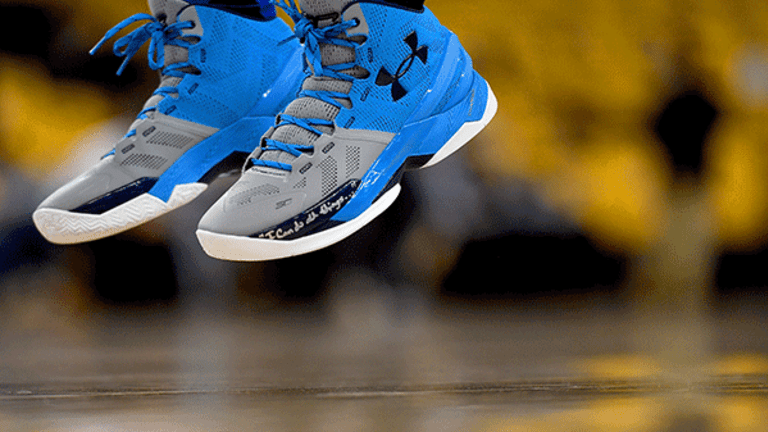 The Biggest Reason Why Under Armour's CEO Just Met With President Trump
Under Armour has a lot at stake.
It was essential that Under Armour's (UA) - Get Free Report founder and CEO Kevin Plank got some face time with President Trump right out of the box. 
Plank was among several high-profile CEOs to meet with the new president on Monday, likely to discuss the current business climate and get insight into the administration's policy objectives, joining Tesla (TSLA) - Get Free Report founder Elon Musk, Ford (F) - Get Free Report CEO Mark Fields, Dell founder Michael Dell and Dow Chemical (DOW) - Get Free Report CEO Andrew Liveris.
To be sure, the Trump administration could end up being a foe to Under Armour and Plank given how vocal they have been on possibly invoking tariffs on products made abroad. And Trump pulled no punches on Monday either on the topic, saying companies should expect a very "major border tax."   
Under Armour says on its website that its products are primarily manufactured in Asia, Central and South America, and Mexico. Just 8% of Under Armour's factories are located in the U.S., while 24% are in China and 12% in Vietnam.
Trump's camp has rejected previous reports that it's aiming for a 5% universal import tax, but a tariff of that size could have dire consequences for the business models of Under Armour and its bitter rival Nike (NKE) - Get Free Report .
Under Armour CEO Kevin Plank (right) along with Jamie Foxx (left) and Stephen Curry (middle)
Athletic manufacturers could take a 40% hit to their earnings, according to J.P. Morgan analyst Matthew Boss, but Under Armour's business is more susceptible because it doesn't have the same international market diversity that Nike enjoys.
Rick Lazio, senior director at tax consultancy alliantgroup and a former U.S. Representative from New York, told TheStreet the Trump administration is going to weigh-in on the issue of a potential border tax at a retreat this week. The House and Senate have a joint retreat as well starting on Wednesday and the topic will also be on the table, according to Lazio.
"It's an important area of tax reform. They need to come up with the money to be able to lower the rates and simplify the code," says Lazio.
Working in Plank's favor, at least in this particular meeting, is that he has also been vocal on the need to bring jobs back to America. He has also put his money where his mouth is, too. 
In July, Under Armour opened a sprawling new 35,000-square-foot product-innovation center dubbed UA Lighthouse in its hometown of Baltimore. The facility is decked out with machines, such as 3D printers and body-image scanners, that Under Armour says will help it manufacturer clothes and shoes more efficiently, and in the U.S.
"We should be bringing jobs back, not just to America, but tightening supply chains all over the world," Plank said in a recent interview. "We have the ability to do it better, and it's time for all of us to make an investment," Plank added.