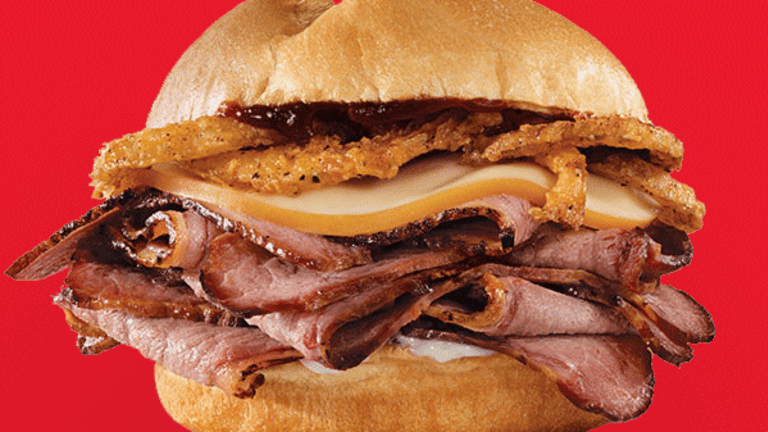 One of the Most Successful CEOs Around Reveals Vital Tips for Overhauling a Company
Hey, turning around a sinking ship isn't easy.
When Paul Brown arrived at Arby's in 2013, things weren't all peaches and cream. The brand known for its hearty roast beef sandwiches was seen by Wall Street as Wendy's (WEN) - Get Free Report problem child (it was sold to private equity firm Roark Capital Group in 2011). Food quality had taken a hit, and the culture at HQ wasn't quite right. 
So Brown, who took the position after sampling Arby's menu with his wife and realizing the brand's untapped potential, got right to work. He brought in new people, eased the dress code at HQ (you can now wear T-shirts to the office--as long as they say Arby's), stuffed the pipeline with interesting new products such as gyros and deer meat, improved food quality and jazzed up Arby's marketing. 
The result? A successful turnaround of Arby's against the backdrop of persistently sluggish consumer spending on eating out. 
Arby's saw U.S. same-store sales rise 3.2% in the fourth quarter. It marked a mind-boggling 25 straight quarters of same-store sales growth, and 11 consecutive quarters of higher traffic. For the year, Arby's same-store sales increased 3.8%, more than double the growth rate of the U.S. quick-service restaurant industry, according to data from NPD Group.
Arby's CEO Paul Brown
"We aren't being constrained by a particular genre such as the burger players--we can do different things with sandwiches that excite people," Brown explained to TheStreet when asked how the chain is side-stepping lackluster fast-food industry sales.
The chain opened 60 new restaurants last year, giving it over 3,300 worldwide. It will open more than 60 locations this year, Brown says, including its first spots in Kuwait. This year alone Arby's has 11 limited-time offerings planned--the newest sandwich arrives in the spring and features authentic-seasoned Greek meat in a gyro. The company has also started to test catering, and will launch a mobile ordering app later in the year.
The company remains on track to reach $4 billion in sales by 2018.
As for his tips to driving a successful turnaround, Brown says to stay laser-focused and upbeat. 
"Believe yourself that it can be done, and that becomes infectious to the team," Brown says, adding, "if the CEO shows doubt, others won't believe a turnaround is possible." Brown also stresses that getting the right people is vitally important. "Culture is key," he concedes. 
Judging by Arby's results, these are tips to live by if one is trying to fix a company from the ground floor. 
Watch Brown discuss Arby's revival at TheStreet's New York City headquarters. 
Action Alerts PLUS, which Cramer co-manages as a charitable trust, has no positions in the stocks mentioned.