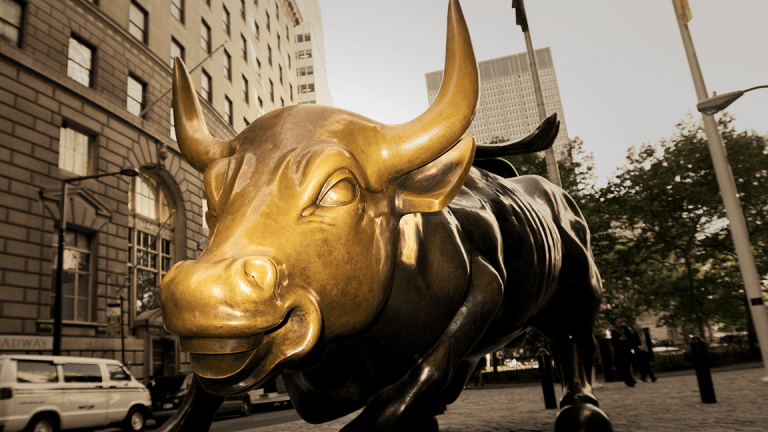 One of the Market's Most Storied Forward Indicators Is Flashing Bullishness
Watching the Dow Transports? You should be, especially if you are bullish on the medium-term market outlook.
On the eve of the bull market record Wednesday, a key forward-looking indicator is flashing a green light. 
The Dow Jones Transportation Average rose more than 1.1% on Monday and closed about at its all-time high. Leading the move was a nice 2.2% pop in the NYSE ARCA Airline Index. 
"This is quite positive because the airlines HAD been lagging BADLY from March until June -- in fact, the XAL fell into correction territory at its late June lows," points out Miller Tabak strategist Matt Maley. "However, it has rallied nicely since then (almost 10%) and looks like its ready to break-out even more."
For watchers of the Dow Theory, the action in the transports is a bullish indicator for the broader market. Dow Theory states that major trends in the market must be confirmed by the transport and industrial averages. These are the sectors at the ground level of global economic demand, after all.
With the Dow Jones Industrial Average I:DJI roaring back to record highs right now and the transports acting well, the bulls should start rejoicing a bit.
"Either way, if (repeat, IF) the airlines are in the early innings of a break-out rally...and you combine it with the positive action we've seen in the railroad stocks pretty much all year...and this index could have a lot more to run," Maley says. "Of course, we'll need the DJIA to break above its all-time highs (which is still 3.3% above current levels) to give it a "Dow Theory" buy signal, but any further upside follow-through for this economically sensitive sector would still be positive for the broad market."
What Jim Cramer is saying on the markets.