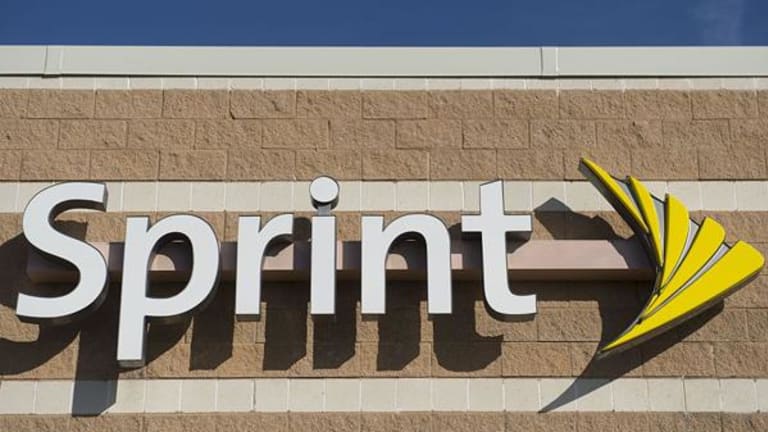 One of Last Year's Top Market Gainers May Be 2017's Biggest Loser
Shares of Sprint have surged, despite a broken business model.
Successful investing often pivots off of one key concept: "let your winners ride."
Indeed, we have all looked to book profits too soon, only to see a key holding go on to post further great gains.
Investors who are tempted to let Sprint (S) - Get Free Report keep racking up gains for them need a reality check. After surging 275% in the past year, this firm's weak competitive hand means that all those gains may be wiped out in the year ahead.
Verizon Communications and AT&T, the nation's largest wireless providers, have come to see that mobile data is a commodity business. And the industry's move to 5G in the next few years, which will boost download speeds more than tenfold, will only exacerbate the problem.
High-speed mobile bandwidth will be so ubiquitous and push wireless network capacity so far ahead of demand that the real value-add will be in the proprietary content that runs through those pipes, the only path to pricing power.
In fact, the likely imminent end of net-neutrality will push consumers to commit to the most appealing content platforms. That is why AT&T bought DirecTV and Verizon Communications is making its own push with purchases such as Yahoo! and AOL, with plans to acquire yet more content in the year ahead.
AT&T and Verizon Communications are also taking steps to ensure that they control enough spectrum to deliver the massive bandwidth needs of higher-speed, higher-volume networks.
In 2015, the most recent year of major spectrum auctions, AT&T spent $18.2 billion, while Verizon Communications spent $10.4 billion. Due to its weaker balance sheet, Sprint didn't spend a dime.
Sprint's net debt exceeds $35 billion, nearly twice its base of equity, and that has led to weak levels of capital spending. In the third quarter, Sprint spent just 6% of revenue on capital expenditures.
"In our experience, operators invest 10% of service revenue when they are struggling, in the low to mid-teens during a normal period, and can spend in excess of 20% of revenue when in the midst of a major network upgrade cycle," a BTIG analyst wrote in a research note.
As we have seen in past cycles, Sprint's move to skimp on CapEx has led to a major drop in network quality and rising customer defections.
Despite its weak hand, Sprint's shares have staged a massive rebound, for one simple reason: M&A. Rumors persist that it will soon buy or be bought by T-Mobile.
Neither scenario is likely to happen.
"We believe the market is vastly over-reacting to the actual prospect of a deal materializing," Merrill Lynch wrote in a research note.
First, Merrill Lynch doubts that T-Mobile's parent, Deutsche Telekom has an interest in spending the $60 billion needed to assume Sprint's equity and debt. Nor do they think that Sprint's controlling shareholder, Softbank, would like to become a minority shareholder.
At this point, Sprint's customer base isn't yet large enough to generate the revenue to achieve positive cash flow. The trouble is, after an impressive rebound in 2014 and 2015, Sprint's rate of net customer additions may be slowing.
Analysts at Deutsche Bank took note of the strong recent subscriber additions AT&T and Verizon Communications and trimmed their outlook for Sprint's quarterly additions to about 400,000 from 600,000.
In the absence of a buyout offer, shares of Sprint will eventually revert again to a cash flow multiple valuation.
Seven or eight times earnings before interest, taxes, depreciation and amortization would be a fair multiple, in light of historical trends, which equates to a share price of about $2.50. Ironically, that is where shares of Sprint were valued at the start of last year.
The question is: how long will investors wait for T-Mobile or another white knight to emerge?
Sprint will release fourth-quarter results on Tuesday, at which time investors will scrutinize cash flow production, customer churn rates, and gross and net subscriber additions. Any shortfalls in those metrics will again remind investors that this stock has come too far too fast in the absence of a buyout.
---
As an investor facing what promises to be a volatile 2017, you want to be in control of your own destiny. That means being able to predict in advance how much money your investment portfolio will generate. Think it can't be done? Our top analyst has a system that can ensure you will make a profit on more than 80% of your trades. To find out the secret, just click here now!
The author is an independent contributor who at the time of publication owned none of the stocks mentioned.