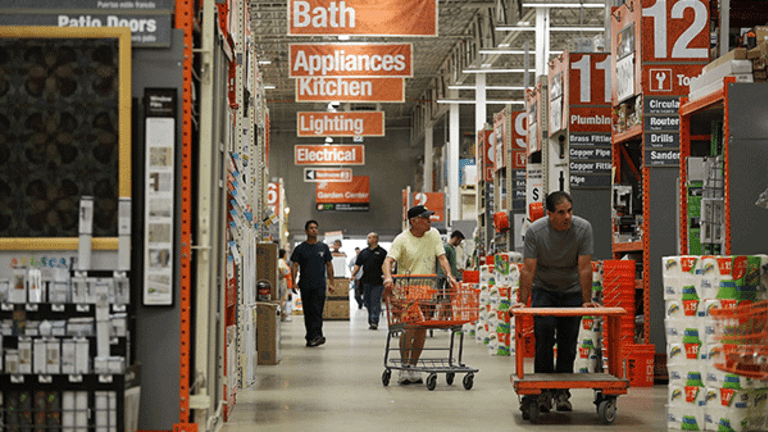 One of Home Depot's Most Powerful Executives Just Gave a Master Class on How to be a Retailer
Home Depot continues to fire on all cylinders.
With mall retailers such as Sears Holdings Corp. (SHLD) and J.C. Penney (JCP) seemingly on their deathbed, Home Depot (HD) once again proves why it pays to sell lumber and nails right now.
On Tuesday, the home improvement retailer said first quarter earnings grew 16% to $1.67 a share, easily beating Wall Street forecasts for $1.52 a share. Same-store sales rose 5.5%, ahead of analyst projections for 3.9% growth. Home Depot saw growth in both the number of transactions and the average amount spent by shoppers. The company lifted its full year earnings outlook to $7.15 a share from $7.13 a share previously.
Shares rose slightly to $158.53 in Tuesday trading. On a conference call, Home Depot said all merchandise departments delivered sales increases. Sales from contractors, which Home Depot refers to as pros, were stronger than those from typical consumers. Online sales surged 23%.
"What a tough industry [retail], the consumer has changed more in terms of their demand preferences in the past three years than they have in the past thirty years," Home Depot CFO Carol Tome told TheStreet in an interview. "We have been leaning into that change, and you can see the results."
So far, the U.S. housing market has withstood the rising interest rate environment and subsequent decline in housing affordability. In turn, home improvement retailers such as Home Depot have continued to thrive as existing homeowners renovate their homes -- which are rising in value -- and builders try quickly to bring on badly needed supply.
Sales of new single-family homes rose 5.8% to a seasonally adjusted annual rate of 621,000 in March, the highest since last August, according to the Commerce Department. The median sales price rose 7.5% from February to $315,000. Existing home sales hit their fastest pace in a decade, climbing 1.4% in the first quarter to an adjusted annual rate of 5.62 million, said the National Association of Realtors (NAR).
The national median sales price increased 6.9% from the prior year to $232,100, the strongest gain in about two years.
Meanwhile, the NAR's Home Remodeling Index (RMI) increased five points in the quarter to 58, its highest reading since 2015. An RMI above 50 indicates that more remodelers report market activity is higher compared to the prior quarter than report it is slower.
"Home improvement spending still remains healthier than most areas in retail," says Jefferies analyst Dan Binder. "The industry is lapping the toughest quarterly comparison of the year, led by a strong February last year. However, trends remain strong as quarter to date building materials, hardware and garden supply sales (according to government figures) have grown 6.4% year over year while lapping a 10.1% growth over the same time period last year."
TheStreet talked with Tome about the company's prospects for the year ahead, and current retail climate. What follows is an edited and condensed version of the conversation. 
Q: What's your take on the retail sector right now? What Home Depot is doing financially is the complete opposite of just about everyone else.
Tome: What a tough industry. The consumer has changed more in terms of their demand preferences in the past three years than they have in the past thirty years. We have been leaning into that change, and you can see the results. Our online sales grew 23% in the quarter, which is great. But also, 45% of those sales were picked up inside of a store. And when people come into our stores, they are buying something else, too. 
We have really leaned into an experience for a project and that may differentiate us from other retailers in that we are a project-based business, and not an item-based business. The truth is consumers are demanding things from retailers like being in stock. Customer service starts with being in stock. We pride ourselves keeping our in stock rates at 98% and higher. We can do a better job, but compared to some other retailers I visit they don't have the product, they are out of stock. If you are out of stock it's not a good experience, and you will go someplace else. 
That's just one example. Every week we review in stock for all of our departments, all of our stores, with our entire leadership team. That's how serious we take this. 
Q: Is selling home improvement products the only model that works well in retail at the moment?
Tome: I don't think it's the only one that works, because there is still a lot of spending that goes into the retail space. But, it's about understanding the customer, who you are serving, and serving them as well you can. Focus, execution, consistency are key. So much of retail is detail, and so much of it is execution. Clearly, the broader retail industry is over-stored. Real estate was available and cheap, and people built stores. Now you see them saying oops, we have too much square footage. We stopped opening stores in any meaningful fashion back in 2007. 
So we got way ahead of things. Once retailers fix the over-stored problem and get focused, there is absolutely a place for retailers and a number of them. 
Q: Do you even think about closing stores at Home Depot like some others in retail have done in mass? 
Tome: We hadn't opened a store in the U.S. since 2013. So you can appreciate why we opened two stores in the first quarter is because there was a demand that needed to be filled. We have very high return hurdles, way over our cost of capital. These new stores have come out of the ground very strong, love the sales we are seeing. They will be great return stores, highly profitable because there was a demand that wasn't being filled. 
We don't view our economic engine being driven by square footage growth, others in retail that's how they live. We don't believe in that. But, if we see a void where there is an opportunity to put a store to create value we will. We plan to open six stores this year. 
Q: What about the bottom-performing stores in your portfolio, how are they doing? 
Tome: All of our stores are cash flow positive. The net present value of operating each of our stores is greater than the net present value of closing the store. So I don't have a list of stores that I am worried about. But we have done things here to make sure that doesn't happen. We have a team of folks here looking at store performance. If one store isn't performing well vs. others, we will send in a team to assess what's wrong. We make sure that every store is operating to its fullest potential. 
Are we perfect at this? Absolutely not. Do we have opportunities to improve? For sure. But we are pretty good at things. 
Q: You told analysts that the housing market is "very strong." Is there anything that keeps you up at night economically that could derail Home Depot this year?
Tome: I feel very confidant about our business prospects for 2017. Housing is a very good asset class. I can't speak to world events and what that could do to the economy. There is always stuff that could happen. The recent cyberattacks that hit so many companies over the weekend, we were fine. We were not infected. That's always a worry if that were to happen. We have invested a lot of money and people power in making sure that doesn't happen. 
As it relates to housing, not worried about it.
Q:IfSears (SHLD) goes out of business this year, do you have an estimate of how much business Home Depot will gain?
Tome: I will just tell you that our analysis suggests that the product overlap between our two companies [Sears and Home Depot] is about $5 billion. I would add that we are always preparing ourselves to get more than our fair share of sales that might become available. 
Sears spokesman Howard Riefs didn't return a request for comment. 
More of TheStreet's top stories:
Here's How Home Depot Is Trying to Destroy Dying Sears
The Reckoning: S&P 500 Has Worst Day Since September on Latest Trump Scandal
AMD Shares Continue to Plummet Following Weak Earnings Guidance, Downgrade
Click here for the latest business headlines.
Editor's Pick: Originally published May 17.