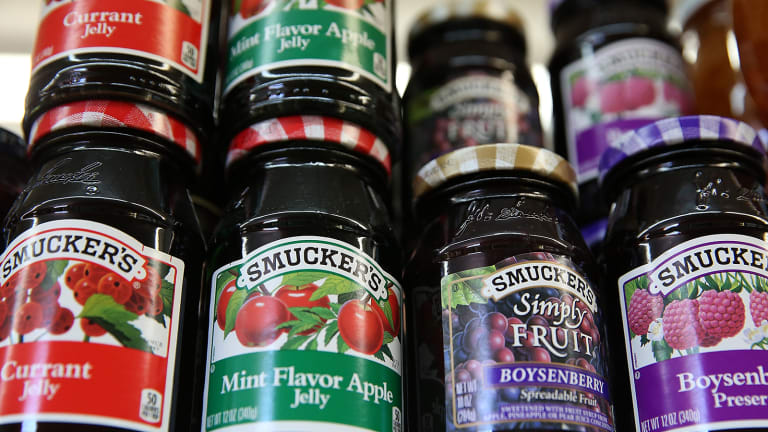 One Key Reason J.M. Smucker's Business Is Suffering
Sales of the J.M. Smucker's once-favored Kibbles 'n Bits pet food are down as Americans transfer their own foodie tastes onto their dogs. Is the manufacturer headed for the doghouse?
When it comes to food, American palates are notoriously fickle. The rise of "foodie-ism" -- that is, a self-affected discernment when it comes to what you shove in your mouth -- has led many consumers to change their tastes.
For example, many "foodies" eschew old favorite fast-food places for fast-casual eateries that promise better-quality ingredients and preparation methods.
In truth, is there much difference from a burger and fries at Shake Shack and a burger and fries at McDonald's? It's probably negligible. But it's made a real impact on the market.
Now people are transferring their "foodie" tastes to their pets. So much so that The J.M. Smucker (SJM) - Get J.M. Smucker Company (The) Report is bracing for headwinds.
On Tuesday, the company announced that sales at its pet food division have plummeted by 6% in the most recent quarter, led by a double-digit decline in the sales of Kibbles 'n Bits.
It turns out that Americans are avoiding Kibbles 'n Bits, a mainstay of the pet food aisle, in favor of premium products that they believe have better ingredients. "We're seeing more humanization of pets, and consumers looking at more premium products," said Barry Dunaway, Smucker's head of pet foods and snacks.
In 2011, Kibbles 'n Bits commanded 3% of the dog food market. However, last year that figure retreated to 1.9%. J.M. Smucker and analysts are expecting the market share to contract even further this year.
Although more Americans are adopting pets, they're imposing their own changing eating habits on their furry companions. And it's not just millennials who are doing this. Baby boomers are trending toward pet foods that are marketed as being higher in quality, as well as labeled as "high protein" and "organic."
Major competitors include Blue Buffalo Pet Products, which touts "natural, healthy" dog and cat food and treats, and Mars, which produces Iams and Pedigree premium brands.
On Tuesday's earnings conference call, Dunaway indicated that the company is looking for an entry into what he referred to as the "mass premium" pet food segment, offering "natural" or "grain-free" ingredients. This will no doubt include boosting the company's Natural Balance portfolio.
On a more positive note, Smucker has been seeing some reward from its purchase of Big Heart Pet Brands back in March 2015 for $5.8 billion. Big Heart is the maker of popular pet treat brands such as Milk Bone. According to Smucker, "pet snacks" are quickly gaining sales traction as a new category of pet products, and Milk Bone fits that description to a tee (as does Smucker's Pup-Peroni). Accordingly, Smucker registered an increase in pet snack sales for the quarter.
The company is expecting flat sales for the rest of the year, thanks in no small part to a dreary outlook for its pet food segment. However, the company continues to be a fine long-term play, with a strong portfolio that extends beyond what people are feeding their dogs. If you're looking for short-term gains however, J.M. Smucker is sadly unlikely to deliver.
---
A crisis is coming. And when it hits, weak companies and their investors will be washed away. Don't let that happen to you. I've found seven companies you should own no matter what the economy is doing. Each one of these powerful, yet overlooked companies barely notices when the market tumbles. And they'll skyrocket when it rebounds. You can pick all seven up for pennies on the dollar right now. But that'll change the instant average investors catch wind of just how bad things really are. Get their names here before it's too late.
This article is commentary by an independent contributor. At the time of publication, the author held no positions in the stocks mentioned.