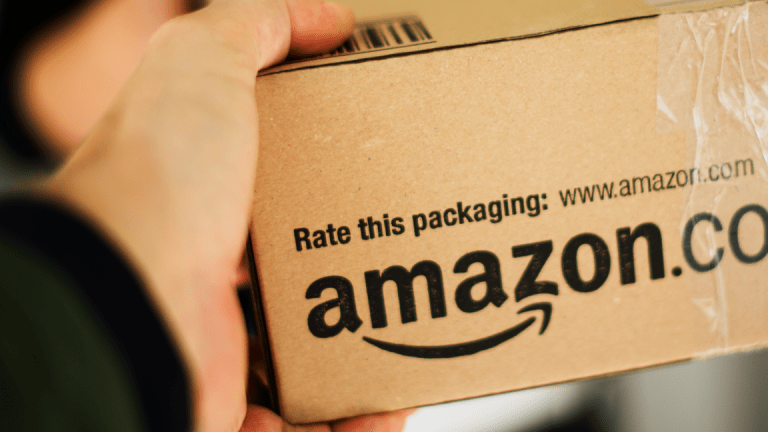 One Economic Trend That Should Excite Retailers Like Amazon and Walmart
With Americans believing jobs are easy to find right now, the outlook for consumer spending in 2018 continues to brighten.
Retailers like Amazon (AMZN) - Get Report and Walmart (WMT) - Get Report shouldn't let the disappointing December jobs report get them down. More confident consumers look poised to spend, spend, spend in 2018. 
Aside from higher stock prices fueling consumer confidence to near 17-year highs, the outlook for the jobs market is helping to bolster the mood among consumers. The number of consumers who perceive jobs to be plentiful continues to improve, gaining almost 10 points year over year in 2017, according to the Bureau of Labor Statistics. Those who think jobs are hard to get remain on a downtrend that started in 2012. 
"Combined with improved wages, growth in credit and lower taxes, the stage is set for continued healthy growth in retail sales," points out Jefferies retail analyst Daniel Binder. The appetite for consumers to spend a little more was on full display this past holiday season.
U.S. holiday retail sales rose 4.9%, the highest rate since 2011, per data from Mastercard SpendingPulse. Online sales spiked 18.1% as people bit at deals for home goods, electronics and winter clothing. Retailers such as Macy's (M) - Get Report and J.C. Penney (JCP) - Get Report announced better than expected sales fueled by gains in departments that sport some of the most expensive stuff in the stores. 
J.C. Penney posted a whopping 3.4% uptick in same-store sales in the nine-week stretch ended Dec. 30, while Macy's reported a 1.1% jump for the combined November and December period. J.C. Penney saw strong category performance in home, beauty and fine jewelry, according to CEO Marvin Ellison. The Plano, Texas-based chain also saw double-digit sales growth in its e-commerce platform.
Macy's, meanwhile, saw exceptional performance in active apparel and other clothing categories, as well as home and fine jewelry. Sales improved across all Macy's verticals, including Macy's Backstage, Bloomingdale's and Bluemercury. The Cincinnati-based company also reported double-digit digital sales growth for the period. "Consumers were ready to spend this season, and we delivered with solid execution, fresher inventory, a curated gift assortment and a focus on customer experience," CEO Jeff Gennette in a statement.
The wildcard on consumer spending this year is how households spend their tax cuts derived from President Trump's new law. According to the Tax Policy Center, the average U.S. household will have an additional $1,610 in after-tax pay this year. That translates to a 2.2% increase in after-tax income, estimates economists at Bank of America Merrill Lynch. 
If past is precedent, don't expect people to put their newfound cash in a savings account for a rainy day. 
Bank of America Merrill Lynch looked back at the 2001 Bush tax cuts and the 2008 rebate and found that consumers spent between a quarter to a third of the tax savings. The investment bank estimates consumers will spend one third of the tax cuts this time around, boosting second and third quarter consumer spending levels. 
Hopefully, retailers have security guards doing crowd control this spring.
Walmart CEO Doug McMillion discusses his approach to acquisitions with TheStreet. 
More of What's Trending on TheStreet: