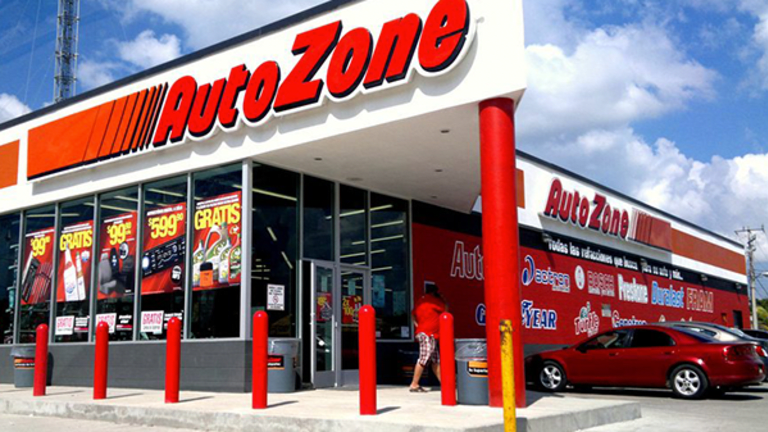 One Chart Perfectly Shows the Fear Among Investors That Amazon Will Also Crush Auto Supply Retailers
Look out, AutoZone.
Investors could be starting to position for Amazon (AMZN) upending auto supply retailers just like it has done to department store names such as J.C. Penney (JCP) and Sears Holdings Corp. (SHLD) . 
The S&P Automotive Retail Index, which measures the performance of parts sellers in the S&P 500, hit its lowest level since Feb. 2016 (blue line in below chart) on Tuesday, according to Bloomberg data. On Tuesday, the entire space was dealt a major blow in the form of weaker than expected earnings from auto supply retailer AutoZone (AZO) .
AutoZone reported that fiscal third-quarter revenue rose a tepid 1% to $2.62 billion, badly missing Wall Street estimates for $2.71 billion. The company's third-quarter earnings of $11.44 a share also came in well below analyst predictions for earnings of $11.99 a share.
Meanwhile, AutoZone's same-store sales declined 0.8% in the U.S. for the 12-week period ended May 6. Shares of the auto supply retailer crashed 12% to $580.39 in today's trading session.
AutoZone's CEO Bill Rhodes blamed the "very challenging spring sales season" for the auto parts retailer's lackluster quarter. But, the shift to buying all sorts of merchandise from Amazon likely did its small part to hurt AutoZone's results.
Said RBC Capital Markets analyst Scot Ciccarelli in a new note, "[AutoZone's results] certainly won't help support the industry against the 'Amazon is coming' narrative." 
Editor's Pick: Originally published May 23.