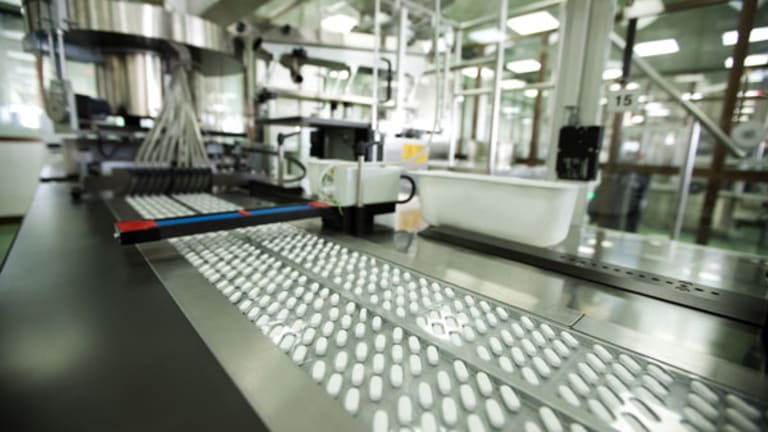 Oncothyreon: Deep Dive Into Stimuvax
A close look at Oncothyreon's lung cancer immunotherapy, which is in the midst of a pivotal, phase III study.
SEATTLE (
) --Can
Oncothyreon's
(ONTY)
experimental cancer immunotherapy Stimuvax prolong the lives of lung cancer patients the same way that
Dendreon's
(DNDN)
Provenge has in prostate cancer or
Bristol-Myer Squibb's
(BMY) - Get Bristol-Myers Squibb Company Report
Yervoy in melanoma?
I dislike starting columns with a question, but in this case it's central to any investment thesis involving Oncoythyreon. It's also a question without an answer at the moment, although that will change relatively soon. A large phase III study of Stimuvax in patients with non-small cell lung cancer is underway with an interim analysis to be conducted sometime within the next six months.
Investors are clearly focused on this near-term event, doubling the market value of Oncothyreon in the last two months. The stock closed Friday at $8.54. Wedbush drug analyst Greg Wade was in no mood to gum up the stock's momentum-fueled run, so late last month he raised his Oncothyreon price target from $7 to $15 because, in Wade's words, "the street is pricing in a greater likelihood for Stimuvax success."
I included Oncothyreon on my list published Wednesday of
10 Biotech Trades for the Second Half of 2011
. Here, I put together a deep dive into Stimuvax and its chance for success in the ongoing phase III lung cancer study.
Can you explain, again, what's meant by "cancer immunotherapy?"
Sure, cancer immunotherapies, known colloquially as "cancer vaccines," are designed to train and stimulate a patient's immune system to seek out and destroy cancer cells.
It sounds like an elegant and relatively easy way to fight cancer, potentially better and less toxic than, say, pumping a patient full of toxic chemotherapy drugs. Unfortunately, cancer is both deadly and smart because it has devised countless ways in which it can hide from a patient's immune system.
The cancer immunotherapy field is hot today because of successes like Dendreon and Bristol-Myers Squibb, both of which have proven that these new therapies can, indeed, extend the lives of cancer patients. However, as an investor do not forget to pay respects to the longer list of companies who have
failed in their efforts to develop a cancer immunotherapy
:
CancerVax
,
Antigenics
(now known as
Agenus
(AGEN) - Get Agenus Inc. Report
,
Cell Genesys
(bought in a distressed sale by
Biosante Pharmaceutical
(BPAX)
),
Favrille
,
Genitope
,
Pfizer
(PFE) - Get Pfizer Inc. Report
, among others.
How is Stimuvax the same or different from Provenge?
Oncothyreon designed Stimuvax to train a patient's immune system to recognize a protein known as MUC1 which is over-expressed in a number of different cancers, including non-small cell lung cancer. This is a similar approach to that taken by Dendreon with Provenge.
I stress that "similar" does not mean "equivalent" or "the same."
Stimuvax is an off-the-shelf immunotherapy, meaning it's engineered to work on all patients. Stimuvax must train the patient's immune system
inside the body
to recognize and seek out the MUC1 protein. Since the patient already has lung cancer, it's conceivable that whatever mechanism used by the cancer to evade the patients' immune system in the first place will not be defeated by Stimuvax.
Dendreon's Provenge, by comparison, is a personalized immunotherapy that is custom made
outside the body
using cells collected from each prostate cancer patient. Without going into details here, there are reasons to believe that Dendreon's "outside the body" training of the immune system works better. It's up to Oncothyreon and its partner
Merck KGaA
to prove that its immunotherapy platform can also be effective.
Outside the fact that the Stimuvax phase III study is nearing completion, investors seemed to be jazzed about the drug -- um, I mean immunotherapy -- because the results from a phase II study were so strong. Is that right?
First of all, it's okay with me if you call Stimuvax a drug or even a cancer vaccine. We'll leave "cancer immunotherapy" for the geeks.
Second, you're correct about the Stimuvax phase II study although I'd be cautious about interpreting all the data so positively. The study also raises some concerns that could play out negatively in the phase III study.
Really? The sell-side analyst notes I've read describe the phase II in mostly positive terms. What are they missing?
For starters, the
, then known as BLP25, was published in the
Journal of Clinical Oncology
in September 2005. It's actually available for free, so I encourage you to
and read it closely.
The phase IIb study enrolled 171 patients with stage IIIB or Stage IV non-small cell lung cancer whose tumor had remained stable or shrunk after treatment with first-line chemotherapy and/or radiation. The patients were then randomized to receive weekly injections of Stimuvax plus best supportive care or best supportive care alone. The study was designed to detect a five-month survival advantage for Stimuvax over best supportive care, assuming that best supportive care patients would have a median overall survival of seven months.
This was a randomized, controlled phase II study? That's good, right?
Absolutely, and unfortunately, all too uncommon when it comes to phase II cancer studies. By including a control arm in the study, Oncothyreon (then known as Biomira) was able to generate real and meaningful data on Stimuvax's efficacy and safety, including survival. Too many companies try to shortcut the process by running single-arm studies in which a survival benefit is inferred using historical controls. Oncothyreon deserves praise for its phase II study design.
How did the phase IIb study turn out?
Treatment with Stimuvax yielded a 4.4-month survival advantage over best supportive care (17.4 months vs. 13 months.) This result, however, was not statistically significant, with an adjusted p value of 0.112.
A p value less than 0.05 would have produced a statistically significant result.
Interpreted another way, patients treated with Stimuvax had a 26% reduction in the risk of death compared to best supportive care, although again, the result was not statistically significant. The two-year survival rate was 44% for Stimuvax patients compared to 29% for best supportive care patients.
The survival reported in both arms of the study was better than expected. Why?
Great question. It's not entirely clear, although one explanation is that the study enrolled a larger number of "less advanced" lung cancer patients than expected, which could have helped boost the median overall survival. When designing the study, Oncothyreon assumed that 10% of enrolled patients would enter with stage IIIB LR stage disease, meaning advanced lung cancer that has spread to the lymph nodes but which is not detectable outside the chest cavity.
The other 90% of the patients to be enrolled were expected to have a diagnosis of stage IIIB MPE or Stage IV disease. Patients with stage IIIB MPE are similar to LR patients except they have fluid containing cancer cells in the linings of the lungs. Stage IV disease, as the name implies, is the most advanced form of lung cancer.
In reality, 38% of the enrolled lung cancer patients had stage IIIB LR disease, while 62% had stage IIB MPE or stage IV disease. This could explain the better-than-expected overall survival results.
Are these the data that have investors excited?
Not exactly. What has Stimuvax believers buzzing are results from a subset of enrolled lung cancer patients with Stage IIIB LR disease. In this subgroup, Stimuvax treatment reduced the risk of death by 48% compared to best supportive care, although the result was still not statistically significant, with a p value of 0.069.
In an analysis conducted after the study was published, the median overall survival for these stage IIIB LR patients was reported as 30.6 months compared to 13.3 months for best supportive care patients. That's a whopping 17-month survival benefit favoring Stimuvax.
Oncothyreon looked at these data and concluded that its best shot at phase III success would be in stage III LR patients, so that's who is enrolled in the ongoing phase III study.
A 17-month survival benefit is huge, but you said this result came from a smaller subset of the overall patients enrolled in the study. Isn't this data mining? I thought you've always warned us to see red flags whenever companies talk about subgroup analyses.
Normally, you'd be dead on to be worried, but in this case, Oncothyreon designed the phase IIb study in advance to stratify patients by their lung cancer staging. Before the study started, Oncothyreon intended to analyze the survival data with stage IIIB LR patients and stage IIIB MPE/stage IV patients as distinct groups. That makes the survival analysis of the stage IIIB LR patients conducted by Oncothyreon totally kosher.
Up top, you mentioned that some of the data from this phase IIB study were worrisome. I don't see anything you mentioned so far as concerning at all. In fact, I can totally see why investors are optimistic about Stimuvax.
A closer look at the baseline characteristics of patients enrolled in the phase IIb study reveals an imbalance favoring Stimuvax that could have skewed the survival advantage.
More specifically, 35% of the patients randomized to Stimuvax were designated as ECOG performance status 0 compared to 26% of patients with the same designation in the best supportive care arm.
ECOG performance status 0? What does that mean?
This means that patients in the Stimuvax arm of the study were in relatively better health than patients in the control arm. Healthier patients tend to live longer regardless of the treatment they receive.
The Stimuvax phase IIb study enrolled patients who are ECOG performance status (PS) 0-2. The definition of each is below:
: "Fully active, able to carry on all pre-disease performance without restriction."
ECOG PS 1: "Restricted in physically strenuous activity but ambulatory and able to carry out work of a light or sedentary nature, e.g., light house work, office work
ECOG PS 2: "Ambulatory and capable of all self care but unable to carry out any work activities. Up and about more than 50% of waking hours."
Is there any way of knowing how much the imbalance in ECOG PS 0 patients could have affected the results in the subgroup of patients with stage IIIB LR disease?
Another good question. Unfortunately, it's not known. The
JCO
paper doesn't break out the performance status for the stage IIIB LR subgroup. I asked Oncothyreon for the data but was told last week that the company didn't have it either.
The
JCO
paper does include a survival analysis of the stage IIIB LR subgroup adjusted for several baseline imbalances, including ECOG PS. When this analysis is conducted, relative reduction in the risk of death (favoring Stimuvax) is reduced to 42%. That doesn't seem like much of a fall from the unadjusted 48% relative reduction in the risk of death, but the p value increases from 0.069 to 0.139, which means the result is much further from statistical significance.
Still, the adjusted analysis still shows a strong survival trend favoring Stimuvax. That's reason to be optimistic about the phase III results, right?
It is, although again, I'd temper the optimism with the risk that the imbalance in the performance status of the enrolled patients could be influencing the results. Keep in mind, too, that this survival benefit is derived from a subset of 65 patients of 171 enrolled in the phase IIb study. That's a very small number of patients, which could have artificially magnified the survival benefit.
By comparison, the phase III study enrolled 1,400 lung cancer patients -- all stage III LR. Presumably, there won't be any imbalances in the baseline patient characteristics, which could produce very different results from what was observed in the phase IIb study.
When will Oncothyreon announce results of the Stimuvax phase III study?
Oncothyreon CEO Bob Kirkman told me in an interview in late June that a second interim analysis of the phase III study will be conducted after 75% of deaths in the study have taken place, which the company estimates will happen in the second half of the year. Kirkman wouldn't offer more specific timing but technically speaking, the second half of the year has already started.
The German drug firm Merck KGaA is Oncothyreon's partner for Stimuvax and is responsible for running the lung cancer study and conducting the analysis of the results.
So, when the second interim analysis is conducted, we'll know if Stimuvax works or not?
Neither Merck nor Oncothyreon are providing any details about the efficacy hurdle for the interim analysis other than to say that standard O'Brien-Fleming biostatistical stopping rules are being applied.
I'm not a biostatistics genius, but I do know that these rules set a relatively high efficacy bar for stopping a study early due to positive results. The most likely outcome, therefore, is that the interim analysis allows the Stimuvax study to continue to the final analysis, which should take place in the middle of 2012.
The less likely scenarios are that A) the Stimuvax survival benefit is so great that the study is stopped early with a big win; or B) Stimuvax treatment isn't working at all and will not help patients live longer so the study is halted for futility.
--Written by Adam Feuerstein in Boston.
>To contact the writer of this article, click here:
Adam Feuerstein
.
>To follow the writer on Twitter, go to
http://twitter.com/adamfeuerstein
.
>To submit a news tip, send an email to:
.
Adam Feuerstein writes regularly for TheStreet. In keeping with company editorial policy, he doesn't own or short individual stocks, although he owns stock in TheStreet. He also doesn't invest in hedge funds or other private investment partnerships. Feuerstein appreciates your feedback;
to send him an email.