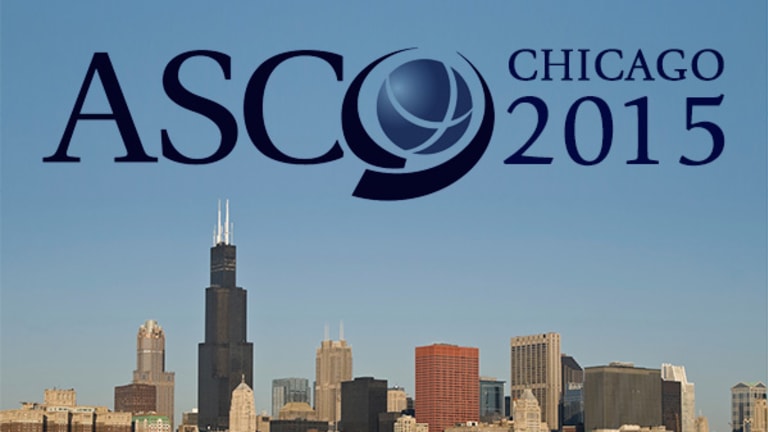 Oncothyreon Breast Cancer Drug Exits ASCO '15 With Good Buzz
Combinations of medicines including Oncothyreon's ONT-380 induced meaningful tumor shrinkage in breast cancer patients who entered the study because they were no longer responding to multiple prior therapies.
CHICAGO (The Street) -- Oncothyreon (ONTY) came into this year's ASCO annual meeting hoping to show investors that the experimental breast cancer drug ONT-380 was effective and different from other therapies used to treat women with HER2-positive metastatic breast cancer.
Oncothyreon largely accomplished that goal. In a couple of posters presented Saturday, combinations of medicines including ONT-380 induced meaningful tumor shrinkage in breast cancer patients who entered the study because they were no longer responding to multiple prior therapies.
Perhaps most importantly, ONT-380, dosed as a relatively convenient pill, was able to demonstrate some effect on tumors that spread from the breast to the brain. Current drugs used to treat HER2-positive breast cancer aren't capable of treating brain metastases, which occur in about half of patients. ONT-380 was also relatively well tolerated, without reports of severe diarrhea that have caused concern about other HER2-blocking breast cancer drugs in development, most notably Puma Biotech's (PBYI) - Get Puma Biotechnology, Inc. Report neratinib.
The ONT-380 data presented Saturday were derived from a small study and the contribution of Oncothyreon's drug to the response observed in breast cancer patients is a bit difficult to tease out because of the combination therapy. Investors won't be forecasting blockbuster sales of ONT-380 just yet, but then, Oncothyreon's market value of $350 million is still small enough to grow considerably over time if the drug continues to show positive progress.
Oncothyreon shares closed Friday at $3.42. The stock has already climbed 131% since the beginning of May due to anticipation for the ONT-380 data at ASCO.
ONT-380 was designed from the ground up to block HER2, a tumor-growing protein overexpressed in breast cancer, while leaving other, related tumor-causing proteins relatively untouched. Approved drugs like GlaxoSmithKline's (GSK) - Get GlaxoSmithKline plc Sponsored ADR Report Tykerb and Puma's still-experimental neratinib inhibit HER2 plus another protein, which contributes to higher gastrointestinal and skin-related side effects.
The phase Ib study enrolled 32 patients with HER2-positive, metastatic breast cancer no longer responding to Roche's (RHHBY) Herceptin and Kadcyla. All the patients were treated with ONT-380 added to three different combination therapies: Xeloda, Herceptin or Xeloda plus Herceptin.
Among 27 patients evaluable for efficacy, the overall response rate was 52%, including two complete responses and 12 partial responses. The response breakdown by treatment groups: 
ONT-380+Xeloda: 5 partial responses among 7 patients. 
ONT-380+Herceptin: 1 complete response, 3 partial responses among 11 patients.
ONT-380+Xeloda+Herceptin: 1 complete response, 4 partial responses among 9 patients. 
No grade 3 diarrhea was observed in the study and patients did not require pre-treatment with anti-diarrheal medicines like Immodium -- a requirement for patients treated with Puma's neratinib, for instance.
The most common adverse events in Oncothyreon's ONT-380 study included diarrhea, nausea and constipation, all grade 1 and 2.
In a separate analysis, Oncothyreon examined the effect of ONT-380 on brain metastases in 22 breast cancer patients taken from the phase Ib study described above plus another phase I study. Following treatment with ONT-380, one patient had a complete resolution of brain metastases, another four patients had a partial response. The brain lesions in nine patients remained stable while no patients had brain lesions that grew during the study. The remaining patients were not evaluable because they had surgery, progressive disease outside the brain or because their treatment was not yet completed.
Based on the positive results seen in the study presented Saturday, Oncothyreon is planning a phase II study comparing the triple combination of ONT-380, Xeloda and Herceptin against placebo, Xeloda and Herceptin in "third-line" HER2-positive, metastatic breast cancer patients. Patients will be eligible to enroll in this new ONT-380 study if they progress after prior treatment with Herceptin and Kadcyla.
The new study will use progression-free survival as the primary endpoint but will also be designed to look at the role ONT-380 can play on preventing or delaying the spread of cancer to the brain, says Oncothyreon CEO Bob Kirkman.
Adam Feuerstein writes regularly for TheStreet. In keeping with company editorial policy, he doesn't own or short individual stocks, although he owns stock in TheStreet. He also doesn't invest in hedge funds or other private investment partnerships. Feuerstein appreciates your feedback; click here to send him an email.