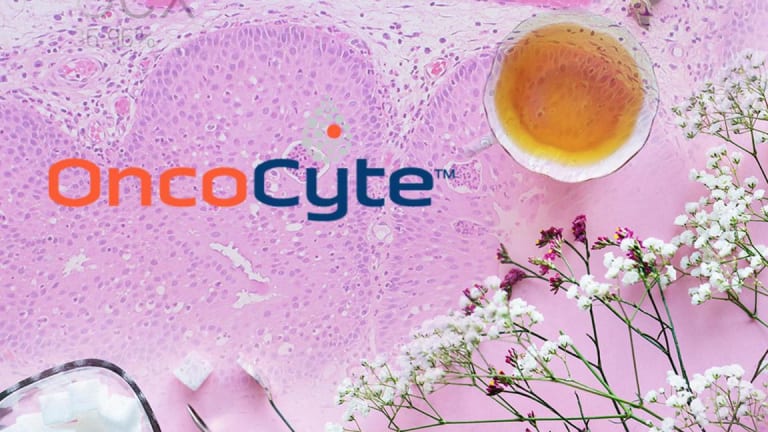 OncoCyte Surges on 'Encouraging' Results for Diagnostic Test for Cancer
The company sees the market for lung cancer detection as being worth $4.7 billion annually.
OncoCyte Corp. (OCX) soared by more than 40% after the company released "encouraging" test results for its lung cancer blood diagnostic test. 
Shares rose $1.33 -- or 43.25% -- to $4.41 in early trading Tuesday after OncoCyte announced that its DetermaVu diagnostic test for lung cancer performed better than the company expected it would. The test was used with a new sequencing platform and algorithm that utilized more biomarkers than available in previous versions of DetermaVu.
The results of the study justify moving DetermaVu to a different and better testing platform that would "resolve the inconsistent data issues" OncoCyte dealt with in previous versions of the biopsy test, according to the release. The company had to delay DetermaVu's clinical validation study that began in November 2017, after test results came back irregular because of a "variance in the lots of consumables" of the blood sample-testing system, according to the company's 2017 annual earnings report.
OncoCyte thinks DetermaVu could be the new leader in lung cancer detection testing, a market the company values at $4.7 billion annually, if the test can prove to be highly accurate in a large clinical trial.
OncoCyte, based in Alameda, California, has thrown most of its resources behind DetermaVu and is betting on the test becoming the company's only viable commercial product as of this time. The company has trimmed its staff to include mostly those working on DetermaVu, and its CEO and CFO are expected to take salary cuts to provide more capital for research and development, according to the company's 2018 first quarter earnings report.
The company expects to run a clinical validation study on DetermaVu sometime in the first half of 2019.