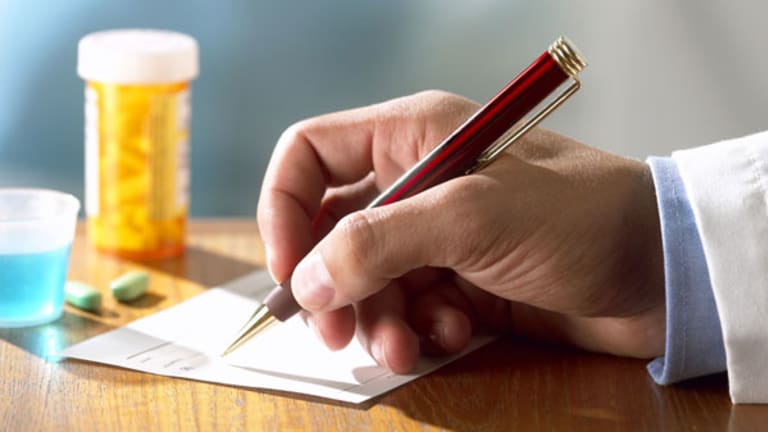 Omnicare Facing Ominous Trends
Some worry about payment disputes and board independence.
Some of
Omnicare's
(OCR)
biggest customers don't seem to like paying full freight.
Recently, two major operators of long-term care facilities have sought cheaper prices from the giant institutional pharmacy.
Closely held Life Care Centers of America has actually sued Omnicare, claiming that the company has been overcharging it for years. Meanwhile,
Genesis Healthcare
(GHCI)
has already negotiated a new contract with Omnicare that's expected to save it money.
For its part, Omnicare has downplayed both developments as the ordinary course of business. Omnicare portrays the Life Care lawsuit as a mere contract dispute, lacking merit, and points out that the company remains a long-term customer. Similarly, Omnicare says that it saw the Genesis changes coming, adding that it "knew that a re-pricing of the contract was likely to occur to bring it more in line with market pricing," and that its guidance fully reflects that expectation.
Still, Omnicare continues to battle with even bigger players, such as the government and
UnitedHealth
(UNH) - Get UnitedHealth Group Incorporated Report
, over the rates it charges for its services. The government claims that Omnicare has been bilking Medicaid and has launched multiple investigations, including a criminal probe, in response. And UnitedHealth has decided to take matters into its own hands by paying Omnicare less money than the company has demanded.
Even some long-time Omnicare bulls have started feeling uneasy as a result. Several analysts have downgraded Omnicare's stock in recent months, expressing concern about the company's relationships with its customers and its compliance program as well. Meanwhile, bears have grown increasingly comfortable with their big bets against the company.
Omnicare's stock has already fallen hard. The shares, which peaked at $62.50 each just before a successful secondary offering last December, inched up 51 cents to $43.85 on Tuesday.
Customer Complaints
Omnicare's earnings have taken a big hit as well.
After setting aside a huge chunk of money for legal reserves, Omnicare reported just $8.4 million in profit last quarter. Life Care, by itself, is now seeking more than seven times that amount from the company.
In a lawsuit filed last month, Life Care says that Omnicare promised the company its "most favorable pricing" -- or the rates charged to Medicaid -- but consistently billed the company at higher rates instead. Furthermore, Life Care says that Omnicare refused to certify that it had, in fact, offered the company its best prices despite contractual obligations to do so. Ultimately, Life Care says that it audited the transactions and found that Omnicare has been overcharging the company for the past five years.
All told, Life Care claims that Omnicare owes it $61 million -- and counting.
Stifel Nicolaus analyst Jerry Doctrow sees reason for concern. Doctrow downgraded Omnicare from buy to hold just a week after Life Care filed its lawsuit, saying that he could no longer recommend the stock due to the "barrage of negative news" now engulfing the company.
"In addition to the items noted above (which included the government's criminal probe), we are more concerned about Omnicare's ability to garner new business because Life Care is well regarded in the industry and is one of the largest private operators," Doctrow explained. "We believe their litigation with Omnicare could hurt Omnicare's reputation with other private operators."
Doctrow's firm hopes to secure investment banking business from the company over the next three months.
Former Bulls
Doctrow's downgrade came a day after Genesis, another big Omnicare customer, announced a new contract with the drug supplier. Under the revised agreement, Doctrow says, Genesis will now pay lower prices for certain drugs and medical equipment.
Although Genesis has offered few details about the contract -- and Omnicare has given none -- most experts feel that Genesis wound up on the better end of that deal.
Meanwhile, another former bull has backed away from Omnicare's stock as well.Citigroup analyst Matthew Ripperger downgraded Omnicare from buy to hold last month due to operational and regulatory concerns.
Ripperger worries that the shutdown of an Omnicare repackaging facility -- plagued by quality control issues and a recent fire -- could hurt the company's near-term results. Moreover, he views the criminal probe as a serious ongoing risk for the company.
The Michigan attorney general last month
filed 148 criminal charges against a state-level executive of the company for allegedly defrauding the Medicaid program.
"The attorney general disclosed that this review of the Michigan operations has been ongoing for the last three years, and the claim is that there was historical Medicaid billing abuse in multiple areas," Ripperger noted in his downgrade of Omnicare last month. "Though this claim is unresolved, given the extent of the historical inquiry and the breadth of the claim, we do believe that it raises concerns over compliance and oversight by the company."
For its part, Omnicare portrays government reviews and investigations as routine in the highly regulated healthcare industry. Omnicare further insists that compliance and ethics rank as top priorities for the company, adding that it deals with any problems that it uncovers "immediately and completely."
Corporate Governance
Like most companies, Omnicare relies on a special corporate governance committee to help keep it in line.
Veteran Omnicare director Charles Erhart chairs that three-person group. Erhart previously served on the board of
W.R. Grace
(GRA) - Get W R Grace & Co Report
, a company that -- together with
Chemed
(CHE) - Get Chemed Corporation Report
-- established Omnicare in 1981 and later wound up in hot water with its shareholders. In 1994, in fact,
Chief Executive
magazine singled out W.R. Grace for allegedly having one of the worst boards in America.
The following year a number of directors -- including Erhart -- exited the company's boardroom in response to shareholder demands. The
Securities and Exchange Commission
later accused Erhart of violating disclosure rules during his time on the company's board.
Meanwhile, Erhart continues to serve on the boards of both Omnicare and Chemed. Those companies share other directors -- and even a chairman -- as well.
That arrangement has raised some eyebrows. Last year,
The Cincinnati Post
reported that the two companies "share a possibly unprecedented number of board members and executives," posing questions about how well those boards can perform.
"I've never heard of such a thing," Dan Dalton, director of the Institute for Corporate Governance at Indiana University, told the newspaper last summer. "I absolutely defy you to find a case like it."
Shareholders of Omnicare and Chemed have gone on to suffer dearly. Both stocks have weathered steep losses in recent months and now trade at the low end of their 52-week ranges.