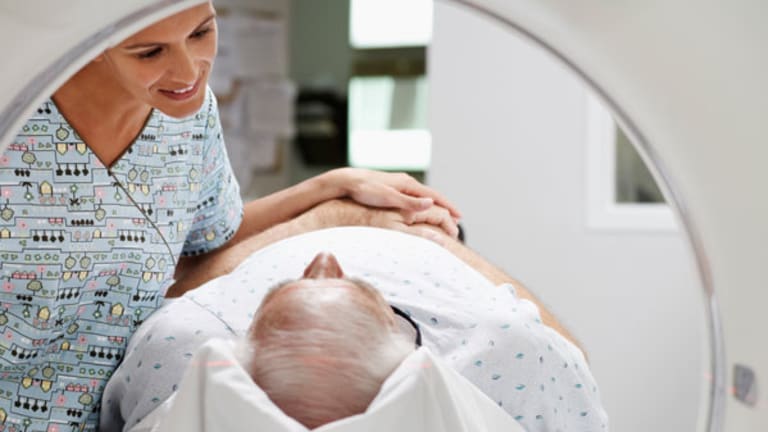 Omnicare Dead Weight
A suit claims it ripped off Michigan by billing Medicaid for deceased patients.
Court filings suggest Omnicare (OCR) has been relying on dead patients for more business than it should.
The giant institutional pharmacy, which supplies medications to nursing homes, now stands accused of billing Medicaid for drugs dispensed to dead people. The company has been sued in the past for allegedly reselling drugs that went unused by dead people as well.
The new allegations come as part of a high-profile investigation that has resulted in 148 criminal charges against a recent division-level executive of Omnicare. Michigan Attorney General Mike Cox has accused Daniel Lohmeier, former president of Omnicare-owned Specialized Pharmacies, of orchestrating the biggest criminal Medicaid fraud case in state history.
Omnicare portrayed the development as "unfortunate" while offering support for Lohmeier, whose attorney failed to return a phone call from
TheStreet.com
seeking comment for this story.
Cox filed the charges last month after Omnicare set aside $54 million in anticipation of settling the case. When announcing his move -- at the start of his re-election campaign -- Cox signaled that Lohmeier could spend years in prison while making clear that his investigation continues.
Experts on Wall Street raised their eyebrows. Some saw little more than political grandstanding. But others, worried about problems at the company already, were rattled by the news.
"If Mr. Lohmeier seeks leniency by providing state's evidence, the potential cost to OCR could increase dramatically," Bear Stearns analyst Jason Gurda wrote last month. "Recall that the A.G. could have had a $50 million-plus settlement and good press coverage without the criminal charges. ... We believe the A.G. must be very confident in the evidence acquired since a dramatic civil settlement could easily have been achieved."
Gurda has a peer-perform rating on the company's stock. His firm does and seeks to do business with the companies it covers.
Omnicare's stock, which peaked at $62.50 a share late last year, has been hammered by the recent setbacks. The stock inched up 11 cents to $45.19 on Friday.
Formidable Foe
The criminal charges surfaced with Omnicare already buried by legal challenges.
Notably, Omnicare is trying to prove that managed-care giant
UnitedHealth
(UNH) - Get UnitedHealth Group Incorporated (DE) Report
has seriously underpaid the company for services provided under the new Medicare Part D program. Omnicare relies on UnitedHealth for 33% of its Part D business and PacifiCare, a company acquired by UnitedHealth, for an added 5%.
Omnicare claims that UnitedHealth tricked it with promises of generous payments, then shifted its own customers into lower-paying plans offered by PacifiCare after merging with that company. Omnicare tried to reach a compromise, but when that failed, wound up suing UnitedHealth for alleged antitrust violations instead.
For Omnicare, the damage has been brutal. The shift in coverage lowered the company's second-quarter profits by nearly 12% -- causing a major earnings miss -- and forced the company to slash its future guidance as well.
Moreover, in courtroom documents, UnitedHealth has suggested that Omnicare has no legal ground to stand on. And even a hopeful Omnicare bull fears that the giant health insurer could be right.
"United notes that -- despite an elaborate web of allegations against it by Omnicare -- nowhere does the complaint allege what would seem to otherwise be the most straightforward issue: material breach of contract," Morgan Stanley analyst David Veal wrote last month. "In fact, United maintains that it legally exited its contract with Omnicare irrespective of any discussions that it may or may not have had with PacifiCare, rendering the allegations moot. As such, United seems convinced that it is on solid legal ground and is showing signs of pursuing the case to completion, likely over a period of several years."
For now, at least, Veal still has plenty of faith in Omnicare. He has an overweight rating and a $58 price target on Omnicare's stock. His firm counts Omnicare as a client and owns at least 1% of the company's shares itself.
Legal Fees
The Michigan probe hurt Omnicare's latest results, too. Indeed, after setting aside money for a possible settlement, Omnicare found itself reporting very little in the way of second-quarter profits at all.
Some experts were alarmed by that hit.
"The special litigation charges for the investigation seem fairly massive relative to at least what you've paid over the past few years," Banc of America analyst Bob Willoughby noted in the company's second-quarter conference call. "Can you speak to how your kind of legal and compliance efforts have grown as your business has grown? I'm wondering if perhaps you've underinvested there."
Omnicare CEO Joel Gemunder, in turn, insisted that the company boasts a "very extensive compliance plan" with a "zero-tolerance policy" for wrongdoing.
Critics scoff. They point out that Omnicare has already been slapped with government fines and remains under investigation by state and federal officials. In short, they see a bad company with a bleak future -- and the big criminal case has only solidified their view.
Estimated Damages
But Veal says they could be wrong.
"Amid the accusations out of Michigan, the bear case of massive fraud that reaches across all levels of the organization gained new traction," Veal admits. "However, a close examination of the facts in the Michigan case reveals a much more mundane story of poor recordkeeping and an overzealous prosecutor mounting an aggressive bid for re-election, in our view."
After reviewing the actual complaint, here is what Veal discovered. For starters, he says, the 148 charges are duplicative in nature, half for allegedly commissioning fraud and the other half for allegedly aiding and abetting in those same crimes. Moreover, he says, some 99.8% of the alleged overcharges resulted from inaccurate recordkeeping for single-dose orders. In contrast, he calculates, only about $1,000 in alleged overpayments stem from more serious charges like double-billing hospice patients or billing for the dead.
All told, the complaint shows that Omnicare allegedly overcharged the state of Michigan by just $5.1 million. Yet Omnicare has set aside far more for a possible settlement -- which, for some, causes less comfort than concern.
"This circumstance leaves us to believe that further charges in the case may be forthcoming in Michigan," Veal wrote just before prosecutors there, in fact, piled on more charges. "The release also noted cooperation from federal agencies ... in the investigation, which may leave cases in other states as a possibility. Without question, we view the scope of the inquiry (i.e. does it involve other states?) and its ultimate impact on the business model as the most important question longer term."
Patrick Burns, a spokesman for Taxpayers Against Fraud, insists that other states -- including Illinois and Pennsylvania -- are in fact scrutinizing Omnicare. Meanwhile, Omnicare itself has disclosed that "the federal government and certain states" have been questioning the company about another matter.
"It's not just Michigan," Burns stresses. "Everybody is looking at Omnicare and seeing something problematic. And if you're caught in a crossfire of bullets, the other side doesn't have to be a very good shot."