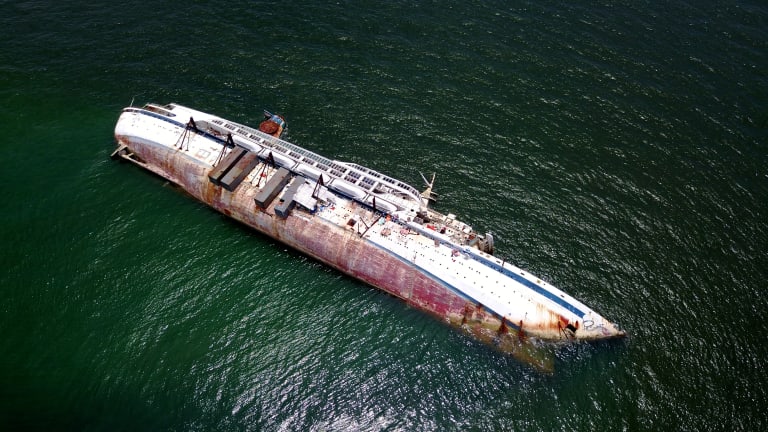 OMG! The Stock Market Is Going to Crash!
In the latest super scary stock market call, former Congressman Ron Paul says the stock market may crater 50%. Ouch. Meanwhile, what's cracking with bitcoin before the weekend?
Come on, man: In the latest vicious bear call on stocks that probably won't come true anytime soon, former Congressman Ron Paul told TheStreet he is looking for a 50% market correction. No timeline given, just a rogue 50% market correction. It could happen today if a person pulls the plug in all high-frequency trading server rooms globally. It could happen if aliens take over the Federal Reserve System (which Paul detests) and destroy global banking in the process. Who knows? All I will say is that as an investor it's ALWAYS critical to understand one's underlying motives. In this case, Paul is a noted fan of gold and often appears in commercials promoting the lovely yellow metal. Moving right along ...
Why isn't anyone saying this?: Hat tip to Tesla's (TSLA) - Get Tesla Inc Report Elon Musk for making a massive semi truck, marketing the hell out of it, getting a wave of actual orders and stuffing the cash coffers. The latest is a 40-order lot from beer maker Budweiser (BUD) - Get Anheuser-Busch InBev SA/NV Report . Bud joins Walmart (WMT) - Get Walmart Inc. Report and J.B. Hunt (JBHT) - Get J.B. Hunt Transport Services, Inc. Report in ponying up money early on for the $180,000 ride. The key problem that no one is discussing, at least out in the open: How the heck is Tesla going to make these trucks? It can't even get its electric cars out the door to customers on time. The Tesla semi truck may ultimately sink the company financially. Think about it.  
Friday around the horn: (1) I met up with a sneaker industry expert Thursday evening who told me that what Adidas (ADDYY) has coming out over the next six months borders on terrible. That could surprise investors who have ridden Adidas' turnaround this year. Time to get long Nike (NKE) - Get NIKE, Inc. Class B Report ; (2) Judging by this technical chart on bitcoin via NewsBTC, bitcoin prices may not enjoy the same wild ride Friday as they did on Thursday; (3) Corporate America needs to get on with spending its cash to a greater extent: liquid assets of non-financial companies (aka cash equivalents) hit a record $2.4 trillion in the third quarter, according to new data from the Federal Reserve. 
What's Hot
Buy Restaurant M&A Stocks
If the above interview with P.F. Chang's CEO Michael Osanloo isn't enough for you to trade some potential restaurant buyout names, I am not sure what will. 
To receive the FREE "Morning Jolt" daily newsletter, click here.
More of What's Trending on TheStreet: