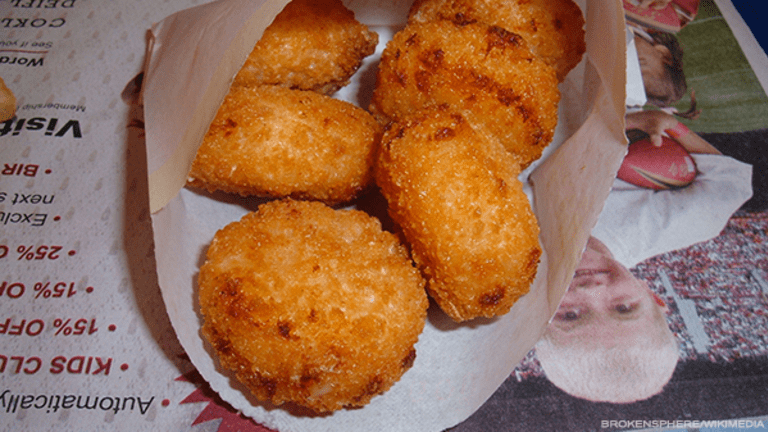 Publish date:
OMG! Burger King Bringing Back Cheesy Tots to Ignite Slowing Sales
Burger King is looking to an old friend to jump-start sales headed into 2017.
Burger King is looking to an old friend to jump-start sales headed into 2017.
Editors' pick: Originally published Nov. 29.
Updated from 9:07 a.m. with new video from Burger King. 
Burger King will look to tap into the popularity of an old favorite to light a flame under slowing U.S. sales as this year draws to a close.
"Cheesy Tots," which are small fried balls filled with cheese and potatoes, were re-launched by the Restaurant Brands International (QSR) - Get Restaurant Brands International Inc Report  fast-food chain in several markets in California recently, TheStreet learned (video and photos below). The company confirmed the glorified tater tot will debut next month at $1.99 for an eight-piece order. 
"For Burger King U.S., the introduction of the Bacon King and the repeat of the two Whopper meals for $10 have bolstered sales, particularly in November -- we suspect that [sales in] December will remain positive with the return of Cheesy Tots," says RBC Capital Markets analyst David Palmer. 
After appearing from time to time, Cheesy Tots were last on Burger King's menu for a limited time in 2013. They developed such a cult following a Facebook page,  Bring back the Cheesy Tots from Burger King, was launched in December 2009. It has already amassed about 1,800 likes.  "Fans have been craving the return of Cheesy Tots for some time now," said Alex Macedo, President, North America, for Burger King. "So we wanted to give loyalists a holiday surprise after we heard so many of their requests."
It's easy to see why Burger King is looking into its product vault for old winners. 
Burger King's same-store sales in the third quarter in North America fell 0.5% due to a mixed response to the new Whopperito. A year ago, Burger King North America saw sales rise 5.2%. Company CEO Daniel Schwartz acknowledged that industry conditions in the U.S. continue to be "soft." Restaurant Brands shares, at around $48, have tracked the S&P 500 over the past three months.