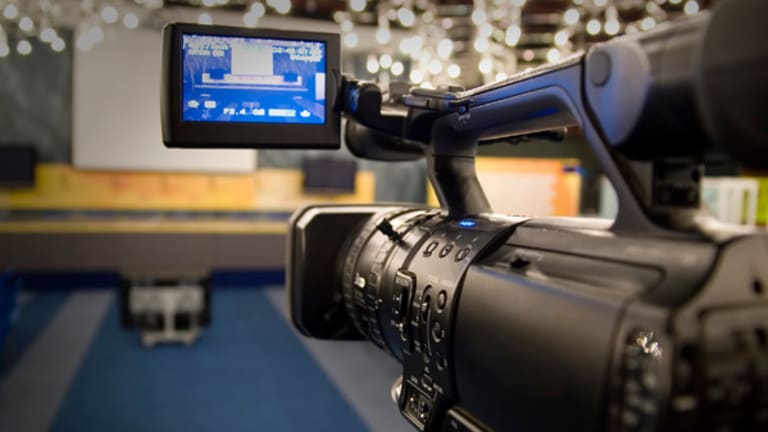 Old-Fashioned Print Media Team Up to Exploit Video Content Explosion
Extend your sympathies to traditional print media. Newspaper revenue has seen an increasingly steep decline for more than a decade, while the online frontier has become crowded with 'alternative' journalism.
NEW YORK (TheStreet) -- Extend your sympathies to traditional print media. While newspaper and magazine revenue has endured an increasingly steep decline for more than a decade, the online frontier has become crowded with "alternative" journalism. Buzzfeed, home to listicles and cat videos, was recently valued at $850 million, while Twitter (TWTR) - Get Twitter, Inc. Report has become the widely recognized moderator to the country's biggest breaking news scoops.
No surprise then that traditional print circles have taken to teaming up in an effort to pursue of one of the highest-growing segments of digital: video advertising.
"There was the decline in print subscription, though that's steadied, and you have a very severe decline in print display," Magid Associates' President Mike Vorhaus told TheStreet in a phone interview, adding that traditional media are looking for new revenue sources to plug the leak.
The Local Media Consortium, a group housing more than 1,000 daily newspapers including McClatchy (MNI) - Get McClatchy Company Class A Report and E.W. Scripps (SSP) - Get E. W. Scripps Company Class A Report , has signed on with video inventory aggregator Tout (of which Magid acts as a research firm) to animate local media's online presence.
The streamlined video strategy signals a shift from the independent publications' tendency to stick to tradition -- a smart move considering tradition is what caused print media its sluggish evolution as it was too stubborn to accept changing tides of consumer behavior.
Rusty Coats, executive director of the Local Media Consortium, conceded local media's video strategy had to date "been all over the place"in a phone interview with TheStreet. While larger companies such as McClatchy had been structured in their approach, smaller properties were less consistent given digital was "not as native to them."
Tout's content exchange pairs local newspapers such as The Boston Globe and The Sacramento Bee with top-tier content from multibillion-dollar media conglomerates such as Disney's (DIS) - Get Walt Disney Company ReportESPN, 21st Century Fox's (FOXA) - Get Fox Corporation Class A ReportFox Sports and News Corp's (NWSA) - Get News Corporation Class A ReportThe Wall Street Journal. The partnership links the consortium with a pool of video inventory they would not have had access to nor the manpower to produce, Tout CEO Michael Downing told TheStreet.
The immediate benefits from a content perspective are clear, but longer-term top-line growth also looks promising, particularly given the cost efficiencies introduced through Tout's programmatically tuned technology.
"We are actually programmatically inserting those videos" by scanning, analyzing and identifying relevant text cues in the text articles to marry with applicable video," Downing explained. "The system automatically goes into content exchange ... [and] in an automated fashion injects it into the page."
Tout then layers appropriate pre-roll advertising on top of the video content utilizing programmatic ad-buying exchanges and then employs a three-way revenue share model -- 50% of ad sales are allocated to the original publishers, while Tout and its partner split the remaining half. Since Tout only curates premium content in its video library, it can then attract premium ad clients who are willing to pay a premium fee for insertion.
"It's an important technology response to the advertising situation," said Vorhaus, particularly in how it solves the issue of remnant advertising, the advertising space a media company is unable to sell due to time constraints or obscurity of location or content. Programmatic fills the gap, tinkering with the price until it matches demand. Meanwhile, more accurate targeting through data accrual drives a higher CPM meaning media companies can charge a premium for the advertising space.
Properties in the Local Media Consortium have a huge audience footprint. Collectively, the sites have more than 450 million monthly unique visitors and its member companies serve more than 4.4 billion monthly page views and more than 156 billion yearly advertising impressions. That scope presents a huge revenue growth potential.
Consider then, video advertising is the highest-growing revenue generator for digital. Investment firm Jefferies forecast a 33% compound annual growth rate for the online video ad market through to 2017.
Already, Coats has seen success from video content integrated with the site and expects this partnership to only expand the revenue stream. "Just from the numbers, there's a great hunger for video when we put them on the site," he said.
"Part of our sweet spot for decades has been blending the national with the local, making the national relevant to the local," he said of the inclusion of content from large media houses. "It enriches the local space."
It also helps to pad the pockets of long-suffering print media players, too.
-- Written by Keris Alison Lahiff in New York.