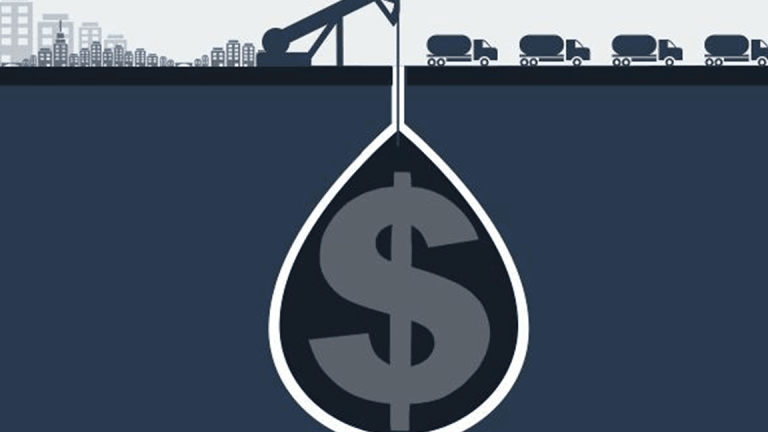 Oilfield Services Stocks May Soon Catch a Bid
After a mass exodus from the space in recent years amid the worst commodity downturn in decades, investors are finally thinking about energy stocks, including oilfield services firms.
Oil prices were falling back Thursday off three-year highs hit in the prior trading session amid political tensions in the Middle East, but analysts are generally optimistic about stocks in the space, meaning Thursday's dip could represent a buying opportunity. 
Both West Texas Intermediate crude and global benchmark Brent crude prices were down slightly Thursday to $66.57 per barrel and $71.67 a barrel, respectively, around 11:30 a.m.
"Remarkable how equity and commodity markets can ignore geopolitical risk for long stretches of time...until, suddenly, they don't," analysts with the energy-focused investment bank and research firm Tudor, Pickering, Holt & Co. opined Thursday. "Feels like the current state of play as energy equities are finally showing some distinctive absolute/relative performance versus other economic sectors as Middle East tensions are now seemingly top of mind."
After a mass exodus from the space in recent years amid the worst commodity downturn in decades, investors thinking about energy stocks at all is a good sign. 
"Don't get us wrong," TPH wrote in a research note. "Global crude oil market fundamentals are on our side and we energy folks are thankful for whatever catalysts draw investor eyes back toward our beleaguered space, but forgive us for feeling a bit like Charlie Brown racing enthusiastically toward Lucy's incorrigible football shenanigans."
Because analysts generally agree that the industry's fundamentals are much better than the prices of energy stocks would seem to imply. 
"We believe the energy sector generally and oil service group specifically is experiencing one of the most significant mismatches in equity market performance relative to field-level fundamentals in the last several years (and perhaps as many as 15 years)," Seaport Global Securities analysts wrote Thursday. 
The firm said despite the fact that oil prices, rig count, well completions and oilfield services pricing are all experiencing upward momentum, the Market Vectors Oil Services ETF (OIH) is no higher than it was last summer when oil was below $50. Oil has climbed roughly 25% since then, according to Seaport.
"Some of this disconnect is deserved as the industry has failed to deliver on profitability growth as expected, but we believe most of the latest bout of underperformance is due to recency bias: The never-ending Q4 earnings season and early-year issues affecting Q1 are the most recent data points with which investors must base decisions, yet current leading-edge conditions in the field are dramatically better."
Putting aside political uncertainty, Seaport suggested the first quarter earnings season will be the catalyst needed to reverse the "long-standing and dramatic underperformance" of energy stocks and re-establish the link between oilfield services stocks and "(strong and improving) E&P cash flow."
For top oilfield services picks, Seaport says to keep it simple: Halliburton Co. (HAL) and Hi-Crush Partners LP (HCLP) are the best bets, the firm contends. 
"Against this backdrop, we see little reason to complicate matters," SGS wrote. "With such a stark disconnect evident across the group, we would simply buy "quality on sale," and our favorite names are HAL and HCLP."
Other names that might benefit from a greater focus on returns from oil and gas producers, according to Seaport, include Basic Energy Services Inc. BAS, Key Energy Services Inc. (KEG) and Pioneer Energy Services Corp. PES. 
And look for Action Alerts PLUS holding Schlumberger Ltd. (SLB) and Weatherford International plc (WFT) to see some upside if international oil production surprises positively in the first quarter, the firm said.
Tudor, Pickering, Holt also sees the disconnect between oilfield services firms and investors narrowing in the first quarter earnings season with these players seeing their activity tailwinds in North American march higher and international results finally stabilizing. 
It's not quite time to dive into stocks with international exposure, however. 
"Diversified OFS names receiving plenty airtime in client conversations, with folks fighting itch to favor international exposure," TPH wrote. "While time is coming for that rotation, Q1 earnings season isn't that time."
Look for Schlumberger and Baker Hughes undefined to kick off earnings season next week and set the tone for industry bellwethers. Both Schlumberger and Baker Hughes report earnings April 20 before the market opens.