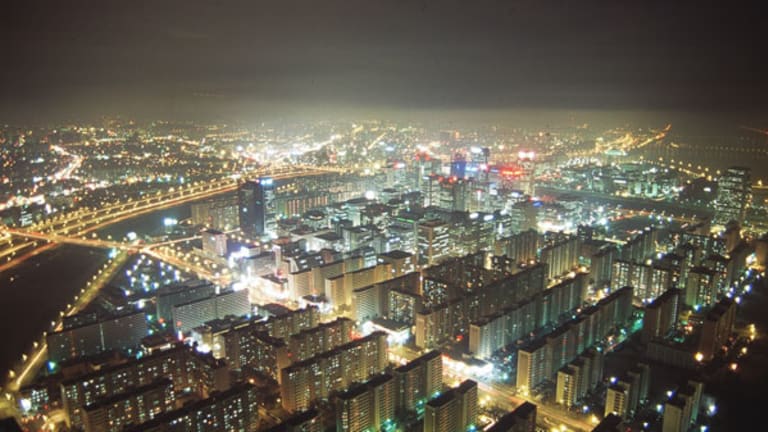 Oil Update: Crude Tops $71 Before Retreat
Crude futures dip in the morning following an upswing.
Crude futures dip in the morning following an upswing.
(Updated with recent stock and crude prices.)
Crude oil prices raced past $71 earlier today following a mix of news, but later pulled back and dipped below $70.
Light, sweet crude for August delivery is currently down 31 cents, coming in at $69.92 per barrel on the New York Mercantile Exchange. Earlier, it reached as high as $71.29 and as low as $69.55.
On Thursday, the contract price settled at $70.23 after gaining $1.56 on the day.
Earnings posts from
Lennar
(LEN) - Get Report
and
Bed Bath & Beyond
(BBBY) - Get Report
helped juice the major indexes on Thursday. Oil shares soared in-kind as well, but many were falling back just after the opening bell.
Frontier Oil
( FTO) and
Delek U.S. Holdings
(DK) - Get Report
saw shares finish the day up 7.6% and 8.1% respectively yesterday. But both were tracking in the red after the opening bell this morning, down 2% and 3.1%, respectively.
Occidental Petroleum
(OXY) - Get Report
climbed 2.1%, while
Apache
(APA) - Get Report
shares gained 1.8% by the closing bell. But both were giving up those gains in the early going today, down 1.3% and 1%, respectively, so far.
On the other side of the tracks,
Mariner Energy
( ME) and
Forest Oil
(FST)
each dropped 15 cents to land at $12.18 and $15.11 respectively by closing yesterday. Shares for both were doing much of the same in the early going today, as Mariner was tracking down 1.4% and Forest Oil was losing 1.9%.
In supply news, Nigerian militants said they demolished a
Royal Dutch Shell
oil facility in the Niger Delta today. Before that, President Umaru Yar'Adua offered amnesty to the Movement for the Emancipation of the Niger Delta, as well as other groups, in exchange for giving up their weapons.
Copyright 2009 TheStreet.com Inc. All rights reserved. This material may not be published, broadcast, rewritten, or redistributed.