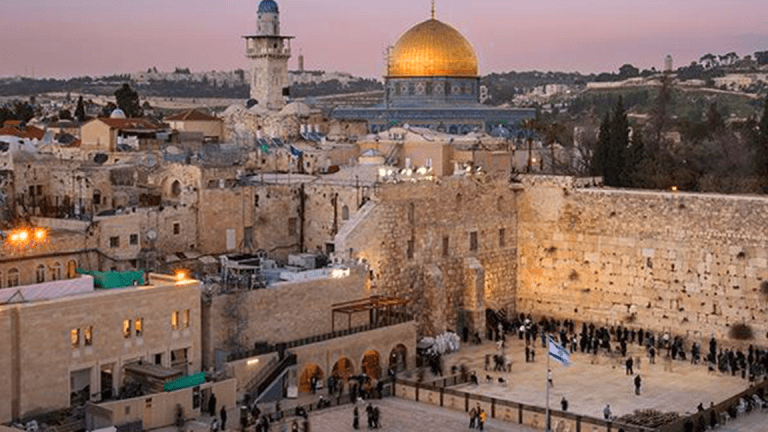 Oil Stocks Ready to Burst as Trump's Jerusalem Designation Stirs High Drama
Oil prices have quietly been charging higher on a rally that's been beating the stock market since this summer. These are the energy stocks that could benefit most as geopolitical risk rises this week.
All eyes are on the Middle East this afternoon, as President Donald Trump is expected to declare Jerusalem the capital of Israel at a press conference scheduled for later Wednesday. The move is a controversial one -- Jerusalem is contested between Israelis and Palestinians (both claim it as their capital), and prior administrations have tried to avoid the appearance of picking sides.
Trump is expected to instruct the State Department to move the U.S. embassy in Israel from Tel Aviv to Jerusalem as part of the official recognition.
That move is likely to spark tension with other U.S. allies in the region -- and that's something we could see play out in oil prices in 2018.
To figure out how to trade oil stocks in the weeks and months ahead, we're turning to the charts for a technical look.
First off, it makes sense to look at oil prices themselves. For that, we're turning to the U.S. Oil Fund (USO) - Get United States Oil Fund LP Report , an ETF that's become one of the most popular proxies for crude prices among stock market investors.
At a glance, USO's price trajectory is unmistakable:
While most investors have been paying attention to the broad market rally in stocks, they've been missing an equally impressive charge higher in oil prices. Since bottoming back in mid-June, oil has been pressing higher in a very well-defined uptrending channel, catching a bid on every test of the bottom of that price range so far this year.
10 Energy Stocks You Must Buy With Oil Prices Rallying
Even more significant, oil has actually been outperforming the S&P 500 over that stretch -- and, as indicated by the relative strength indicator down at the bottom of the USO chart, USO is continuing to outperform the stock market as we hit the final stretch of 2017.
In other words, the uptrend is alive and well in oil prices, as possible geopolitical drama with oil producers looms.
And critically, that price trajectory for crude sets the stage for upside in major energy stocks right now.
Case in point is Chevron Corp. (CVX) - Get Chevron Corporation Report :
Like crude itself, Chevron has been in rally-mode since oil bottomed back in the summer, charging higher on every dip to trendline support. In short, Chevron is still a "buy the dips stock" in December. Investors should look at the next correction as an opportunity to get into shares.
That same price momentum isn't true for all energy companies, though. Take supermajor Exxon Mobil Corp. (XOM) - Get Exxon Mobil Corporation Report :
Exxon's price action has actually been pretty detached from oil prices. Shares didn't bottom until two months after the rest of the industry, and they've been pushing higher in a more loosely defined uptrend. Simply put, Chevron is the supermajor to trade for upside in oil right now, not Exxon.
But it's not just producers that are seeing a shot in the arm in this market. Midstream stocks like Phillips 66 (PSX) - Get Phillips 66 Report are also charging higher alongside energy prices -- even more so, actually.
PSX spent the last couple of months forming a textbook example of an ascending triangle pattern, a bullish continuation pattern that triggered at the end of November with a breakout above $94. From here, PSX looks like it has more upside in store.
While the latest news surrounding Jerusalem could be a catalyst for upside in oil prices, the key takeaway here is that the bullish trend in oil has already been beating stocks for months now - and while there are clearly some better options than other in the energy sector, more upside is a high-probability trade as we head full steam towards January.
Buy the dips in the energy sector.
More of What's Trending on TheStreet:
Alibaba Just Found a Novel Way to Use Your Face
This article is commentary by an independent contributor. At the time of publication, the author held no positions in the stocks mentioned.