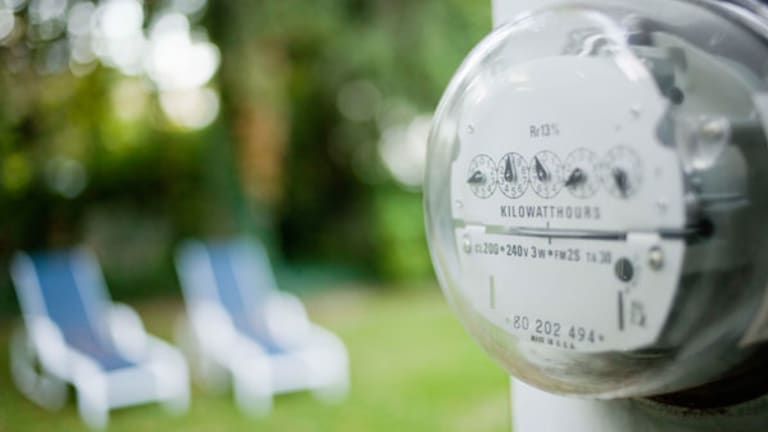 Publish date:
Oil Service Stocks: The Best Buys Nobody Wants
Halliburton faces a difficult task as it prepares to report first-quarter earnings: Convince investors it isn't headed over a cliff.
Halliburton faces a difficult task as it prepares to report first-quarter earnings: Convince investors it isn't headed over a cliff.
NEW YORK (
) -- If margins in the North America oil service business aren't quite falling off a cliff, how much closer to the edge will they come in the first quarter?
That's the question that
Halliburton
(HAL) - Get Report
faces when it reports its first-quarter results on Wednesday.
The extremely fluid nature of the North American drilling market suggests a clear answer -- one that's good enough to put all of the market fears to rest -- is likely to elude Halliburton management once again.
In its fourth-quarter report, Halliburton made the concession the market was waiting for. Management of the oil service company most exposed to the North American pressure pumping market said margins would decline further, but they wouldn't go over a cliff. It was a qualitative guidance comment given after the company delivered margins of 27% for its North American business, the lowest level in two years.
The oil service stock trade has been driven by negative sentiment ever since, and that's the way it's likely to remain barring a clear-cut, quantifiable answer from Halliburton.
Michael Marino, analyst at Stephens, said, "I think that is the biggest issue with anyone tied to pressure pumping. No one can define the bottom and I am not sure Q1 results are going to help that. This is why we remain EW
equal weight most everyone with pumping exposure."
Oil service stocks might deserve to be designated as a value buy at these levels -- a position staked out by many analysts on Wall Street -- but even if that is the right long-term investing logic, it doesn't mean the stock responds to that logic this week.
Consider that
Schlumberger
(SLB) - Get Report
, which is the least exposed to the North American pressure pumping business among the largest oil service companies, has
headed straight down in the oil service basket trade, regardless of its international tilt as deep water drilling fundamentals improve.
Halliburton's North American margins were 29% in the second and third quarter of 2011 before declining to 27% last time around. Two years ago, in the fourth quarter of 2009, the company's margins were in the single digits. One year ago, Halliburton margins were 25%. The cycle went from bust to boom and is now coming off the boom, but by how much?
The 25% margin might represent the line in the sand. If Halliburton North American margins hold that line, shares are likely to do little worse than stay flat. However, if Halliburton margins slip below 25% this quarter, it's likely to stoke fears that the cyclical downturn far from finished.
Demand for drilling services remains high, but the price decline in natural gas has resulted in a raft of questions that can't be easily answered.
Are North American margins holding up better than investors expect?
Is the move to the shale oil plays making up for the margin weakness caused by the abandonment of the dry gas basins, like in the Haynesville?
Does the increased supply of crews mean that the exploration and production companies will be renegotiating oil service contracts at rates that take margins much lower?
Are the costs associated with moving rigs, crews and equipment to the oil plays going to continue to weigh on margins?
This historic slide in natural gas because of oversupply relative to demand is a market paradox that matches the difficulty in the oil service sector right now. With all the E&Ps on a hunt for domestic liquids -- natural gas liquids and oil -- rig demand overall is going up. It's just that supply is outpacing demand as the dry gas basins shut down.
Marino said that the transitions and downtime for rigs will be felt in terms of pricing impact more in subsequent quarters, and current contract pricing is not likely to hold much water, either, more reason to believe that Halliburton will be hard-pressed to provide a clear answer. The visibility just isn't there.
"Where does it bottom? It's anyone's guess in the near-term and there are lots of moving pieces," said Edward Jones analyst Brian Youngberg.
The Edward Jones analyst has a buy rating on Schlumberger because of its international exposure - a very common position - and he rates Halliburton a hold because of the near-term margin pressure and the fact that it has two-thirds of its business from North America. But the bottom line is that all of the oil service stocks have been thrown in the same lot right now.
Valuations have come down and that creates an opportunity for longer-term investors. "Everything looks cheap in energy, but no one has a feel for where it's going and so investors go to sidelines," Youngberg said. "I'm convinced that if you look back five years from now, it will turn out to be an optimal time for investors, but I can't say there isn't more downside in the near-term."
Indeed, saying there is not more downside in the near-term is about the only thing Halliburton management can do to reverse sentiment, but there's reason to suspect that the current oil service sector quarter and guidance, even if it doesn't disappoint, will be a cliffhanger.
-- Written by Eric Rosenbaum from New York.
>To contact the writer of this article, click here:
Eric Rosenbaum
.
>To follow the writer on Twitter, go to
.
Follow
TheStreet
on
and become a fan on