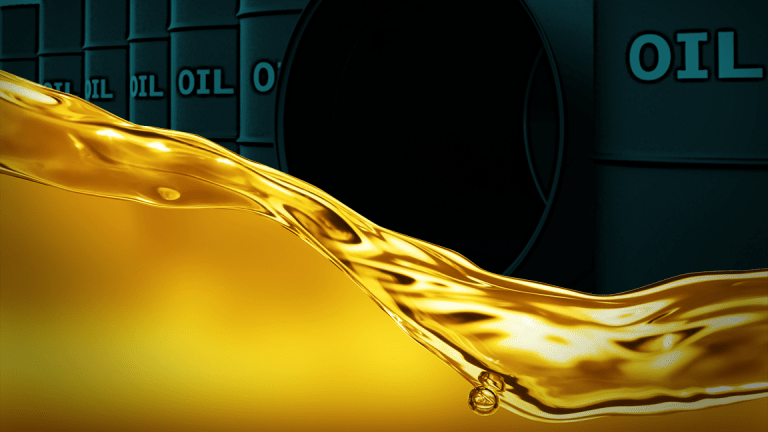 Oil Rally Seen as Temporary as Prices Set to Fluctuate This Year
A stronger dollar put pressure on oil early Friday morning, sending the commodity temporarily off record gains hit earlier in the week, and analysts are fearful price volatility such as this will be the theme of 2018.
Simmer down, oil bulls.
Oil prices rose about 1.3% on Friday amid signs of lower supply and greater U.S. exports, even as analysts expect the price of the commodity to fluctuate during the rest of the year. West Texas Intermediate light, sweet crude oil rose to about $63.54 a barrel as of about 12:30 p.m. New York time, while global benchmark Brent crude traded at $67.13 a barrel as the dollar rose. Meanwhile, Baker Hughes (BHGE) - Get Baker Hughes, a GE Company Class A (BKR) Stock Price, News, Buy or Sell Rating Report reported U.S. producers added three drilling rigs over the previous week, bringing the overall count to 978.
"Unfortunately, I don't believe today's rally is going to persist over the next few weeks," Stratas Advisors senior oil analyst Ashley Petersen said. "I do think prices will remain strong, but I believe they will be oscillating within a band, leading to increased intra-day volatility." Peterson said she expects Brent to cost between $65 and $68 a barrel in coming weeks.
Oil's most recent surge, which saw light, sweet crude climb 6% from a $59.19 a barrel low on Feb. 13 to settle at $62.77 per barrel Thursday, comes as U.S. crude oil exports approach the near record highs hit in October. The U.S. Energy Information Administration on Wednesday reported crude exports hit 2.04 million barrels per day during the week ended Feb. 16, which represents a 69% increase year over year and the second highest weekly volume on record, according to Seaport Global Securities analysts. 
And while fears over a rapid increase in U.S. shale production helped send U.S. light, sweet crude contracts from $66 per barrel to below $60 barrel between Feb. 1 and Feb. 9, SGS noted output is not increasing at nearly as strong of a pace as exports. 
The EIA reported crude oil production from the continental 48 U.S. states increased by 10,000 barrels per day over the previous week to almost 9.8 million barrels per day, which is just 15% higher year over year and 27.6% higher than the trailing 5-year average. 
Meanwhile, imports of crude oil fell to 7 million barrels per week, or 10.1% below the trailing 5-year average, according to Seaport. 
Inventories fell after the EIA reported a draw of 1.62 million barrels of oil versus analysts' expectations of a 1.3 million-barrel build for the week. Stockpiles at the nation's largest storage hub in Cushing, Oklahoma, also fell during the previous week.  
More bullish data could be on the horizon, as well, according to Tudor, Pickering, Holt & Co. analysts. The firm sees severe winter weather in late December and January, coupled with the EIA's estimate that U.S. production has grown only 19,000 barrels per day over the past 2 weeks, as a sign that December 2017 monthly U.S. production data, expected from the EIA on Feb. 28, will be softer than expected, which could send commodity prices even higher. 
These influences may be all for nought as far as prompting higher prices in the long term, Stratas' Petersen said. 
"[This week's] prices appear supported by these higher exports and the recent drop in inventories, but next week if the weekly EIA data comes back differently we could see prices down again. This isn't altogether out of the question given that inventory builds are common this time of year," she said. "Part of what I think we are seeing right now is that markets are desperate for something to drive prices but lack that one magic variable to point to, thus any new piece of information is latched onto."
Indeed, weekly inventory builds are a normal part of February commodity markets given that refinery utilization rates hit yearly lows during the month as refineries enter a seasonal maintenance period ahead of the busy summer driving season. 
At the moment, however, key data that will actually affect long-term commodity pricing is lacking, Petersen said -- demand is steady, OPEC is sticking to its deal to curb production, and it will still be a few months until we see the impact on U.S. production from the recent price rally and spate of commodity hedging, the process by which U.S. oil producers lock in prices for their supply months in advance to negate the effects of commodity price swings. 
"Lacking any updates on these longer-term slow-moving variables, markets are being driven by sentiment around short-term data releases and some reactions to technicals," she said. "So yes, prices will still most likely be healthy two weeks from now, but they probably aren't just going to steadily rise from here on out."
That being said, now may be a good time to review the portfolio of energy stocks since many may be trading at or near three-month lows. 
The S&P Oil & Gas Exploration & Production Select Industry index is down about 15% in the past month and down 4% over the past three months. The S&O Oil & gas Equipment Select Industry also is down almost 20% over the past month and 2% over the past three months after hitting a nine-month high in mid-January. 
The SPDR S&P Oil & Gas Exploration & Productionn ETF (XOP) - Get SPDR S&P Oil & Gas Exploration & Production ETF Report , which seeks to track the performance of the S&P Oil & Gas Exploration & Production Select Industry index, is down roughly 14% in the past month and 3% in the past three months. 
The XOP's top five largest holdings are Anadarko Petroleum Corp. (APC) - Get Anadarko Petroleum Corporation Report , PDC Energy Inc. (PDCE) - Get PDC Energy Inc. Report , Pioneer Natural Resources Corp. (PXD) - Get Pioneer Natural Resources Company Report , Whiting Petroleum Corp. (WLL) - Get Whiting Petroleum Corporation (New) Report and Diamondback Energy Inc. (FANG) - Get Diamondback Energy Inc. Report , the last of which is a favorite among analysts on Wall Street. 
In the past six months, the XOP's largest buys came from CNX Resources Corp. (CNX) - Get CNX Resources Corporation Report , Halcon Resources Corp. (HK) , CVR Energy Inc. (CVI) - Get CVR Energy Inc. Report , Range Resources Corp. (RRC) - Get Range Resources Corporation Report and Chesapeake Energy Corp. (CHK) - Get Chesapeake Energy Corporation Report .
The ETF's largest sales have come from the stocks of Hollyfrontier Corp. (HFC) - Get HollyFrontier Corporation Report , California Resources Corp. (CRC) - Get California Resources Corporation Report , PBF Energy Inc. (PBF) - Get PBF Energy Inc. Class A Report , Denbury Resources Inc. (DNR) - Get Denbury Resources Inc. Report and Continental Resources Inc. (CLR) - Get Continental Resources Inc. Report . 
--This report has been updated to include the Baker Hughes rig count.